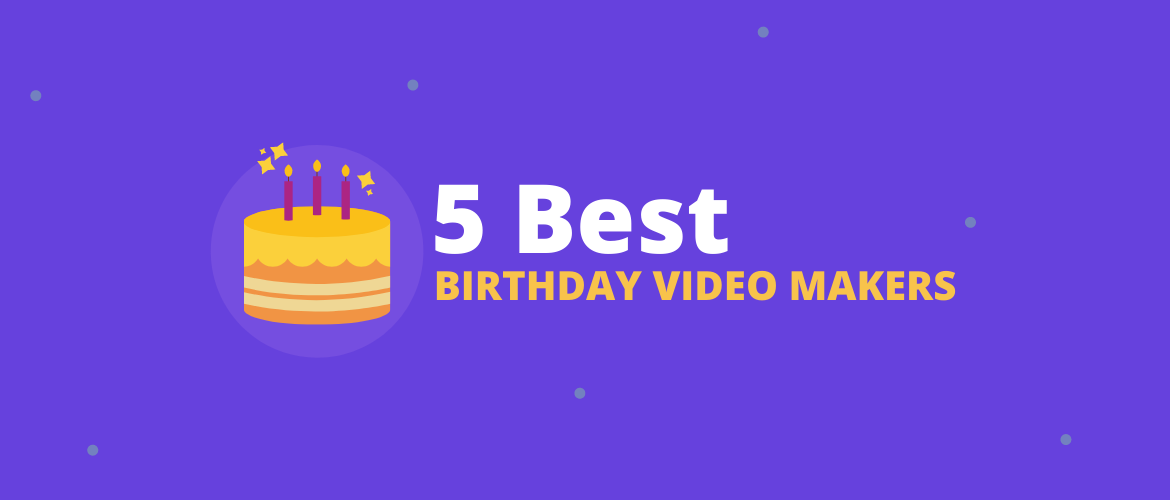 Top 5 Birthday Video Makers in 2023!

7

min read
If you are here, then you must be planning something special for someone's birthday. 
Worry not! You are on the right article. 
For most of us in today's world, life gets busy, and it becomes impossible to stay beside our loved ones 24/7, especially on special occasions like birthdays. 
While that is sad, technology has also given us a myriad of ways to make our loved one's day special without having to be next to them.
Online birthday video makers are one such blessing.
But there are so many Birthday video makers on the internet today. So you might find it difficult to shortlist one that is perfect for you and what you want to create for your loved one.
Well, that is why we've taken all the effort needed to bring you a list of the top 5 best video makers. In addition, we'll dive deep and explain the key features of each one of these web-based online tools. 
Their pros and cons will give you clarity over which one is the best birthday video maker for you. 
Let's start with our first recommendation.
1. Animaker
Yes. It's our application. But hear us out. 🙂
If you are out of time but still want to make something super unique for your loved one, then there is no better application for you than Animaker's Birthday Video Maker.
Animaker is already known as a Swiss Army knife of creativity because of the wide range of features it brings to the table. So when talking about making birthday videos that are super unique, you can't go wrong with Animaker. 
Here's what makes Animaker unique
You can build animated versions of yourself and your loved ones and feature them in your video.

It comes with 1000s of pre-built templates that can be edited in just minutes.

It also comes loaded with Millions of stock assets, properties, and icons that make your video truly stand out.
Yes, you heard that right!
You really can build an Animated version of yourself or your loved one and feature it in your video.
Think you don't have enough time to create a whole video?
Well, don't worry. The 1000+ Template collection will help you create your video in a matter of minutes.
In addition to that, you get access to 100M+ stock assets, properties, icons, and more. This means that you can bring any idea to life using the Animaker application if you can imagine it! You can make it on Animaker!
Other Key Features: 
Extensive facial expressions for the animated characters

Auto lip-sync feature for the animated characters

Heart-stirring library of 30K+ royalty-free music collection

Real-time Multi-user collaboration

Video formats for all social and messaging platforms

In-Built TTS (Text to speech) Engine
Pros:
It has a Free plan

The only tool to offer 4K video exports

No software downloads required

Ability to create Gifs. 
Cons:
The free plan has a small watermark
Pricing: Starts with the Free plan. But, you can get the basic package for just $10 per month. 
If you want to learn how to use Animaker to create a beautiful birthday video in just a matter of minutes, check out our blog here.
2. Fastreel
Fastreel is an online video-making and editing software by Movavi. As the name suggests, it is designed to make, merge, cut, and compress a video fast. In addition, they have a wide selection of transitions and adjustable clip duration. 
Its file upload size for videos is up to 500MB. You can change the speed of your video effortlessly with Fastreel. Like Animaker, they too have different templates and music to choose from in the library.
You can also upload audio of your choice from your computer. Without using Fastreel's templates, you can make a video by uploading images and videos. Their drag and drop feature allows you to get this task done effortlessly. 
Key Features:
Video editing tools: trimming, cropping, resizing, and more.

Visual effects, including stop-motion and filters
Pros:
Built-in music library

Easy to edit and merge videos
Cons:
The free plan has a watermark

Only a single template for birthday 

No option to upload our own images or videos and use them in existing templates. 

No variety of video formats
Pricing: It has a Free plan. But to get extra features, the basic package starts at $9.95 per month.
3. Magisto
Magisto is an AI-powered video maker tool. It tends to have a particular set of templates for every occasion. The graphics and effects available on this platform can make your video look really cool.
While all of this sounds great, it might not be able to help you create a birthday video that is super unique. But what you will be able to do well is use clips and photos that you might have shot previously and use them to create a birthday video very quickly.
One can also choose different songs to be played on their video from their library. It also allows the person to select the video orientation before making the video. Finally, you can share the finished video with a secure password.  
Key Features: 
AI-powered video maker

It comes with a decent number of pre-built templates

Video formats are available for other platforms.
Pros:
Ability to share private video links

AI video editing

Access to stock images and videos

Excellent graphics
Cons:
It only delivers videos in 480p quality

It only has a 7 day trial period

Best features are available only on a paid subscription
Pricing: There is no free plan available. The starting package is at the rate of $4.99 per month. 
4. Animoto
Animoto's functionality to drag and drop things makes it painless to insert images and videos. With Animoto, you can either start from scratch or choose one of their templates. That can save a lot of time for you. 
It has 3K+ licensed songs that can be included in your video. In addition, you can record your voice and add it to your video, or you can simply enter the birthday wishes in a text form. 
At Animoto, you can choose different fonts for your text. Animoto also has offers for different packages. People willing to subscribe can avail of their offers for less money. 
Key Features: 
Built-in birthday songs

Great stock assets 
Pros:
Fast performance

Can directly share videos to social media

Variety of fonts and text effects

3K+ licensed songs
Cons:
The free plan has a watermark.

Very few templates 
Pricing: It has a Free plan. But the basic plan for extra features starts from $8 per month.
5. Renderforest
Renderforest has over 600 hand-crafted templates for different occasions. It allows you to create custom videos, greeting cards, or invitations using their birthday templates. 
Along with that, you may upload images and songs to make your video more enticing. Moreover, one can edit their videos as many times as they like. 
Renderforest is good if you don't mind its limitations. For example, when you load a template, its scenes are of fixed length, and you can't make it longer or shorter. 
Renderforest offers royalty-free stock footage, but it's not as big as the one offered by Animaker. One will have to pay to get rid of the watermark from their video. 
Key Features: 
Library of animations, songs, etc

Royalty-free stock footage
Pros:
Customizable video templates

A broad selection of scenes

Voiceover feature
Cons:
The free plan comes with a watermark

The free plan only allows exports at 360p quality.

Limited video length
Pricing: Free plan. The pricing plan for extra features starts from $9.99 per month.
Final Thoughts
We really hope that our compilation of the best birthday video makers helps you make your loved one's birthday special. If you think we should add any other solution to our list, let us know in the comments below