What's new on Animaker - 10 recent updates you should check out!
2018 is shaping up to be a massive year for Animaker. Historically, we've spent more time and resources on R&D than other software companies in our niche. And, we don't intend to stop that anytime soon.
That is why we are continually working on updating our products in ways that can make your video creation process fun and exciting.
At a high level, here are 10 new features we've introduced in the last 6 months:
Made Marketing to Millennials easier
"Marketing to the current generation of Dream-ers and Do-ers isn't easy"
Well, that statement is a thing of the past now! With the Introduction of Millennial characters into our library, we made sure that all your marketing videos will appeal to the current generation that can make or break your business.
Introduced 40+ new transition effects
Transition plays a key role in helping the viewers understand the relationship between different scenes in your video.
With the introduction of 40+ new transition effects, we enabled 1.5 million members of the Animaker community to make awesome videos with butter smooth transitions.
Helped the world take one step closer towards Gender Parity!
We knew that Gender parity is still a dream for many around the world. Hence, we decided to speed up the process through animated stories.
And as a start we even Introduced 6 New Professional women characters with 1100+ animations!
Made sure your first impression is the best impression.
Just like every play in a theatre starts with a curtain-raiser, we thought our users should be able to make a cool intro videos for their brands/businesses as well.
Hence, we launched 20 new templates so that you can create uber cool Intro videos within minutes from the comfort of your browser.
Launched a revolutionary creative toolkit for classrooms around the world
Ever since our user base crossed the 1 million mark, we've been closely monitoring the education community and the tools they have at their disposal.
We noticed that there still existed a huge creativity gap in our society and the current tools in the market aren't enough to help teachers nurture creativity among their students.
Hence, in order to facilitate our ambitious vision towards building a Creative Generation, we introduced Animaker Class - an all-in-one creative toolkit designed to flip classrooms around the world.
Improved video render quality by 5X
Now that we've increased our GPU server capacity by 5 times, you will be now able to download high-quality videos in a shorter time.
We're also looking to further improve it in the near future. Stay tuned!?
Improved Animaker application load time by 3X
As Animaker has one of the world's largest collection of Animated library, it took a lot of time to load all these assets and it did impact the overall performance of the application.
Now that we have a new distributed search engine in place, the application loading time has been increased by 3 times, which translates to an improvement in the overall performance of the application.
Implemented FAVR (Failed Video Auto Retrieval) for a few beta users
A video is usually made up of multiple smaller components starting from music, picture, effects, text etc. The sync of all these may go wrong sometimes and thus the video might fail to render.
Our new system will automatically retry the failed video downloads & deliver the video to our users.
Even if you export a video to Facebook or YouTube and the export fails due to server or API issues, our new system will upload the video through our own servers & deliver it to you instantly.
Introduced 10 New Animals with 500+ lifelike Animations!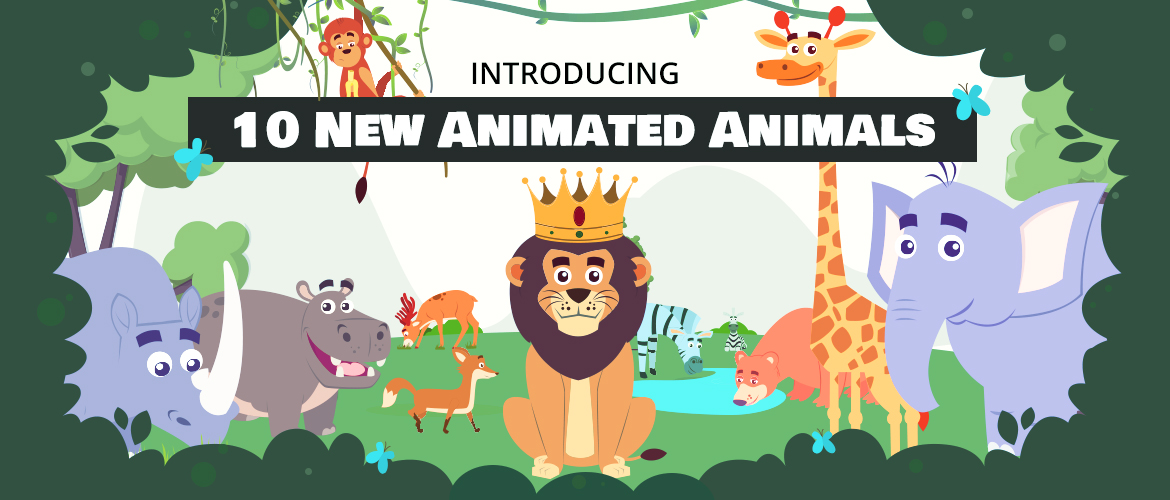 Do you love animals? Well, we love them too! That's why we Introduced 10 new animated animals with 500+ lifelike animations. We are certain that it wouldn't take you long to fall in love with each one of them!!
"Bid adieu" to the traditional methods of creating voice overs
We believed that not only videos but also voice overs should be created the DIY way. And to make that dream a reality by introducing a brand new voice application for our community of Animakers.
Animaker Voice is an advanced voice over making app built on top of world class text to speech engines. Now you can create human-like voice overs for your videos in 50+ voices and 25 different languages.
So far we're having a great year and we hope you're having one too. We have a lot of surprises planned for you users in the days ahead. So stay tuned folks. We're gonna blow you away!
If you have any feature requests, please let us know in the comments section below!