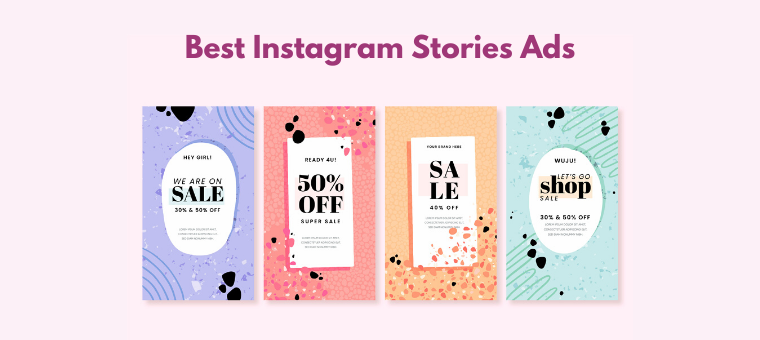 7 Instagram Stories Ads to Boost Inspiration

8

min read
Looking back at 2016, when Instagram copied Snapchat's main feature–the 'Stories' format that lasts for 24 hours only–no one could have predicted that Instagram Stories would surpass its original version.
Being available for a short period of time, Instagram Stories create the fear of missing out (FOMO) effect and therefore keep users engaged: Now, 500 million users create or watch stories daily, an average Instagram user spends 53 minutes a day on the platform, and vertical content is one of the latest video marketing trends.
With the popularity of Instagram Stories, it's no wonder that the platform announced immersive, full-screen Instagram Stories ads in 2017. It has given marketers a new way to interact with their target audience and achieve their business goals faster, according to Business Instagram:
⅓ of the most-viewed Instagram Stories come from businesses
50% of businesses on Instagram worldwide create at least one story each month
96% of US marketers plan to continue using Stories ads in the next 6 months
Whether you want to jump on the bandwagon and run Instagram Stories ads or inspire your next ad campaign, here are our favorite seven Instagram Stories ads of all time.
Instagram Stories Ads to draw Inspiration from
#1. GymShark
GymShark is the UK sportswear brand that manufactures and sells gym clothes and accessories. The company targets young people who are interested in sports, so it's no wonder that GymShark finds Instagram Stories to be a strong-performing placement.
Over the last few years, the company has run several successful Instagram Stories ads, so GymShark keeps on using this format to reach its target audience, build brand awareness, and increase ecommerce sales.
In honor of its new Flex fitness line launch, GymShark ran simple yet eye-catching ads in Stories to attract potential customers. The company showed off its gym clothes and encouraged people to take action faster with a strong Call-To-Action (CTA):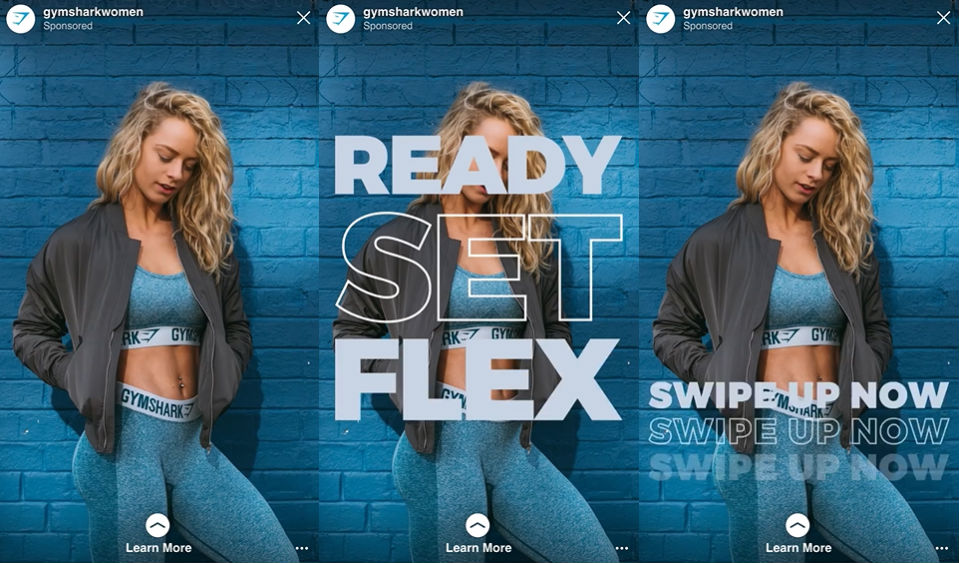 GymShark used a professional product photography and added animated content on the video to grab viewers attention and encourage them to Swipe Up and learn more which helps to sell on Instagram. The campaign achieved:
9X return on ad spend
50% lower cost per acquisition compared to other ad placements
2,400 sales made directly through its ads
Takeaway: If you want to promote a new collection and boost ecommerce sales, add the name of your collection on the video ad and include a text call to action to draw users' attention to the clickable link and encourage viewers to take action faster.
#2. J&Co Jewellery
J&Co Jewellery is a jewelry brand that creates beautiful accessories for everyone. Starting as a store in Etsy, the company grew rapidly and evolved into a successful international jewelry brand with over 287k followers on Instagram.
Believe it or not, Instagram Stories ads helped J&Co achieve this success. When the company reached the milestone of 50k Instagram followers, it decided to run its first three-day online sale and promoted it via Instagram Stories: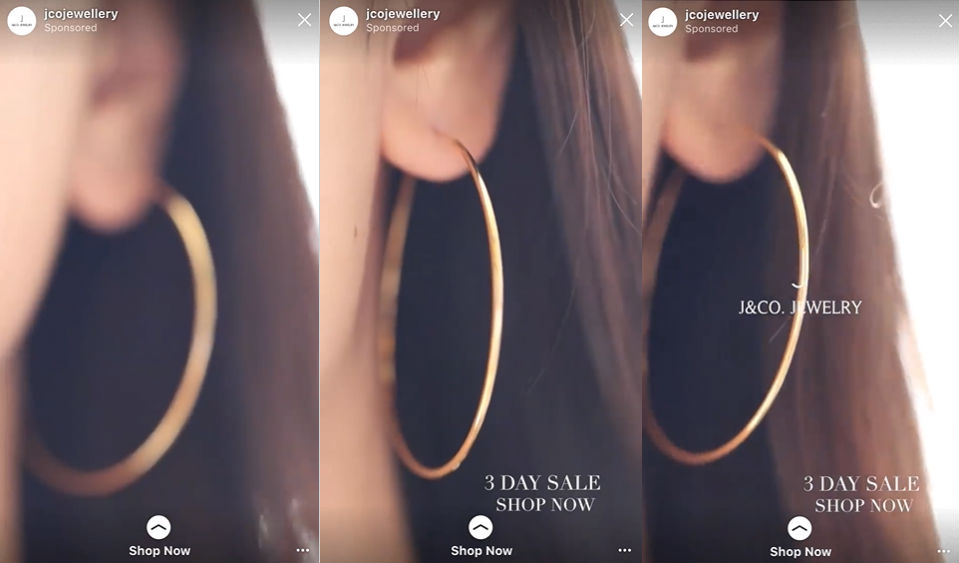 With a focus on its minimal and everyday jewelry, J&Co included the announcement of its flash sale and added the swipeable link. The combination of minimalist design and a clear brand message gave results:
58% of total sales were made via Instagram Stories ads
17% lower cost per purchase
Takeaway: If you want to encourage impulse buying, keep a focus on your product and offer a time-limited discount to give your existing and potential customers an opportunity to save money.
#3. PADANI
PADANI is one of the world's top watch brands that offers jewelry and watches for men and women. The company has many fans around the globe, so it often runs sales and promotions to reward its loyal customers and attract new ones.
To promote its interchangeable watch bands collection, the company decided to create dynamic videos for Instagram Stories ads. In collaboration with DataWorks agency, the company made videos that showed off a variety of available options and included a slogan "don't blink–just mix it":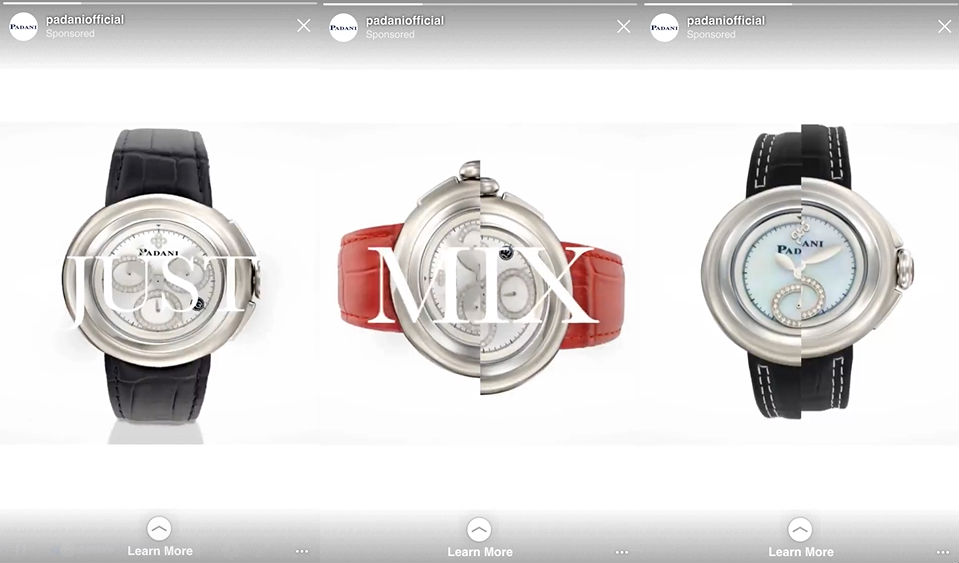 Just within three weeks, this eye-catching Instagram Stories ad helped to raise brand awareness, increase sales, and drive website traffic.
The campaign were the following:
97% view rate
40% lower cost per click to the website
80% lower cost per impression
Takeaway: If you want to reach a wider audience, use dynamic video ads to showcase a variety of your products from all sides and keep users engaged.
#4. Overstock
Overstock is an American online retailer that helps lifestyle shoppers discover designer brands and home goods. The company is known for its creative and innovative solutions, so it's no wonder that its Instagram Stories video ad campaign is on our list.
To acquire new customers, Overstock analyzed its target audience's pain points and decided to create a fast-cut video ad that showed all benefits new shoppers can get, from drawing home decor inspiration to buying furniture.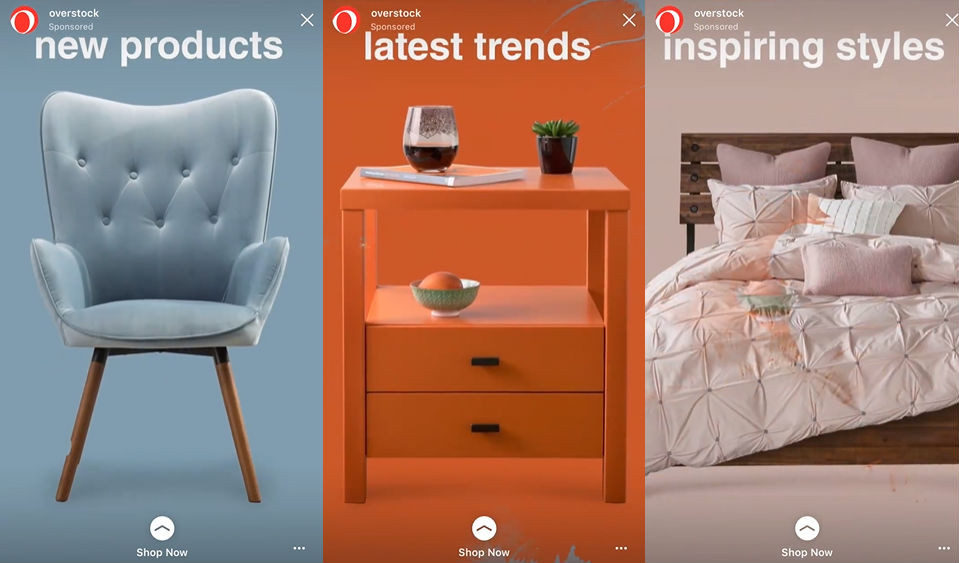 Bonus Tip: Use Picmaker if you want to create eye-catching visuals for your ad campaign.
With the help of eye-catching short videos, the company was able to tell everything about its products and services within 15 seconds of the ad. In comparison with Facebook feed ad placement, the campaign got:
18% increase in return on ad spend
20% decrease in cost per acquisition
20% decrease in cost per click
Takeaway: If you want to increase brand trust, showcase your customer's pain points or focus on the experience over the products.
#5. Photobook Worldwide
Photobook Worldwide is an online tool that helps modern users turn their digital photos into physical photobooks. When the company launched its Photobook app, it wanted to build brand awareness and increase installs.
The company was planning its ad campaign when Valentine's Day was around the corner, so Photobook Worldwide decided to include the holiday-related images and test ads in Instagram Stories for the first time.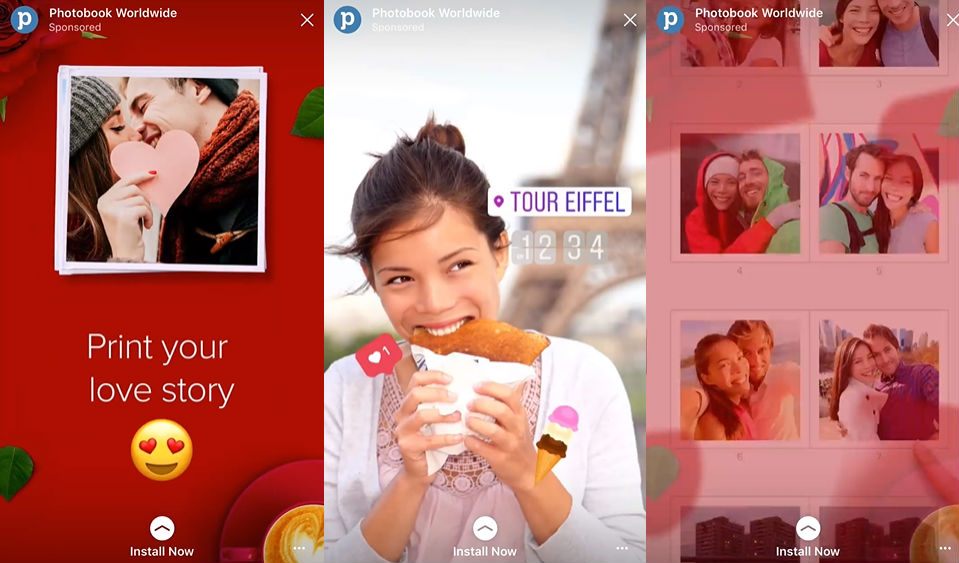 Not only did the Instagram Stories video ad show off how to turn digital photos into printed ones, but it also served as a gift guide for holiday shoppers. Offering an exclusive promo code was a smart choice as it achieved 3.5X more promotion code redemptions than expected.
Just within 2 weeks of promotion, achieved:
the app installs increased by 11%
cost per app install also decreased by 11%
If you don't have product photos to use in your ad campaign, you can learn from Photobook Worldwide and browse a stock photo agency like Depositphotos to find and repurpose stock images for your ad campaign.
Takeaway: If you want to promote your service, explain the benefits of using it and encourage viewers to give it a try.
#6. Tiket.com
Tiket.com is a leading online travel agent in Indonesia that offers flight and hotel bookings, train tickets, car rental, and much more in the tourism industry. When the company had realized the marketing potential of the biggest consumer group–also known as Millennials–it decided to change the brand identity and target young tech-savvy customers with Instagram Stories ads.
To roll out a rebranding on social media, the company wanted to run Instagram Stories ad to promote the update and reach new customers who were interested in discovering digital downloads on Instagram.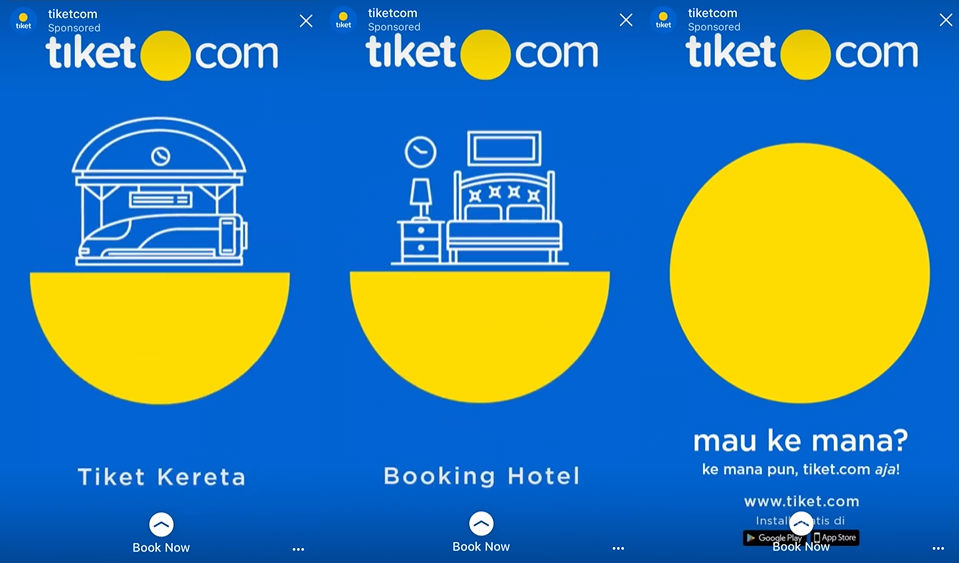 Knowing the power of using motion graphics in ads, the company created a dynamic video ad with simple travel-related iconography that represented its services, and it gave results.
Over a 6-week period, the campaign reached:
26 million people
239,000 app installs
10% lift in app installs
Takeaway: If you want to announce a rebranding and attract new customers, analyze your target audiences' needs and emphasize the variety of your products/services and how potential customers can benefit from you.
#7. Gathre
Gathre is a company that produces genuine leather goods that help to gather with families: from leather goods like mats and bibs to yoga carts and backpacks. Over the last five years, the company has evolved from a Kickstarter startup into a profitable business with fans around the globe.
When the company decided to reach new customers during the holiday season, it analyzed the people who had purchased before, visited the Gathre website or liked its Facebook Page. Once they understood the target customer, Gathre decided to run various 3 to 6 ads in Instagram Stories.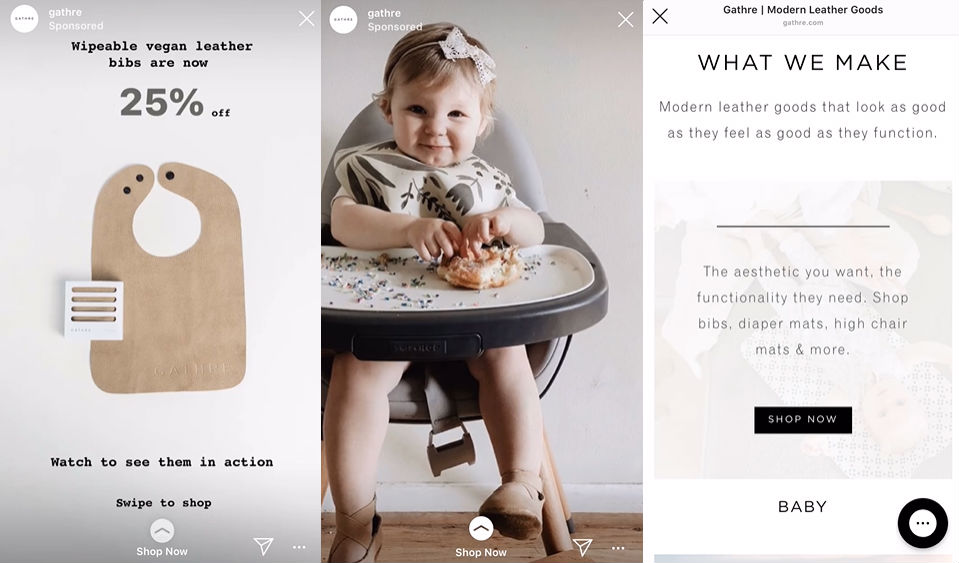 Gathre used a perfect combination: it showed off products in actions and provided interested customers with a promo code. As a result, the holiday campaign brought in $95,145 in sales.
This campaign also achieved:
81% increase in return on ad spend
91% return on ad spend
63% lower cost per add to cart
Takeaway: If you want to provide quality customer experience, use Instagram ads to show off your products in action and offer a discount to reward your customers.
With the popularity of short-lived content on social media, running Instagram Stories ads is a great idea to reach engaged audience, hook their attention, and turn them into customers. The above-mentioned examples prove that Instagrammers love various types of content, and it's important to stay creative and experiment to find what suits your target audience's needs.
If you want to make the most out of your next ad campaign, use Animaker on PC or Animaker on iOS to create professional eye-catching Instagram Stories video ads with ease. Step up your production with 12 Animaker hacks that you can't miss.