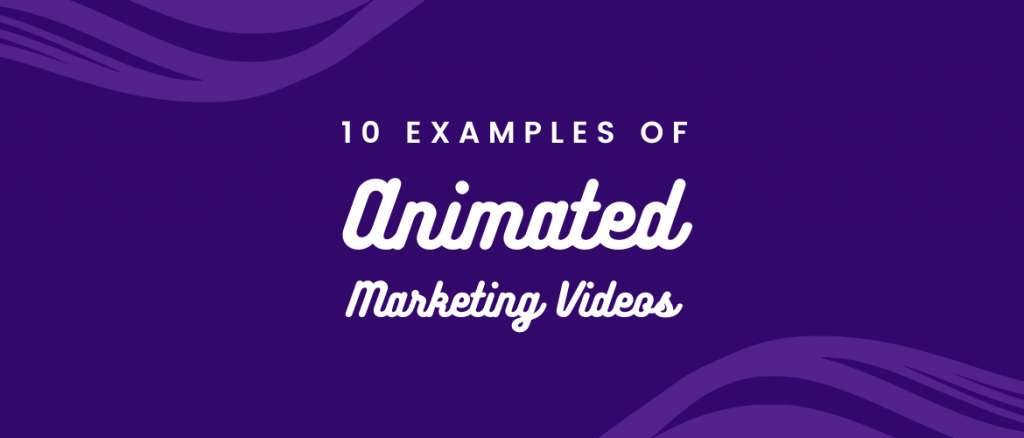 10 Stunning Examples of Animated Marketing videos

8

min read
In this modern era, you can find animation everywhere. You can see it everywhere, be it educational material or a movie that aspires many. 
Animation has a history of its own. It began as a time-consuming, tiring, and expensive way of marketing. But currently, it has evolved into a fully digital and pocket-friendly marketing medium. Today, literally anyone can make an animation video even without having any prior knowledge. 
Similarly, Videos transformed the way we consume media. Especially after the pandemic, marketing teams across the globe have adopted video marketing. This resulted from online videos being consumed double as much as in 2018. 
And to top that off, a recent study from Cisco states that over 82% of the internet traffic comes from video form of content. 
With these statistics, you can clearly see that video form of content put along with animation skyrockets your engagement rate. Since animated videos help hook with the audience quickly, popular brands prefer them to market their products than any other form.
Now, let's have a look at such Animated marketing videos from big brands that had a huge reach worldwide.
Before that, if you want to know more about animation, then you should check out our article that talks about everything about animation and its types.
Examples of Animated Marketing Videos
Microsoft's Re-Imagining mobile experience campaign 
This Animated marketing video by Microsoft takes the users through a journey of their day-to-day life, the challenges they face, and how they can eliminate multiple steps with their single Microsoft suite app. 
This video uses super cool, eye-pleasing 3D animation and background music that matches the energy of the animation. The quirky effects and the playful BGM put together keep the audience hooked till the end. 
Amazon's super simple payment system – Amazon One 
This 1-minute animated video is to the point and shows precisely how Amazon One works. Whether you are shopping at a supermarket or getting a hot coffee at Starbucks, just the unique palm signature is enough to pay! This totally eliminates the need to carry a huge purse/wallet with cash or card.

The animation style is aesthetically pleasing with vibrant colors. Along with a great storyline, this animated marketing video explains the use case of Amazon One to its audience in a beautiful and concise way. 
Slack's Communication without chaos – Animated video
If you are a working professional, you must have come across Slack at least once. Right? This animated marketing video campaign by Slack has one goal – to eliminate the chaos in communication.
This simple explainer video is minimal with flat colors, a simple font design, and a well-thought-out video script. Unfortunately, we are bound to face miscommunications when we work remotely. This video has a great connection with the audience as it perfectly describes the problem they face daily.
Coda Animated Product Promo Video
The current SaaS industry is booming with newer companies. Animated explainer videos have inevitably become one of the effective ways to promote the product. Coda, a Notion-alternative, has created this beautiful explainer video on how a single tool can assist the hyper-collaborative world.

The video style used here is super simple, with mostly screen recordings and basic animations. With all these, Coda has created an excellent animated explainer video for their product.
Starbucks Animated Explainer Video
If you like coffee, you must know Starbucks. Their "Why does Starbucks Blend Coffee?" campaign is thoughtful and focuses on an idea-centric approach. It explains how the coffee blend works and how they have developed new coffee flavors through blending experimentation. 
Starbucks has taken a simplistic 2D animation style for this video, with a great voice actor explaining the purpose of the video. Overall, this would be a great and unique idea for a 2D Animated marketing video.
Intercom – Animated Product Overview 
Intercom is a well-known business communication management tool. Their product overview video takes their audience on a journey that interactively highlights their USPs.

The intro of this video has a little 2D Animation movie to get the audience hooked to the video. It later continues with basic animations that include screen recordings of their tool. 
Hubspot's Explainer video on Topic Clusters 
Hubspot's Marketing video channel took an interesting approach to create a well-explained informative video on Topic Clusters.
This 2D explainer video has a great script explaining every aspect of Topic Clusters, how they work, and how HubSpot helps to find easy Topic clusters within their tool. 
Samsung Knox Animated Campaign
Have you ever seen a whole explainer video for a tiny product feature? Samsung did that with Knox, a proprietary pre-installed app on Samsung smartphones. This explainer video takes a journey across the use cases of the Knox app in a well-narrated way.
The video style used here is 2D Animation with a beautiful & subtle color scheme. The video is made brilliantly, so much so that it compels a person to stop and watch the video. 
Razer Naga Animated Promo Video 
This video is a classic example of a 3D animated promo video. It checks in all aspects, from stunning animations to hyped-up music to keep viewers hooked. It explains all the key features of the mouse stunningly. 
The technology and effects used in this promo video are on par with a full-featured movie. And if you didn't notice, this is one of the few Animated videos that doesn't have any voiceover in the background. 
Ahrefs Animated Product Overview
Understanding a product can be difficult sometimes. But creating an animated product overview video will clearly explain the product's features and its advantages to the audience. 
This Animated product overview video is based on 2D animation with colorful and cute little animations. This video begins with a problem often faced in the SEO industry, which makes the audience hook even better to the video. 
Those were some impressive examples, weren't they?
Now that you have gone through some unique videos, you must be wondering how to create your own animated marketing video and are confused about how to get started. Am I right?
Don't worry; we've got you covered!
How to create Animated marketing videos for businesses?
There are lots of tools that can help to create animated marketing videos. Tools like Adobe After Effects, Davinci Resolve, Adobe Premier Pro, Blender, etc., can help you create professional-looking animated marketing videos like the examples you just saw above. 
The only drawback to these tools is that they are paid, require demanding hardware, and a little prior experience.
If the above requirements don't check the box, you are probably looking for a free solution that's easy to get started, right?
Well, you should check out Animaker. It is an online DIY video making platform that lets you create beautiful animation videos online.  It has tons of professionally made Animated marketing videos that are easy to use and customize. 
The best part is that it doesn't require demanding hardware or experience. All you need is a computer with a browser on it. Here are some stunning animated marketing video templates that you should check out – 
Travel Agency Promo (Travel agency animated template)
Stand out from your competitors by creating an animated travel agency animated template. Create your very own customized mini-story and promote your travel agency business with this stunning template.
Beautician Explainer (Animated beautician explainer video)
The hardest part of running a Beauty Parlor is getting noticed and acquiring clients. While creating a proper full fledge advertisement can be a pocket-burning task, creating an animated beautician explainer video with this template is free. You can make it match your branding by customizing every element right from colors, text, characters, and lots more.
Promote your product or service (Animated product promotional video)
Are you wondering how much it costs to make Animated Product Promotional Video? It's absolutely free. This animated promo video makes it simple to customize a video for your product or service.
Gym Explainer (Animated Gym Explainer video)

Promote your gym in a unique way and watch your gym signups skyrocket! Animated videos are usually known for higher retention rates. Customize this stunning Animated Gym explainer video, create your own characters, and make an eye-popping explainer video for your business.
Car Rental Explainer (Marketing videos for car rental business)

Are you running a car rental business? Then this is the go-to template for you, as it has beautifully animated elements and characters that suit your business theme. You can customize every bit of this template to make it suit your branding colors. 
And to make things even easier, here's a quick video that shows how to edit these templates to kickstart your process –
Alternatively, if you want to learn
how to edit an animated template
from a textual guide, check out the article link provided.
Phew! It's finally time to create your own animated marketing video and see the conversions skyrocket. But don't expect things to happen instantly. Good things take time. 
I hope this article helps you with a 360-degree vision of animated marketing videos and how to create one. 
What are you waiting for? Go create your animated marketing video now!