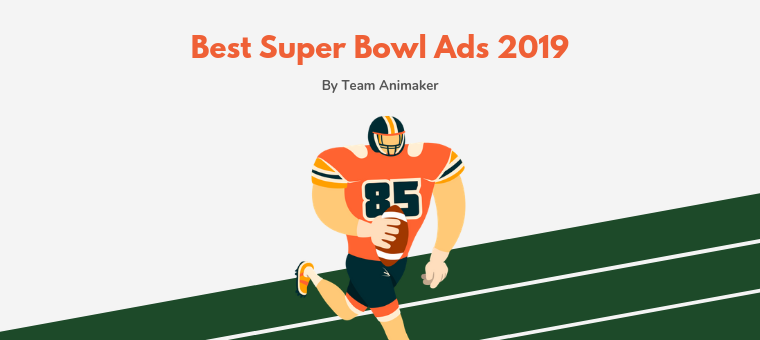 5 Best Super Bowl Ads of 2019 (And What You Can Learn From Them)

6

min read
The Super Bowl is the single biggest sporting event of the year!
But it's also the biggest moment in the year for the advertisement industry.
Super Bowl ads are a big part of the Super Bowl experience and are watched closely. In fact, the Super Bowl has been called "The Marketer's Holiday" in America.
The ads are incredibly expensive. A 30-second ad cost $5.25 million this year. This doesn't include the cost of producing an ad which is estimated to be around $4.5 to $5.5 million.
For this day alone (the Super Bowl Sunday), the world's top marketers come together and give their best shots at defining their brands and telling their stories to a massive, unsegmented audience.
As marketers, we wondered – how can you take the video marketing strategies in these ad campaigns and apply these strategies to your own video marketing?
In this article, we take a look at the 5 best Super Bowl ads of 2019 and the video marketing lessons you can learn from them.
Budweiser – "Wind Never Felt Better"
In this ad, a Dalmatian is viewed riding atop a wagon pulled by a pack of Clydesdales, as Nobel Laureate Bob Dylan's song "Blowin' in the Wind" plays in the background. The song does a great job in lending a quaint, emotional resonance.
Midway through the ad, the camera pans out to reveal the horses pulling the wagon through a wind farm, probably somewhere in rural America. The ad ends with the tagline, "Now Brewed with Wind for a Better Tomorrow".
The ad clearly conveys the message that Budweiser is committed to renewable energy. This message is a nod to the fact that the company has committed to purchasing 100% of its electricity from renewable sources by 2025 for its brewing operations.
Instead of focusing on its target audience's immediate needs and promoting the product directly, the ad focuses on their customers' bigger goals that their product can help them achieve. By drinking Budweiser's beer, you do your part to save the environment! By drinking their beer, you're drinking to a better tomorrow!
Key Takeaway: Sometimes the best thing you could do to promote your product is to not promote it directly, but to promote a bigger, more significant cause. That way, you'd not just improve the sales of your product(s) but also enhance your brand's image. A recent research found that 63 percent of Americans were "hopeful businesses will take the lead to drive social and environmental change."
Verizon: "The Coach Who Wouldn't Be Here"
This ad from Verizon is a real tearjerker. The ad features Anthony Lynn, former NFL player and coach of the LA Chargers, who survived a life-threatening car crash in 2005. The ad highlights the first responders who were the first on the scene of Lynn's accident.
Lynn meets the first responders who answered the call that night and gets emotional. "I've often thought about who showed up that night," he says. "I never thought I'd see you. I mean, this is unbelievable. They said I had to have angels with me that night to survive. I believe that, and I believe you guys are angels."
Verizon, "The World's Most Reliable Network", ends the ad with a perfectly targeted message: "First responders answer the call. Our job is to make sure they can get it."
In this Super Bowl ad, rather than self-promote, Verizon aims to build an emotional connection with its audience by sharing a tragic real-life story of a coach in the NFL who survived a near-fatal car crash while also stressing the importance of reliable communication in a critical situation.
Key Takeaway: If done well, appealing to emotions can make your ads and brand stories more memorable. Focus on making an emotional connection between your brand and the customer. Studies show that a person's emotional response to an ad is more likely to influence their buying decisions than the content of the ad itself.
Bud Light – "Special Delivery"
A medieval-themed ad set in the middle ages tells a funny story about the ingredients used in a Bud Light. The ad pokes fun at its competitors (Coors and Miller Lite) for using corn syrup, a highly-processed ingredient, in their beers.
By conveying that Bud Light is brewed without corn syrup, an unhealthy ingredient, and with only natural ingredients (Bud Light contains only water, rice, hops, and barley), they clearly demonstrated why they're different in a way that matters to their target audience, people who want to consume healthier beers and healthier food items, which happens to be almost everyone.
The ad successfully positioned Bud light as a beer brand for people who prefer drinking healthier beers and leading a healthy lifestyle.
Key Takeaway: Identifying and emphasizing what your product does (or does not) offer can help differentiate your brand from your competitors and attract new customers.
Wix: "The Big Game Ad with Karlie Kloss"
Wix's 30-second real-time Super Bowl ad stars Karlie Kloss, a supermodel who codes. Kloss is the founder of "Kode with Klossy", a coding boot camp for young women.
The ad shows Kloss sitting at a desk and showing the target audience how to build a website in a snap using Wix. The ad highlights Wix's important features such as the Wix Pro Gallery and SEO Wiz.
Unlike other brands that promoted their products indirectly, Wix directly promotes their brand in this ad. Wix's marketing message is focused on addressing the needs of the end-user.
Key Takeaway: Sometimes you just have to tell it like it is and directly address your customers' needs and desires. Craft your ads around what your customers actually want and what would interest them the most. Remember, the only person you want to like your ad is someone who will actually buy your product.
Planters: "Mr. Peanut Is Always There In Crunch Time"
In this rip-roaring ad, Mr. Peanut (an animated peanut 🙂 ) is on a mission to deliver his fresh snacks in the "crunch" time, with cameos from Charlie Sheen and Alex Rodriguez.
Mr. Peanut recklessly drives down a street in his NUTmobile. As Charlie Sheen watches this from a bench, he says "And people think I'm Nuts". In the end, Mr. Peanut successfully manages to deliver his sacred nuts and saves Alex Rodriguez from the fate of eating kale chips.
The next time people think about buying a healthy snack such as kale chips, they'll probably consider another healthy, but also a tasty alternative that is planters' nuts.
And, by adding a touch of humor, they've made sure the message sticks in the minds of consumers for a very long time. Moreover, the ad is unique and reflective of the company's brand.
Key Takeaway: Infusing humor into your video marketing and advertising will make your message travel further and make your brand more likable. The key is to find and take a unique angle.
What's your take on this year's Super Bowl ads? Which of them did you like the best (and the least)? Did you learn any lessons from them that could be applied to your video marketing? As always, let us know your thoughts in the comment section!