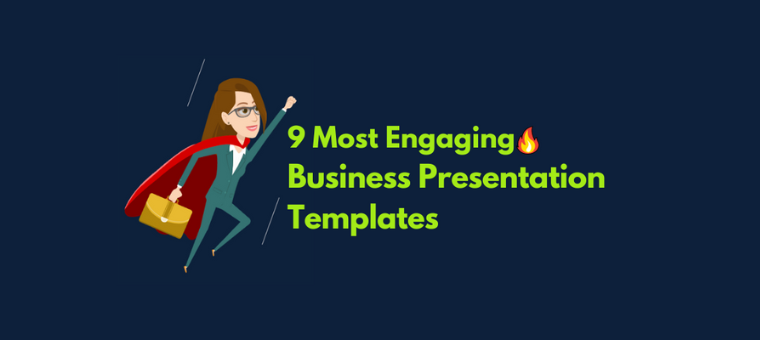 9 Most Engaging Templates for your next Business Presentation

8

min read
Are you tired of the same old powerpoint business presentations? 
Do you want to spice up your standard presentations and badly wish they could be customized?
If so, you've come to the right place.
Let me introduce you to Animaker Deck, the world's first avatar-powered online presentation maker. 
With Animaker Deck's powerful Character Builder, you can now create super cool characters and use them in your slides. The character builder feature comes with many customizability possibilities, including facial features, outfits, and accessories.
Its extensive customization options allow you to create billions of different avatars per your liking and needs.
Also, Animaker Deck comes loaded with the wackiest gifs, exciting icons, and stunning stock assets to make your presentations more compelling and appealing.
The best part is it also houses the most modern and engaging business presentation templates, making life easy for those wanting to create presentations on the go!
These templates allow you to quickly and easily create captivating presentations that are perfect for any situation!
They are both free to use and straightforward to edit.
On that note, in this article, we have compiled the 9 Most Engaging Business Presentation Templates that you can use to customize and create your next compelling presentation.
So why wait? It's time to spruce up your basic business presentation into an attractive presentation!
Let's dig in!
1. Consulting Business Templates
Do you run an online consulting business? 
Are you trying to increase your customer size? Well, do not worry! Animaker Deck is filled with ideal consulting business presentation templates that serve different needs.
Check out this business presentation template based on a Marketing Consulting Business. 
This template features slides with problems in the market, project objectives, proposed solutions, financial details, and deliverables with a timeline. 
Overall, it is apt for every business owner trying to increase their business presence in the online marketplace.
You can use these slide decks to make adjustments to the schedule of your service offerings, as well as to your fees and payment conditions.
With the help of our presentation templates, you have a wide range of customization possibilities to promote and emphasize your goods and services.
For example, to highlight the honors and successes of your company, you can add different icons and stock elements from our library. You can introduce charts to show the growth reports. The sky is the limit!
Apply your presentation style to these templates and share them for free online.

Try it out now!
2. Business Profile Templates
Animaker Deck offers unique presentation templates for Company Profiles, Business Outlooks, and Future Projects.
Use this simple-to-edit Business Profile presentation template, for instance, to showcase the company's expansion, revenue, and other critical company-related data.
This template features slides for the Company timeline, Products/Services offered, a small gist about the Founders, Teams, and a snapshot of the global presence.
This template is completely customizable. You can alter the backdrop color, experiment with professional font styles, include company logos as a watermark, and even create brand ambassadors using the character builder feature to draw the audience into the presentation. 
Make your business stand out by displaying a feeling of class using this modern slide deck design!
3. Agency Business Presentation Templates
Are you running an agency? 
Have you been on this journey for long, yet struggling to rope in the audience? Worry no more! Here's a template that helps you pitch your business in a perfect way!
All creative businesses and agencies can use the beautifully designed Agency Business presentation template from Animaker Deck and witness the increase in traction immediately!
Highlight the agency's competitive advantage, describe the business strategy, display user testimonials to gain authority, and present the current clients in each slide.
To make your slide deck stand out, you can alter the charts, icons, frame transitions, characters, etc.
This template has a great color scheme that can quickly draw customers. Your audience will remember you for a long time because of the captivating design of this slide deck. Use it to promote your firm at regional business conferences, expos, and other events.
Try it out right away to easily win every pitch!
4. Business Proposal Presentation Templates
Have you got a killer idea to start a new business? Are you searching for templates to market your idea and win partnerships and clients?
Use the Business Proposal presentation template and market your business strategy perfectly. This template was created specifically to win over clients.
Every slide may be easily customized to illustrate the business overview, market share, essential team members, objectives, and problems.
This slide deck is excellent for its fantastic color schemes, text formatting, shapes, and graphics and can be tailored to your needs. 
The best part is, in addition to editing the slides in the deck, you can also create a slide from scratch by inserting a new slide in between the existing ones. Animaker Deck truly offers customization to your liking and needs.
Create the best possible business proposal right now by giving it a try!
5. Product Demo Presentation Templates
Do you have a cash cow product in the making?

Are you seeking the best way to provide a demo for a new product you intend to launch? 
Use of this Product Launch Presentation template is the only better option. This slide template creates a valuable learning and assessment path for the audience.
It contains superb visuals, vivid colors, and a structure that draws attention to key product details. 
Use the upload option to include photographs of the product, design blueprints, and flowcharts to guide the audience through the Demo step-by-step. 
Try it out right away for free, and make people love your new product!
6. Branding Business Presentation Templates
Animaker Deck offers perfectly crafted, personalized Branding Business Presentation Templates for business owners and freelancers to promote their products and services. 
Check out this branding presentation template.
Using this template, you can describe your brand's history, milestones, financial performance, pace of growth, rate of client retention, exclusive alliances signed, and much more. 
You can also change the slides to fit your theme, add screenshots of essential data, include links to your product's images, and more. 
Get on board and test out these simple templates right away!
7. VC Funding Pitch Templates
Have you recently launched your long-time dream business?
Are you seeking VC funding to jump-start your business? 
Well, a carefully customized pitch deck containing your business ideas, plans, growth strategies, consumer engagement activities, etc., will be helpful whether you're applying for VC investment or a shark tank display. 
Such specialized free VC funding business presentation templates are available from Animaker Deck.
Check out this one, for instance.
With the help of these engaging slide deck designs, highlight the market opportunity, potential solutions, market validation, business model, market adoption, current competitors, and more.
The best feature is that these presentation template designs can be completely customized to meet your business needs.
Everything can be changed to match your preferences, including the text, design components, and colors used.
Now is the time to try this out and start raking in dollars!
8. Small-Scale Business Templates
Do you own a small-sized business? 
Are you seeking marketing strategies that can successfully set your company apart from the local competitors?
Then, the ideal strategy to make your audience emphasize your services is by using a carefully crafted Business Explainer Presentation.
Have a look at this business presentation template below,
Looks so good and crisp, right?
You can drastically improve the quality of your presentation with this lively and colorful slide deck. Everything is editable, including the slides' fonts, backgrounds, icons, and transitions. 
You can even use your own brand style and edit all the elements in each slide to your liking. This will surely help your audiences to connect with your service offerings, eventually making you stand out among the competitors.
And the best part is, you don't need prior experience to edit these templates. Anyone can learn how to use the Animaker Deck's interface at any moment because it is very user-friendly.
Try the template right away for free to attract a new audience for your business!
9. Freelancer Presentation Templates
Are you a budding freelancer in the market? 
Are you looking for ways to promote your business in the local community? 
Then a great way to monetize your skills and services is by promoting your business through a killer business presentation.
Check this presentation template below,
This template showcases slides for a freelance photographer. If you are an aspiring photographer and want to build a strong portfolio, it would be great to present your abilities through images rather than words.
You may highlight client testimonials, add your brand's logo and URLs to your gallery, and provide potential customers with a visual feast of your most incredible images in each presentation.
In short, your reputation as a professional photographer will grow – thanks to this photographer portfolio template.
Give your viewers a good sense of your abilities by giving it a try for free!
In addition to the above-shown templates, Animaker Deck has a huge list of templates that suits all your presentation needs. It also allows you to build original presentations and themes from scratch and save them for later use. 
If you need some presentation tips to make your slides more compelling, check out the link provided.
I hope you find this article helpful and select the best presentation template for your business requirements.
It's easy to discover the correct presentation templates from our library and work your magic on the slides! 
Have any inquiries? Leave them in the comments area. We will be delighted to assist you😄.