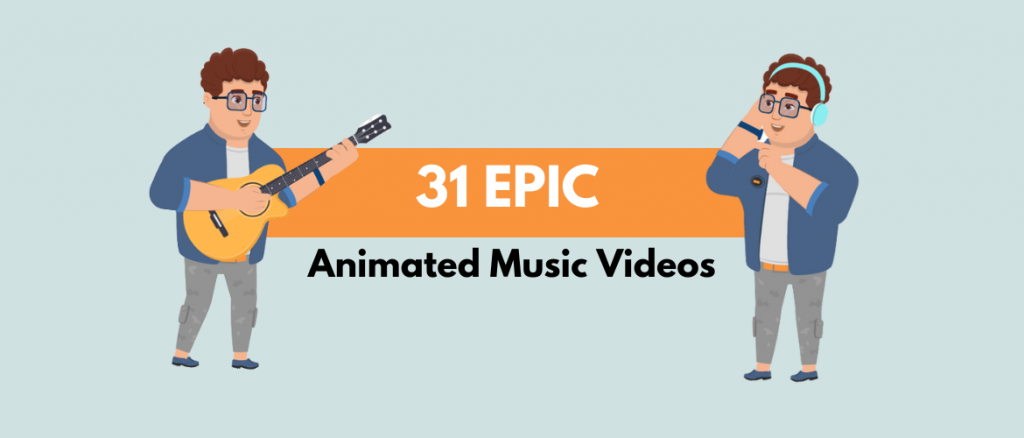 31 Epic Animated Music Videos (These will make you go Wow!)

13

min read
Music videos are the best of both worlds because they are a treat for both the eyes and the ears!
Generally, music videos are considered a means to promote and sell songs while bringing more visibility to the artists. But, they can also be used as a medium to tell stories, raise awareness for an important issue, or simply entertain and engage viewers. 
In the past, the music industry heavily relied on live-action videos with a huge budget. Due to this, only a handful of artists could afford to produce a music video. 
With the advent of Animated Music Videos, the music industry has changed completely. Not only does it reach a wider audience, but it has also allowed artists to explore new ways to express their creativity. 
Many famous artists like Imagine Dragons, BTS, Katy Perry & lots more have already hopped on to this trend of creating animated music videos. That's because the song's poetic literature, combined with fantastic animation and imagination, helps in elevating the beauty of the song and makes it a blissful experience for the user.
Overall, animated music videos have opened a new door to the music industry and the artists to create a buzz among the audience.
Let's check out some examples of the best-animated music videos without further ado. 
Here are some top animated music video –
1. Imagine Dragons – Birds (Animated video)
This music video takes the audience on a relaxing
Japanese anime vibe
journey with a well-written story. The pleasant visuals, combined with the soothing music, make it very enjoyable to watch. 
Released: July 24, 2019
Artist: Imagine Dragons 
Views: 227M + 
2. Legends Never Die (Ft. Against the current)
League of Legends
gets super creative when it comes to the world gaming championships. Whether we play the game or not, their videos always manage to take us into an immersive experience and give us chills! In this music video, they have taken the characters from the game (League of Legends) and beautifully made a video song as a promo for the League Of Legends World Championship that happened back in 2017.
Released: October 18, 2017
Artist: Against the Current
Views: 217M +
3. Billie Eilish – My Future
Billie Eilish's single 'My Future' is an aesthetically pleasing animated music video created by an Australian director with a team of twelve people. This song was launched two years ago. This animated music video takes you on an aesthetic ride just like anime does, right from the colors to the soothing voice of Billie Eilish. Overall, it gives you a journey giving a chill vibe throughout. 
Released: July 31, 2020

Artist: Billie Eilish

Views: 111M+
4. Lady Gaga, BLACKPINK – Sour Candy (Lyric Video)
The popular collaboration song – Sour Candy – takes the audience into a retro-style, hypnotic, game-like world. This song has a different perspective and would hold you in a trance if you watch it for the first time.
Released: June 16, 2020

Artist: Lady Gaga

Views: 21M+
5. Dua Lipa – Hallucinate
Dua Lipa's Hallucinate takes you on a psychedelic trip into the retro cartoon world. This music video is heavily inspired by the 70's style of cartoons with tons of colorful elements. This video clearly shows that it required a lot of planning and a large team of animators.
Released: July 10, 2020

Artist: Billie Eilish

Views: 71M+
6. BTS – We are Bulletproof – The Eternal
The song 'We are bulletproof' is no regular video song. Cuz it resembles a full-fledged movie! It was exclusively created for the annual BTS Festa Celebrations, which is an event celebrated yearly for the band's debut anniversary. This music video has stunning animations and features miniature versions of the BTS members dancing, making it a cute, interesting watch.  
Released: June 11, 2020

Artist: BTS

Views: 97M+
7. Sia – Hey Boy feat. Burna Boy
This song by Sia has a captivating beat and stunning animations with popping colors. It gives us
Moulin Rouge-like
feels. The characters in the video do all kinds of funny gimmicks that we have seen in cartoons from our childhood.
Released: January 14, 2021
Artist: Sia

Views: 23M+
8. Yorushika – That's why I gave up on Music
This is an anime-styled song with pastel colors. While the visuals are eye-pleasing, the song mixes soothing Japanese and rock music. Even if you don't understand the language, the visuals speak out for you, making it an enjoyable animated music video overall.
Released: April 5, 2019

Artist: ヨルシカ / n-buna Official

Views: 143M+
9. Beabadoobee – Sun More Often
While most animated videos are bright with eye-popping colors,
Beabadoobee's Sun More Often
takes us to a vintage video style with just black and white colors. The doodly-themed video has a weird yet exciting story of launching caterpillars to the sun. This, paired with rock-themed music, makes it even more interesting to watch.
Released: February 4, 2020
Artist: Beabadoobee

Views: 295K+
10. Childish Gambino – Feels Like Summer
This music video is purely vibey with a retro VHS look, lofi music beats, and stunning animation effects. This animated music video by Childish Gambino is a must-watch if you want something pleasing to both eyes and ears.
Released: September 2, 2018
Artist: Donald Glover

Views: 270M+
11. A-h-a – Take on Me
Among our list of animated songs, this song is the oldest. It was released back in 1985 using rotoscoped characters. So the likelihood of you listening to this music track is high, but the chance of watching the music video is meager. Check out the remastered version of this song with over 1.5 Billion views!
Released: January 6, 2010 (Remastered version)

Artist: a-ha

Views: 1.5B+
12. Rainbow kitten surprise – It's called: Freefall
Just like how the song name sounds very dreamy, this animated music video is also dreamlike and will make you go wow. The colors, the animation type, and every element of this video are fresh. You should check this out if you want to watch a retro-themed animated music video.
Released: January 28, 2019
Artist: Rainbow Kitten Surprise

Views: 20M+
13. Bob Marley & The Wailers – 'Three Little Birds'
This is an animated collaboration of the original song,
Three Little Birds
by Bob Marley, released 43 years ago. This collaboration was part of MARLEY75, a year-long commemorative tribute to the reggae legend Bob Marley. This song's visual effects bring memories back from the days.
Released: April 17, 2020
Artist: Bob Marley

Views: 48M+
14. Katy Perry – Daises
Katy Perry's
Daisies
is a pastel-themed, minimalistic animated music video complemented by abstract art and a short inspirational storyline. To give a gist, this animated music song showcases the common facings of women and how these challenges are overcome.
Released: May 26th, 2020
Artist: Katy Perry

Views: 2M+
15. Chromance – Wrap Me In Plastic
If you are active on Instagram Reels or TikTok, there's a high chance that you've already listened to this track! This video song gives you an anime vibe with its colors and how it is made. Overall, It is a fun music video to watch!
Released: April 15th, 2020
Artist: Marvellous

Views: 54M+
16. Stephanie Poetry – Straight to you
If you have played Mario before, this lyric video looks just like it. This single by Stephanie Poetry is made entirely with retro-looking 32-bit animation. It is complemented by beautiful, pleasant music.
Released: April 24th, 2020
Artist: 88rising

Views: 173K+
17. BENEE – Night Garden ft. Kenny Beats, Bakar
This song has a groovy track and gives you spooky feels. This beautiful animated video, drawn & illustrated by Alisa, tries to signify the story of a haunted Benee who is trying to find the cause of the creeps.
Released: July 31st, 2020
Artist: BENEE

Views: 1M+
18. Rauw Alejandro – Algo Magico
This track is the winner of the "Best Latin Animated video of the year award"! How awesome is that?! The video has stunning visuals and takes you on a journey through iconic landmarks in a beautifully animated way.
Released: June 26th, 2020
Artist: Rauw Alejandro

Views: 167M+
19. House Shoes Ft. Danny Brown
This video has a trippy, psychedelic, weird yet exciting scribbly animation that showcases melting faces. If you want to check out an animated video song that is very different from the others, then you should take a look at this one.
Released: September 4th, 2012
Artist: Pitchfork

Views: 423K+
20. Stormzy – Superheroes
Stromzy's
Superheroes
celebrate the heroes, the real-life heroes living among us, and focus on the black community. This song has beautiful aesthetic colors, stunning music, and, most importantly, a good message.
Released: September 9th, 2020
Artist: Stormzy

Views: 5M+
21. Rick and Morty X Run The Jewels – Oh Mama
All you Rick and Morty fans out there… get ready to witness their unexpected, rebellious side! This song was directed by Juan Meza Leon, the same person who also directed the best episodes of Rick and Morty. Check it out!
Released: March 16th, 2018
Artist: Adult Swim

Views: 36M+
22. Mac Miller – Good News
This track,
Good News
, by late rapper Mac Miller is a mix and match of everything from retro-looking animated clips to archive footage. It takes the audience on a nostalgic journey. Fun fact: Many think this song is sent straight from heaven!
Released: January 10, 2020
Artist: Mac Miller

Views: 113M+
23. Taylor Swift – Look what you made me do
Taylor Swift's
Look what you made me do
simply proves that there's no limit to creativity in making an animated lyrical video! From the stunning voice of Taylor Swift to the mind-boggling creative visuals, this captivating video is something that you should not miss out on.
Released: August 25th, 2017
Artist: Taylor Swift

Views: 140M+
24. The Kleenrz – Sandman (Self Jupiter & Kenny Segal)
This animated music video has a combination of children's style cartoon animation mixed with live-action videos. This takes it to a different perspective compared to most of the animated music songs here. If you are someone looking to mix a live-action video with animation, then you should check this music video out!
Released: August 8th, 2012
Artist: Hellfyre Club

Views: 36K+
25. Daft Punk – One More Time
Daft Punk's Music videos are well known for their creativity. However, with this song,
One More Time
, they have taken a step up and made a movie-like music video that's interesting to watch.
Released: February 24th, 2009
Artist: Daft Punk

Views: 410M+
26. Dire Straits – Money for Nothing
This animated music video was launched in 1985. The best part about this video is that it used the technology of 3D animation decades back. While this might look outdated now, it was a groundbreaking chapter back in the day.
Released: February 23th, 2010
Artist: Dire Straits

Views: 109M+
27. Porter Robinson & Madeon – Shelter
This animated music video will make you wonder whether this is a movie or a music video! Because the quality of production is on par with the animated movies we see these days. This song is the longest on our list here, clocking 6:07 minutes. Nevertheless, it is a feast for the eyes!
Released: October 18th, 2016
Artist: Porter Robinson

Views: 72M+
28. Siames – The Wolf
This music video,
The Wolf
, has a fascinating and individual style created by a
Japanese company
well-known for its energetic motion animation and outstanding creativity. This animated music video widely uses monochrome shades of colors with fast motions, making it a new experience for first-time viewers.
Released: April 22nd, 2017
Artist: Siames
Views: 159M+
29. Stuck in the Sound – Let's Go
Imagine there was a way to visualize an Indie Rock song. Then, the song "Let's Go" by Stuck in the Sound demonstrates it excitingly using attractive colors, different-looking character models, and lots more to add to this interesting animated music video.
Released: November 27th, 2012
Artist: Stuck in the sound
Views: 126M+
30. The Weeknd – Snowchild
We all know Weeknd as one of the best artists of this decade. While we know he never fails to impress us with his voice & skills, this song "Snowchild" takes a step up by creating a visual treat for his fans with a Japanese-themed animated music video.
Released: July 22nd, 2020
Artist: The Weeknd
Views: 23M+
31. Lil Dicky – Earth
If all the grammy award artists plan to produce a song, then this song "Earth" would be a perfect example. This song has most of the famous artists we know, like Justin Beiber, Ariana Grande, Snoop Dogg, Kevin Hart, Adam Levine, Sia, and lots more. This song is dedicated to our planet earth and attempts to spread a positive message – "We love the earth." This song has not only a beautiful message but amazing animated visuals too. The 3D style of animation used here makes it feel just like the movies, and the actors in this animated music video make it just better.
Released: April 19th, 2019
Artist: Lil Dicky
Views: 372M+
Bonus track – Master – Quit Pannuda Lyric
Sony Music South is one of India's biggest music label industries. This animated music video from the movie Master was made with Animaker. It uses a mix of VFX with custom characters from Animaker's custom character builder.
That was a ride, wasn't it? To watch all those amazing music videos!
Seeing all those marvelous animations might make you wonder how they are created. Today, there are lots of tools, softwares, and professional animation artists who can assist in creating animated music videos. Tools like Maya, Blender, Adobe After Effects, Adobe Premier Pro, and many others are used to create them. 
While it might be easy to watch an animated music video, creating one takes a lot of effort, time, and money. Not just that, but these tools also require tons of experience and expensive computers for compatibility and support.

Wouldn't it be awesome if you had a tool that helped you create such beautiful animated videos in a matter of minutes right from your browser? Sounds like a dream, doesn't it?
Well, that dream came true back in 2014 in the form of Animaker!

Yes! Animaker is a video-making platform that lets users create live-action/animated videos from their browsers. In addition, Animaker's powerful custom character builder lets you create your own characters with tons of customization. Its rich asset library lets you add all kinds of properties and music tracks easily.
Here's how you can create your Animated music video using Animaker. 
How to create an Animated music video using Animaker?
Creating an animated music video is pretty simple. Just follow these below five steps to make a stunning animated music video.

Create a new project 

Add your own music

Add lyrics to your video 

Add custom characters and properties

Download and share it 
As simple as that! 
Additionally, you can also check this in-depth video guide on 'How to make music video' to learn more.
We hope this article helped you find some of the best-animated
music videos
. If you have any questions or queries, please drop them down in the comments below.