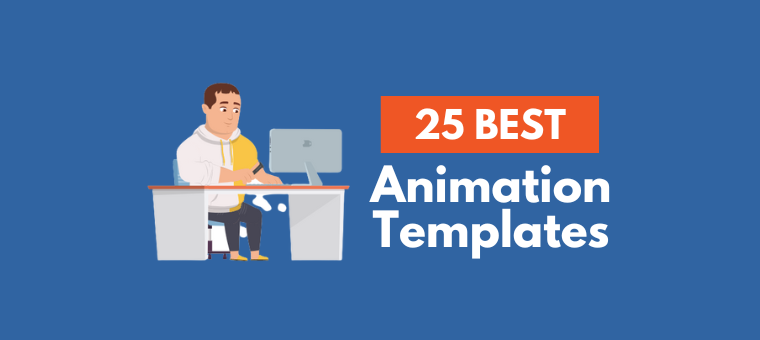 25+ Best and Free Animated Video Templates [Free]

12

min read
Animation videos!

When people hear this term, they usually think about highly skilled professionals producing complex high quality animations. 
Often, people assume it will take a long time, require a lot of learning, etc.
But what If I told you all you need is a browser on a PC with an internet connection?
Yes, you heard that right. 
You can create animations like this right from your browser
And also within minutes and not hours or days.
How you ask?

That's where Animaker's 1000+ studio quality video templates come in handy. And these templates aren't created in random. There are created under highly useful set of categories that will help any person or person achieve their goals through the use of videos. 
Here's a small gist of Animaker's categories of templates
2D Animation templates

Text Animation Templates

Logo Animation templates

Text Animation templates

Wedding Animation templates

Animated Invitation Templates

Animated Explainer Templates

Animated Music Templates

Animated Resume Templates

And so many more….
These are just some of the template categories we have, and there are 100s more inside the app. 
The first step is to register for a free account on Animaker.
To sign up, head over to Animaker.com and click on the "Sign Up" button on the top right. Once you are fully signed up, all you have to do is find the best-animated video template from this list and click on the "Edit this template." Upon clicking, the project will open up as a new project in a new tab. Inside the project, you can simply edit the text, change the colors, and customize it the way you want in just minutes and not hours.

Really?

Yes really!

If you want to learn how to edit an Animaker template you can check out this video below – 
Now that we know how simple edit a template on Animaker is, lets have a look at some of the most awesome Animated video templates present inside Animaker 
If 25 Best Animation Video Templates aren't enough, you should head over to Animaker's massive template library. It has over 1000+ professionally created animated video templates that are readily waiting for you to edit. 
Video templates are simply ideas put into creation. Similarly, the sky is the limit for creating your Animation videos and bringing life to your ideas. There are many articles on our blog on creating animated videos using Animaker, and our YouTube channel is filled with 100s of high informative tutorials for making Animated videos. Do you have more cool Animation Video template ideas to check out? Please let us know in the comments below, and you might even get a professionally created Animated video template in our library.