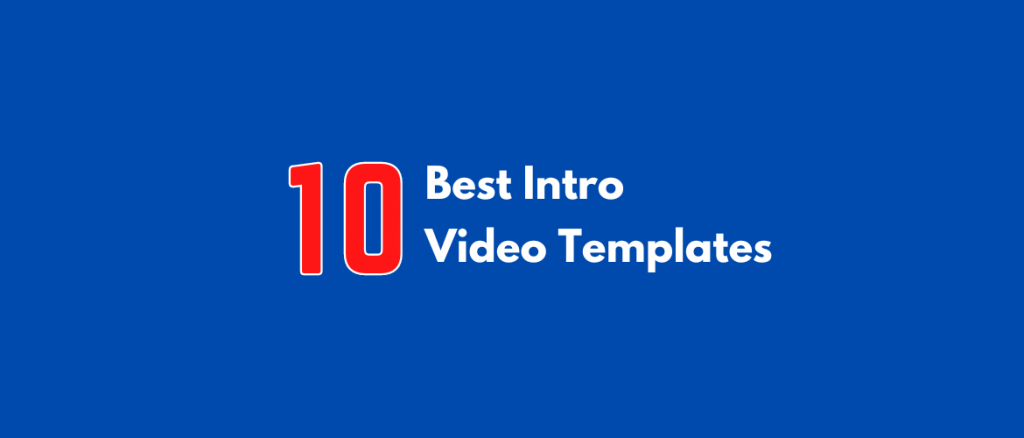 10 Free Intro Templates to Make Your Videos Stand Out!

4

min read
Videos are everything. 
Have you ever had a day without watching videos?
Probably not, right?
We consume video content one way or another without our knowledge. 
Video creation is an art and there are few things that are needed to make it perfect. Most of the video creators you see are successful for two  reasons, consistency & branding.
While consistency is in your hands, we can help you with branding your videos. Animaker can help you one-up your videos with customized intros and outros that can act as a calling card for your video. This helps to bridge a strong base with your audience.
If you wonder what the purpose of Intros and outros, Intros basically give an introduction to your channel and your audience. Whereas an outro helps to end your videos professionally and act as a way to tease your upcoming video & keep the audience hyped. 
In this article, we will be taking a look at the best intro templates for your videos. 
These templates are so easy to edit that you can create your own customized intro for your video in a matter of minutes right at the convenience of your browser. Here are some of the many intro templates we are going to check out –
Best intro templates
Intro – Technology & Startup



If you're looking for a technology-themed Intro for your video, then this Info – Technology & Startup themed template is the right one for you. It lets you customize the template, change text and even add your own logo to the final intro.




Lyrical Video & Logo Intro

Are you an artist who works with music? Do you regularly post lyric videos on your channel? Then this super simple template you can customize easily. It comes with an editable background that you can replace. You can also replace the text with a logo and make it your own.


Intro – Education

Running an educational channel? Then this Educational Intro video is the perfect template for you. This template comes with customizable educational themed assets that are very straightforward. You can play around with the template by changing colors, font design, and add interesting elements to capture your audience's attention. or even replace the text with your very own logo.





Creative channel intro

If you are looking for a simple yet creative channel intro, then this template is the perfect fit for you as it has a single editable text element that you can customize and turn it into your own channel intro.


Exciting Youtube channel intro

If you are bored of the traditional YouTube Intros, then this one stands out as it has a different theme than the other YouTube intro templates here. This is the right template if you are looking for something different than the normal and something simple to edit.



Brand Reveal – Video

Are you looking for an intro to reveal your brand? This Brand Reveal video template takes care of everything for you with the colorful elements. You can replace text, add your brand logo and make it your very own Brand Reveal video.


Title & Handle Intro

Looking for a simple title intro for your channel? This title & handle intro has a minimalist approach with flat colors, design and animation. This template let you add your own logo and customize the text for it easily.


Text animation intro

Looking for a simple intro that's simple & easy to edit? Then this text intro template has a basic text element that can be edited and replaced. Additionally, there's no limit to how your can use your creativity on this template. You can add all the elements you want to your Text animation intro template.


Logo & Handle Intro

Looking for an intro template with just your logo and text element that's enough for your social media handles? Then the Logo & Handle Intro template is the right one for you. This template comes with an animated logo entry and text that's fully
customizable.


Intro – Brand Reveal

Are you looking for an attractive brand reveal intro? The Intro – Brand reveal intro is the one themed simple & attractive. This template comes with multiple customizable elements, logo, tagline and aesthetically pleasing colors.


Wasn't this easier than you thought?
But wait, that's not it! With Animaker you can instantly resize your Intro templates into horizontal, vertical or square with a single click and make it ready to use across any platform. To resize an Image, simply click on the Resize Button on the top left of the dashboard and choose your desired dimensions  
Having intros not only makes your channel look professional but helps to maintain a consistent brand aesthetic for all your videos. 
Hope this article helps you find the right intro templates for your video.