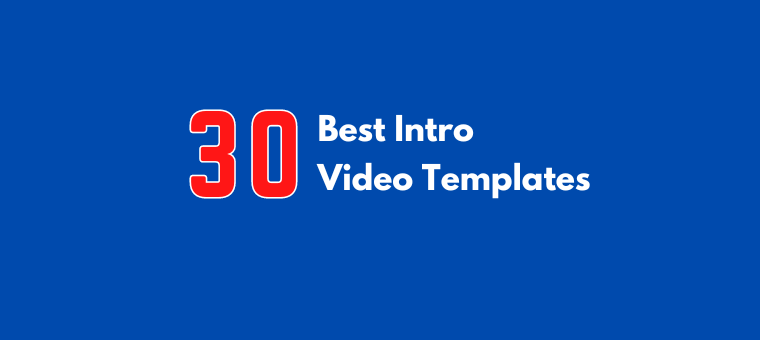 30 Free Intro Templates to Make Your Videos Stand Out!

14

min read
Videos are everything. 
Have you ever had a day without watching videos?
Probably not, right?
We consume video content one way or another without our knowledge. 
Video creation is an art, and there are a few things that are needed to make it perfect. Most of the video creators you see are successful for two reasons, consistency & branding.
While consistency is in your hands, we can help you with branding your videos. Animaker can help you one-up your videos with customized intros and outros that can act as a calling card for your video. This helps to bridge a strong base with your audience.
If you wonder what the purpose of Intros and outros is, Intros basically give an introduction to your channel and your audience. Whereas an outro helps to end your videos professionally and acts as a way to tease your upcoming video & keep the audience hyped. 
In this article, we will be taking a look at the best intro templates for your videos. 
These templates are so easy to edit using Animaker's Youtube Intro Maker that you can create your own customized intro for your video in a matter of minutes right at the convenience of your browser. Here are some of the many intro templates we are going to check out –
Best intro templates
1. Yoga Channel Intro Video
Running a Yoga YouTube channel? Then this intro would make the best fit for your videos as it brings in the aura of mindfulness with its beautiful colors and soothing animations. Edit this template and customize it the way you like.
This template features an eye-soothing gradient background with animations that defines peace & harmony.
With this Yoga Channel Intro video, you can give a sense of peace right from the intro of your video.
2. YouTube Education Channel Intro
Getting the attention of a child is tough. But with this beautiful and colorful YouTube Education channel intro, you can excite and hook them at the beginning of your video. Furthermore, you can customize it even more and make it personalized.
With eye-popping colors and beautiful transitions, this will create the hook for the children to watch the rest of the video.
Why wait? Get your hands on this educational YouTube channel intro and create yours now.
3. Travel Vlog Channel Intro
Who doesn't love traveling? If you are a budding traveler or are running a travel youtube channel, this Travel Vlog Channel Intro will come in handy for your beautiful travel vlogs. This template gives the hype to your audience to continue watching your video. Additionally, you can change the colors, add your photos, and make them truly your own.
The photo collage option in this template gives you an opportunity to tease the location you are visiting and excite your audience.
Create a Travel Vlog intro with this super cool template now!

4. Gaming Channel Intro
Gaming videos are everywhere, irrespective of the platform you are on. So if you plan to create gaming videos, then intros are mandatory. They give your audience a taste of your content. This customizable gaming channel intro is a short & simple template, so you can play with the colors and make it unique for yourself.
This Gaming intro template features a cool color wave template and an area where you can use your logo.
Go ahead, customize this intro and start uploading your gaming videos now!

5. Book Reviews Channel Intro
Looking for a short and simple Book review channel intro? Here is a basic, colorful Book review channel intro template that you can edit easily. Right from colors to the background music track, everything can be customized.
Express your creativity with this template. Show the world you are a bookaholic and start reviewing books on your channel.
Stop waiting and customize your Book review channel intro now!

6. Music Channel Intro
Are you looking for an intro for your music channel? This futuristic music channel intro features neon-themed elements, cool background music, and an editable text element. With this, all you have to do is customize the text element, and you are done.
So if you are planning to upload your own music or music covers to your channel, then this music channel intro definitely passes the vibe check with its cool elements and customizable text elements.

7. Tech Reviews Channel Intro
Bored of flashy intros? Well, here's a simple, classic image-based tech review channel intro. You can easily customize this template, replace the image, play around with the color and make it truly yours.
This Tech Intro template features multiple customizable elements and lets you customize A to Z of the template. Don't wait now; customize this template and make your audience go wow!
8. YouTube Intro Video
A simple & short intro is the key to hooking the audience to your channel. This YouTube Intro video features beautiful colors & modern music. As always, every element in this template is customizable, so you can make it suit the theme of your channel.
This template features beautiful animations, colors, and everything else to make a perfect YouTube Intro.
So, irrespective of the niche of videos you create, this YouTube Intro Video template will be perfect for all your videos. Go edit it now!


9. Photography Channel Intro
Wow your viewers with a stunning Photography channel intro. This intro features a photo card stack design that's unique and customizable. If you are running a YouTube photography channel, this Intro will make a perfect fit for you.
The collage functionality of this template lets you choose between different photos and give a little teaser of your video in your intro.
If you are a photographer, you SHOULD NOT miss out on this Photographer channel intro

10. YouTube Intro Video Template
Make your YouTube channel subscribers go WOW with this easily customizable youtube template. Whether you're looking to create a sleek and modern intro for a vlog or a fun intro for your video, this template has you covered.
This template is perfect for any kind of video, be it personal vlog or a review video.
Get started and customize this template now!

11. Make Up YouTube Channel Into
Whether you are into makeup tutorials or reviewing makeup-related products, an intro to your makeup videos would spice up the video and hook the audience to your video. This Makeup YouTube Channel Intro features cute, customizable elements and beautiful colors.
This template also features cute animations, including animated makeup elements and a customizable text section that can be replaced according to the video you create.
It's super simple. Edit this template now!

12. Science YouTube Channel Intro
Are you the crazy scientist uploading crazy experiments on your YouTube channel? Then this Science YouTube Channel Intro will be a perfect companion for your youtube channel. This youtube intro template features cool science props and customizable elements.
This catchy intro gets you a step ahead of other channels, as it can be customized with your channel's name or the topic of the video.
Why wait? Get cooking with some crazy experiments and share them with your audience with this super cool Science YouTube channel Intro!

13. YouTube News Channel Intro
If you are looking for a professional intro for your YouTube News channel, this is a suitable template. With professional background music and customizable text elements, this YouTube news channel intro can be the right fit for your upcoming videos.
With millions of people watching the news from their smartphones and laptop every day, this YouTube News Channel Intro can take your videos to the next level.
Why are you waiting? Customize this news channel intro now!

14. YouTube Fitness Channel Intro
Are you a fitness expert looking to grow your youtube audience? Then this intro template will be a sweet add-on to your youtube videos. This template is entirely customizable, meaning anything can be customized and made suitable for your channel.
This template brings in customizable backgrounds where you can add your own photos or videos over beautiful animations. The text elements in this template can give a hint of the workout that's in the video. Go ahead and customize this video now!
15. YouTube Cooking Channel Intro
Whether you are a cooking enthusiast running a youtube channel or someone who uploads cooking tutorials to YouTube, creating a brand identity is essential. With a simple intro, you can give a taste of your content to your new audience right at the beginning of the video.
This template features cute kitchen elements that can be customized easily.
So without waiting, customize this template and customize it now.

16. Kids YouTube Channel Intro
Kids have multiple interests. So, to cope with that, this template features a multi-niche intro style that you can make suitable for your channel. It also doubles as a super simple template to customize, so you can instantly change & update it according to your needs.
With cute cartoon elements and funky animations, this template is going to hook kids to your channel.
Go ahead, customize it now.

17. YouTube Intro – Fashion Channel
Fashion is all about cool outfits and style. This template features a super cool photo collage that's trendy and stylish for an intro. You can replace each image according to your needs and create a super cool YouTube fashion intro in no time.
Edit this template now and show off your fashion sense right from the intro

18. Art Channel YouTube Intro
Are you a creator running an art channel? Then this creative Art Channel YouTube Intro is the right one for you. With an ocean of colors and stunning animation, this will elevate your video quality to the next level. Go ahead and customize now!
This template features cool art elements and cute text animation. You can show off your creativity further by adding elements from the asset library and play around with text fonts, text animations to make it your own.
19. DIY Channel YouTube Intro
DIY represents handmade, and this intro is professionally handmade with creative elements for your YouTube channel. This template is short and super simple to customize. 
Customize this DIY Channel YouTube Intro now and make your DIY videos look even more creative.
20. Gardening Channel YouTube Intro
This Gardening Channel YouTube Intro is perfect for your horticulture videos. With bright and vibrant colors, this template is set to grab the attention of your viewers. It also features a variety of garden-themed assets that will accompany your video
Customize this gardening youtube channel intro now and make your audience go WOW.
21. Intro – Technology & Startup

If you're looking for a technology-themed Intro for your video, this Info – Technology & Startup-themed template is the right one for you. It lets you customize the template, change text and even add your own logo to the final intro.
So, if you are looking for a cutting-edge, technology-themed Intro video for your channel, this is the right one for you. And the best part is it is super easy to customize.
22. Lyrical Video & Logo Intro

Are you an artist who works with music? Do you regularly post lyric videos on your channel? Then this super simple template you can customize easily. 
It comes with an editable background that you can replace. You can also replace the text with a logo and make it your own. It also features cute animations to go along with your video. They can also be replaced with 1000s of different animations from the library. 
Go ahead, customize this Lyrical Video now and hype your audience.
23. Intro – Education

Running an educational channel? Then this Educational Intro video is the perfect template for you. This template comes with customizable educational-themed assets that are very straightforward.
You can play around with the template by changing colors and font design, and adding interesting elements to capture your audience's attention. You can even replace the text with your very own logo. Go ahead and customize the template now!
24. Creative channel intro

If you are looking for a simple yet creative channel intro, then this template is the perfect fit for you as it has a single editable text element that you can customize and turn it into your own channel intro.
This template is super simple to edit and features replaceable background & customizable text elements. If you are looking for a super simple and creative intro for your channel, this is the one for you.
25. Exciting Youtube channel intro

If you are bored of the traditional YouTube Intro, this one stands out as it has a different theme than the other YouTube intro templates here. 
This template comes with a funky video background that makes you stand apart from the other channels out there. 
You can get even more creative by adding more animated elements, replacing the background video, and playing around with the text.
26. Brand Reveal – Video

Are you looking for an intro to reveal your brand? This Brand Reveal video template takes care of everything for you with colorful elements. You can replace text, add your brand logo and make it your own Brand Reveal video.
This template is perfect for videos about official brand news or a simple vlog on your channel. It can be used for anything and everything. Customize it now and create your own intro for your personal or business channel.
27. Title & Handle Intro

Looking for a simple title intro for your channel? This title & handle intro has a minimalist approach with flat colors, design, and animation. This template brings out the brand identity simply and attractively.
This template lets you add your own logo and customize the text for it easily. Furthermore, you can customize the colors according to your brand theme and make it your own.
28. Text animation intro

Looking for a simple intro that's simple & easy to edit? Then this text intro template has a basic text element that can be edited and replaced. Additionally, there's no limit to how you can use your creativity on this template.
You can add all the elements you want to your Text animation intro template. Try it out now!
29. Logo & Handle Intro

Looking for an intro template with just your logo and text element that's enough for your social media handles? Then the Logo & Handle Intro template is the right one for you.
This template comes with an animated logo entry and fully customizable text. Not just that, it can be used for different scenarios, right from a simple brand reveal video to an intro for your YouTube channel. Try it out now!
30. Intro – Brand Reveal

Are you looking for an attractive brand reveal intro? This Brand Reveal intro is themed simple & attractive. This template comes with multiple customizable elements, a logo, tagline and aesthetically pleasing colors.
If you are looking for a professional Brand reveal Intro video for your channel, then this is the right one for you. Create your very own brand reveal now and reveal your brand in style.
Wasn't this easier than you thought?
But wait, that's not it! With Animaker, you can instantly resize your Intro templates into horizontal, vertical, or square with a single click and make them ready to use across any platform. To resize your video, simply click on the Resize Button on the top left of the dashboard and choose your desired dimensions  
Having intros not only makes your channel look professional but helps to maintain a consistent brand aesthetic for all your videos. 
I hope this article helps you find the right intro templates for your video. Start creating awesome intro templates with Animaker's Youtube Intro maker now!