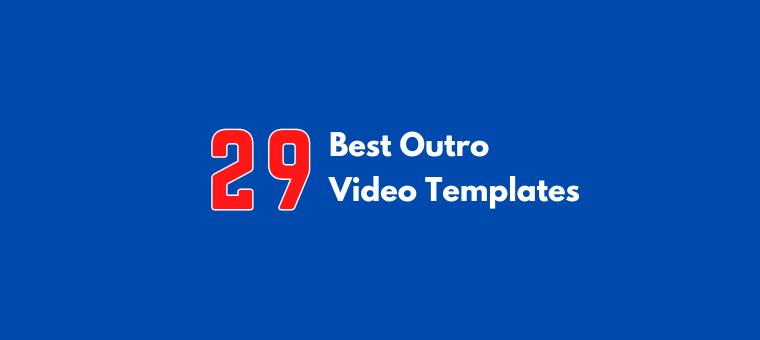 29 Amazing & Free Outro Video Templates (Edit in 2 mins)

18

min read
Videos are fun and engaging to watch. 
But to create one, it probably isn't as easy, right? 
No!
You're wrong! With a tool like Animaker by your side, you can easily create beautiful videos in no time!

If you are wondering what Animaker is, let me explain.

Animaker is an award-winning DIY platform for beginners, non-designers & professionals to create Animation and Live-Action videos for every moment of our life.
Animaker even helps you make the video's composition interesting by giving you access to easy-to-use templates that can be used to create the intro and outro for the video!
Just by optimizing the video and including elements like an intro and outro, you can make your video look far more interesting and classy than it already is.
It's because a good 3-second YouTube intro video helps your audience understand what they expect for the next few mins in the video, and an engaging outro tells your audience how to proceed further. 
In this article, we'll showcase some of the coolest and most professional outro templates that are part of the Animaker library. The best part about these templates is that you can edit and export the final version of your intro in under 10 mins!
Yes, you read that right! 10 Mins! That's all it will take you to create some of the classiest outros available on the internet today.
Now let's take a look at 19 exciting and engaging outro templates that are part of the Animaker library.
1. Science Youtube Channel Outro
Informative videos are always on-demand! 
Many seek Youtube to educate themselves by viewing informative videos.
And, if you are someone who owns an informative channel, I am sure you wouldn't want your viewers to miss out on your interesting videos.
So, ask viewers to subscribe to your channel at the end of the video. This will help them get notified of your new videos and help you gain some views! 
Here's a cool Outro video that would suit a nice Science video. Customize the outro template for your science channel. You can also customize it based on the type of video you produce.
Start editing the template now!
Edit the template
2. Kids Youtube Channel Outro
Did you know? Three among the top-10 most-viewed channels on Youtube are for kids!
So, if you have a great kids channel with the right elements to impress kids, you are already on the right path!
Also, If you're looking for a modern-looking and captivating outro animation for your kids' YouTube channel, search no longer. 
Show the uniqueness of your brand by demonstrating a simple but animated outro video. 
You can customize this outro template by adding kids' characters or changing the background, effects, transitions, music, etc. 
Let this template do the work!
3. Make-Up Youtube Channel Outro
What would the beauty world be without the best beauty vlogs? 
Create impressive make-up outro videos and highlight the action that you want your audiences to perform after watching your make-up tutorial.
Or simply, thank them for being nice and cute by watching your video till the end. 
Let the Youtube Outro template complement your make-up video. 
Try out the template below and make a quickie 'thanks' outro video.
4. Youtube Fitness Channel Outro
If you want to level up your fitness channel's reach, posting videos consistently is one way. The other way is to encourage the viewers to subscribe to your channel.
Placing a suitable outro for your video and asking the viewers to subscribe is a good practice. And for that, here's a template for you.
The YouTube outro template, which is exclusively for fitness channels, is completely customizable. You can edit the lively music, visuals, effects, icons, color, etc. 
So, what are you waiting for? Tell the fitness freaks out there to start following or subscribing to your fitness YouTube channel by adding an engaging outro video at the end.
Feel the power of simplicity with this minimalistic outro video template!
5. Youtube News Channel Outro
One has to keep themselves aware of current affairs, right?
So, one YouTube channel that never goes obsolete or lacks content is a news channel.
So, once the news is presented in your video, an attractive and engaging outro video is necessary for viewers to stay tuned for the next video. 
Here's one such outro for you. The sharp transitions and epic sound effects will complement your video, and it is well suited for news YouTube channels.
Try it out today for free!
6. Youtube Cooking Channel Outro
Are you a chef or a cook longing to promote your cooking channel?
Would you want your viewers to visit your channel very often for more mouthwatering recipes?
But what if they get distracted and jump right into cooking after watching your amazing video?
You wouldn't want them to lose your future videos and not come back to the channel again, right? 
Idea! 💡
How about adding an outro video at the end of your cooking videos? This will remind your viewers to subscribe to your channel to try more intriguing cuisines from your channel.
Create your own outro video by editing this template!
7. Youtube Outro-Fashion Channel
Everybody wants their fashion sense to be sleek and on point!
Whether you own a fashion brand or a fashion creator who's looking to increase engagement for all your tutorial videos or vlogs, then having a CTA at the end of your video is a must.
Check out this fashionable outro template that follows the YouTube vocabulary – Like, Share & Subscribe. Also, you can edit the whole template, add your brand models, change your brand color, and do lots more with it.
Try this template for free!
8. Art Channel Youtube Outro
YouTube is a distinctive era that helps creators publicize their creative works.
Are you one such creator who is looking for ways to make artistic viewers follow your artwork and the channel itself?
Here's a creative outro template for the creative-you!
This template will let you edit and play around with each and every element in the video, from music, designs, animations, texts, effects, and all that you see on the screen. 
Spice up your video by adding this interesting outro and a relevant CTA!
Check out this free template now!
9. DIY Channel Youtube Outro
DIY YouTube channels are here just to save the day for you. In simple words, they teach you everything your school/college missed out on! 
There's no limit to DIY ideas, and for DIY channels, the videos will keep on streaming.
If you are a DIY-channel owner yourself, you would be guiding viewers with great ideas. But have you asked them to subscribe to your channel yet? 
If not, let's create an engaging, interesting, and attractive outro template. The outro placed at the end of your video will do its job of nudging your viewers to subscribe to more of your videos. 
And to make things easy for you, we have created a customizable template. Give it a try today!
10. Gardening Channel Youtube Outro
Though gardening is a hobby of millions around the world, not all are well-equipped and aware of the 'gardening' methodologies.
If you are a gardening expert yourself and own a cool gardening channel that pours tips to viewers, good for you.
Also, in the end, put an outro template with a caring, nurturing message. Such messages can help spur your audiences to subscribe to your channel. 
You can either use the template as it is, or, try editing the text, the color, the music, the animation, and all that you see!
Check out this editable template!
11. Outro Template for Technology and Startup channels
If you're looking for a technology-themed Outro for your video, then this Info – Technology & Startup-themed template is the right one for you. It lets you customize the template, change text and even add your own logo to the final outro.

12. Outro Template for Education channel
If you're a teacher or working in the educational industry, this educational outro maker can help you customize the template based on your subject and project. You can customize the entire template and complement it with some mild and bright colors.
13. Yoga Channel Outro Video
Fitness, Fitness, Fitness, no matter where you turn, there's fitness related content.
And for many, Yoga is the preferred physical activity to get closer to their fitness goals. And YouTube is their primary learning source for Yoga related content. 
This template has eye-soothing gradient background colors with smooth animations that defines peace & harmony. Why are you waiting? Create your Yoga Channel Outro now! 
14. Youtube Education Channel Outro
Education YouTube Channels are among the top 10 highest-grossing YouTube channels in terms of views and subscribers. If you are running an Educational YouTube channel, Outros play a crucial role in videos. 
If you are on the hunt for an outro for your educational channel, then this sleek & modern customizable outro will be the perfect choice for your channel. This template lets you customize all aspects according to your brand, right from colors to your own logo; everything can be customized. 
Stop waiting and get customized!
15. Travel Vlog Channel Outro
Traveling is all about investing in yourself. Its a journey of thousand miles filled with millions of memories. And if you are planning to vlog it and post it on your youtube channel, then this travel vlog channel outro will come in handy.
This template gives scope to a quick goodbye message with some cool animations and properties. This adds brand value to your travel videos and a hook to the upcoming video.
Go try out this Travel Vlog Channel outro now!
16. Gaming Channel Outro
The gaming industry is on the boom right now. If you are scrolling through YouTube Shorts or Instagram reels, you would've come across atleast one or two in your endless scrolling journey. 
If you plan to create gaming-related content and upload it to your channel regularly, an outro is a great hook to keep viewers engaged to your channel. Since this gaming channel outro template asks the viewer to like, share and subscribe to your channel. It's highly likely they will be recommended more content from your channel if they perform any of the suggested actions. .
This template features a customizable color theme and a customizable text spot. It can be used on any kind of gaming channel and its theme.
Edit the template
17. Book reviews Channel Outro
Are you a Bookaholic who regularly posts book reviews on your YouTube channel? Then this basic colorful book outro channel outro template is the perfect fit for you. 
This template includes fully customizable elements that can be made according to your desire. Right from colors to the background music track, it's fully customizable. 
Try it out now and create an excellent Book review outro video for your channel!
Edit the template
18. Music Channel Outro Video
Are you a musician that regularly uploads their music covers & originals to your YouTube channel? Then this outro template would come in handy. 
This neon-themed outro is not only super cool to look at but also customizable to your needs. So if you plan to create an outro for your channel, look no further and customize this beautiful Music Channel Outro Video. 
Edit the template
19. Tech Reviews Channel Outro
Technology has been a part of our life, and the Internet is filled with endless reviews & tutorials. If you are one such content creator who creates videos in the tech niche, then outros are a great way to increase engagement for your channel.
Outros for videos are an excellent way to promote similar videos or related topic videos on your channel. Similarly, this Tech Reviews Channel Outro is simple and will come in handy with its customizability options that will let you customize A to Z of the template. 
What are you waiting for? Get customizing and Personalize this cool-looking Tech Reviews channel outro now!
20. Photography Channel Outro
Are you an avid photographer guiding newbies with your photography knowledge and skills? Then this Photography channel outro will fill in the gaps in your perfect video with a little tease of your next video that will excite your audience.
This template brings a dedicated space to add your photo and a customizable text space to write a little about your video. Don't miss out on this outro template if you are a video content creator who talks about photography. 
21. Common YouTube Outro 1 
Over 1 Billion hours of content on YouTube is watched by people worldwide. If you are a content creator or planning to become one, an outro is a must for your video. It has many benefits to you as a creator. Right from nudging your viewers to subscribe to your channel, it even has a significant impact on your channel's returning visitors. 
Below is one such outro template that could keep viewers hooked into your channel's content in the future. Its elegant design and pleasant colors will fit into the requirements of most channels. In addition, the customizability of this template makes it a must-try for most creators.
Edit the template
22. Common YouTube Outro 2
For creators who need more variety in the type of outro templates that they might want to use on their YouTube channel, here's another common YouTube outro that can be used on any YouTube channel
This templates take a simple approach with flat colors and a beautiful design to complement your YouTube video. 
Edit the template
23. 'Thanks for watching' Outro template
Of course, you would want to thank your audience for watching your video.  So say 'Thanks' & put a smile on the faces of each and every one of your channel's viewers! 
This template allows you to edit the text, colors, and effects as well.
24. Thanks for Watching Outro (Version 2)
Here's an alternative Outro template that lets you thank your viewers for watching your video.
Check out this customizable template where you can easily edit the background of this template, the text, and the animations as well. 
25. 'Remember to Subscribe' Outro template
You might be a creator that has lots of videos similar to one another. Or you might have a series of episodes running alongside the same genre. So why not notify them that there're other exciting videos that are similar to the one they just saw?
Here's a customizable outro template, which asks your viewers to subscribe for more such content. 
26. 'Tag Your Friends' Outro template 
Let's look into one of the exclusive outro templates, which thanks your viewers for watching the video and as well, reminds them to like, share, comment & subscribe. 
You can also upload your logo and animate it accordingly.  
27. 'Hit the notification bell' Outro template
Wanna try out an Outro template that reminds your audiences to click the 'bell' icon after subscribing to your channel?
Check out this fantastic outro template, which lets you edit and play around with professional fonts and colorful backgrounds. 
28. 'Subscribe for more' videos Outro template
Your audience might have something to say or comment on after watching your video. But they probably won't do it if you don't actively encourage people to comment on your video. In that case, use a template (like below) to remind them to like, comment, and subscribe to your channel.
The best part is that you can edit this template to suit your goal.
29. 'Encourage to comment' Outro template 
Let's say you just made a video about "Top 10 places to visit in Paris"

To get more engagement on your video, you can ask your viewers what other places could be part of the list.

So here's a template that will help you do just that. The best part about this template is that it's entirely customizable. You can customize everything from text and design elements to even the colors used in each of those elements.
To make the process of editing a template easy for you,
We also made an elaborate video that talks about how each template can be customized.

Check it out!

Apart from the templates shown above, with Animaker, you can create your own outro videos. You can save them for the future too.
We also have an article that covers the top free Intro templates that are on the Animaker platform. Feel free to check that out and bookmark it for your future reference.
We hope this article has helped you pick up the right outro template for your amazing video!