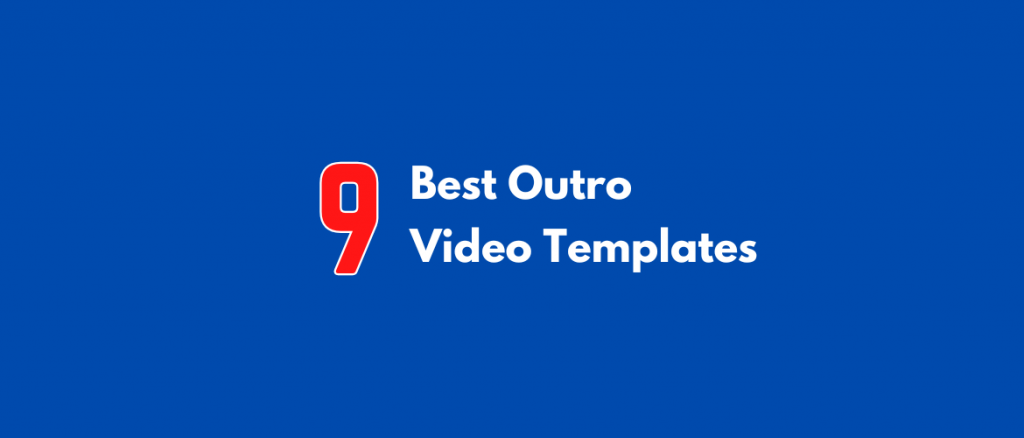 9 Amazing & Free Outro Video Templates (Edit in 2 mins)

6

min read
Videos are fun and engaging to watch. 
But to create one, it probably isn't as easy, right? 
No!
You're wrong! With a tool like Animaker by your side, you can easily create beautiful videos in no time!

If you are wondering what Animaker is, let me explain.

Animaker is an award-winning DIY platform for beginners, non-designers & professionals to create Animation and Live-Action videos for every moment of our life.
Animaker even helps you make the video's composition interesting by giving you access to easy-to-use templates that can be used to create the intro and outro for the video!
Just by optimizing the video and including elements like an intro and outro, you can make your video look far more interesting and classy than it already is.
It's because a good 3-second intro video helps your audience understand what they expect for the next few mins in the video, and an engaging outro tells your audience how to proceed further. 
In this article, we'll showcase some of the coolest and most professional outro templates that are part of the Animaker library. The best part about these templates is that you can edit and export the final version of your intro in under 10 mins!

Yes, you read that right! 10 Mins! That's all it will take you to create some of the classiest outros available on the internet today.
Now let's take a look at 9 exciting and engaging outro templates that are part of the Animaker library.
1. Outro Template for Technology and Startup channels
If you're looking for a technology-themed Outro for your video, then this Info – Technology & Startup-themed template is the right one for you. It lets you customize the template, change text and even add your own logo to the final outro.


Edit this template 
2. Outro Template for Education channel
If you're a teacher or working in the educational industry, this educational outro maker can help you customize the template based on your subject and project. You can customize the entire template and complement it with some mild and bright colors.
Edit this template
3. 'Thanks for watching' Outro template
Of course, you would want to thank your audience for watching your video.  So say 'Thanks' & put a smile on the faces of each and every one of your channel's viewers! 
This template allows you to edit the text, colors, and effects as well.
Edit this template
4. Thanks for Watching Outro (Version 2)
Here's an alternative Outro template that lets you thank your viewers for watching your video.
Check out this customizable template where you can easily edit the background of this template, the text, and the animations as well. 
Edit this template
5. 'Remember to Subscribe' Outro template
You might be a creator that has lots of videos similar to one another. Or you might have a series of episodes running alongside the same genre. So why not notify them that there're other exciting videos that are similar to the one they just saw?
Here's a customizable outro template, which asks your viewers to subscribe for more such content. 
Edit this template
6. 'Tag Your Friends' Outro template 
Let's look into one of the exclusive outro templates, which thanks your viewers for watching the video and as well, reminds them to like, share, comment & subscribe. 
You can also upload your logo and animate it accordingly.  
Edit this template
7. 'Hit the notification bell' Outro template
Wanna try out an Outro template that reminds your audiences to click the 'bell' icon after subscribing to your channel?
Check out this fantastic outro template, which lets you edit and play around with the professional fonts and colorful backgrounds. 
Edit this template
8. 'Subscribe for more' videos Outro template
Your audiences might have something to say or comment after watching your video. But they probably won't do it if you don't actively encourage people to comment on your video. In that case, use a template (like below) to remind them to like, comment, and subscribe to your channel.
The best part is that you can edit this template to suit your goal.
9. 'Encourage to comment' Outro template 
Let's say you just made a video about "Top 10 places to visit in Paris"

To get more engagement on your video, you can ask your viewers what other places could be part of the list.

So here's a template that will help you do just that. The best part about this template is that it's entirely customizable. You can customize everything from text and design elements to even the colors used in each of those elements.
Edit this template
To make the process of editing a template easy for you,
We also made an elaborate video that talks about how each template can be customized.

Check it out!

Apart from the templates shown above, with Animaker, you can create your own outro videos. You can save them for the future too.
We also have an article that covers the top free Intro templates that are on the Animaker platform. Feel free to check that out and bookmark it for your future reference.
We hope this article has helped you pick up the right outro template for your amazing video!