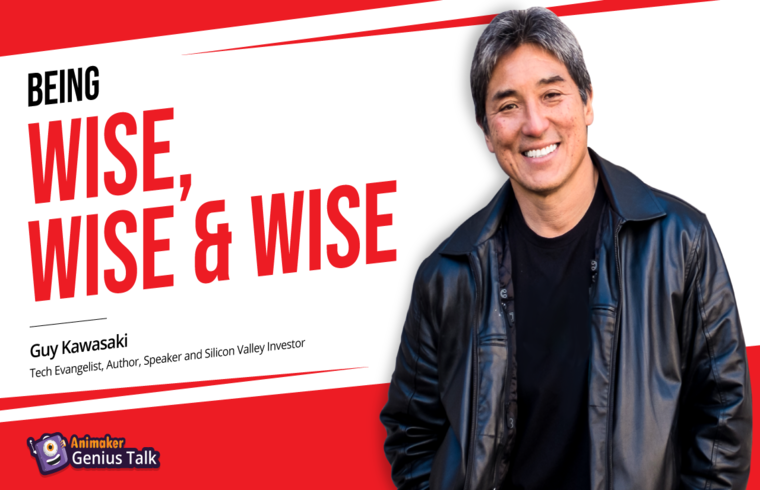 Guy Kawasaki's Wise Thoughts – Social Media, Steve Jobs & Surfing [Video]

3

min read
Guy Kawasaki helped Steve Jobs market the Macintosh. Known to many as the guy who made the word "Evangelism" famous, Guy is today an influential Author and Speaker in the field of Marketing and Entrepreneurship. He is also known for his recent work with Australia's graphic design unicorn Canva as their Chief Evangelist.
In this episode of Animaker Genius Talk, we pick the brains of the legendary Ex-Chief Evangelist of Apple, Guy Kawasaki, to find out how his life lessons can help us find success in Visual Marketing, Social Media, Entrepreneurship and Surfing.
Notes
Without Mike Boich and Nepotism I would have never gotten into technology. (1:05)
If I had said it was great and Steve knew that it was crap, it might have been the end of my career at Apple. (2:22)
I think its much more about being at the right place at the right time and you cannot underestimate the quality of luck in entrepreneurship. (5:48)
If you don't make lives better, you are not gonna succeed! (14:12)
There is no way Apple has been the same, Steve was such a force of nature! (15:52)
A Guy Kawasaki movie. It ain't gonna happen. Trust me. If it does happen I hope Jackie Chan plays me. (18:06)
Questions on the Show
The Genius Journey
Every great story always has a good beginning. So tell us Guy. How did your amazing journey start? (0:52)
An interview with Guy Kawasaki is never complete without a Steve Jobs story. So let's start with one. (1:45)
How did your journey start with Canva? (2:47)
Inside the Genius Mind
The world seems to be embracing the DIY concept very well. What do you think is the reason behind the rise of DIY? (4:09)
As an experienced surfer yourself, how do you find the right wave both in the ocean as well as the business world? (5:29)
Do you find any big tech leaders today making the kind of predictions that you believe are gonna be completely proved wrong in the future? (6:52)
What are three tips Guy Kawasaki would give to marketers around the world to crush it with Visual Marketing? (8:44)
What do you think is stopping brands from using Visual marketing? What is one piece of advice you will give that will convince them to start right away? (10:40)
Make meaning to make money. I have always been fascinated with that. But when a company is starting out, how do you think they can find their meaning? (12:55)
Picking the Genius Brain
What defines a great product? Form or Function? (14:37)
Do you believe that the latest iPhones would have made it to market in the same form and function if Steve Jobs was still around? (14:49)
Apple without Steve Jobs. Do you think its the same or is it different now? (15:46)
Give us one reason why people should pick up your recent book "Wise Guy" right away! (16:55)
We got to see a couple of Jobs movies. A Kawasaki movie is definitely something I would like to watch. (18:06)