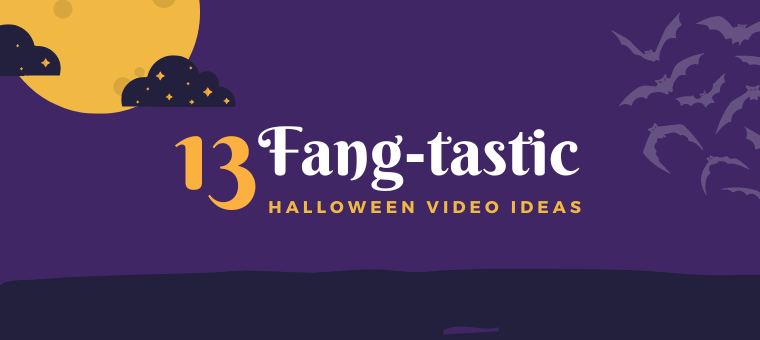 13 Fang-tastic Halloween Video Ideas [With editable templates]

8

min read
Trick or treat, Bags of sweets; Ghosts are walking down the street; let's all vibe to the Halloween beat!!
It's that time of the year when everyone wears spooky costumes and makes their houses a center stage by giving them a scary makeover!
Not just celebrations and get-togethers, Halloween season is also known for sales and discounts! All stores and e-commerce websites grab this opportunity to advertise on social media and boost their sales.
Make use of this time and be ready to wish and invite your loved ones/customers and give them spine-chilling scares!
Wondering how? 
You can make an impressive video wish/invite! Videos are a great way to create an everlasting impression in the viewers' minds and convince them to visit you!
If you are skeptical about coming up with awesome Halloween video ideas, don't worry; we've got you! The sky's the limit for creating a Halloween-themed video.
It can be done in different ways; a simple Halloween wishes video, a Halloween collage, a video promoting an exclusive sale, or even a Halloween video announcing seasonal discounts. 
In this post, we will take you through 13 stunning Halloween video ideas with editable templates.
To customize a template, click on "Edit this template" under each idea and customize it as you want. To learn more about how to customize a template, you can watch this in-depth tutorial on how to customize Animaker templates.
Without further ado, let's check out 13 Stunning Halloween video ideas – 
Halloween Video Idea #1: Freaky Halloween Wish
Are you looking for something out of the ordinary to send out for this Halloween? Check out this template that features freaky characters and spooky messages throughout the video. The video is perfectly designed. All you have to do is, edit it if needed and send it out to all your loved ones!
Halloween Video Idea #2: Halloween Party Invitation
It's time to celebrate the glory of Halloween with costume parties, playing Halloween-themed games, telling ghost stories, or even trick-or-treating with neighbors! Wondering how to make a perfect invite that mentions all this?
Don't worry; this Halloween Party Invitation will do that for you. Edit this scary invite and send it out.
Halloween Video Idea #3: Haunty Halloween Wish
The spooky season needs spooky wishes. This haunty Halloween wish has spooky elements to bring that Halloween vibe going. This template is perfect for those who want to do little customizations and make a spooky-looking Halloween wishes video.
Halloween Video Idea #4: Halloween Discount
This Halloween season, if you are planning for a sale to attract more customers for your business or to upsell your product, then this template is the right one for you. With multiple scenes and spooky music, this Halloween template has a very simple theme and can be easily customized by anyone. 
Halloween Video Idea #5: Happy Halloween Wish
Sometimes you need to think about a creative way to wish someone. Sending out video wishes is a good idea, but creating a perfect video takes a lot of effort. But what if I told you that you could easily make a creative happy Halloween wishes video on your own without any effort? 
Well, this video template is all you are looking for. It has everything you need, right from customizable characters to text. Simply download it and send it out!
Halloween Video Idea #6: Halloween Facts
We all celebrate Halloween every year. But do we all know its facts and backstory?!
To help all those in oblivion, this template was created!
Check out this template that shows interesting facts about Halloween. You can also add more facts and make it your own Halloween facts video. This template is perfect for social media marketers, content marketers, and educational professionals trying to educate people about Halloween.
Halloween Video Idea #7: Halloween party invite
If you are planning a Halloween party, this Halloween Party Invite would be perfect – be it a themed party or a costume party. This party invite can be customized in any way you want. Additionally, with multiple scenes, it makes it simpler to add in more information about the theme, location, and time to the Halloween party invite. 
Halloween Video Idea #8: Happy Halloween
If you are looking for a super simple Halloween wishes video, this template is the right one. With limited customization and beautiful assets, this Happy Halloween template can easily help you create spectacular Halloween wishes videos in a jiffy.
Halloween Video Idea #9: 5 Nightmares of Social Media Marketers
Keeping up with the social media trend is one of the crucial ways to grow your presence on any platform. This template will help you easily create a Halloween listicle that's interesting to watch. Social media marketers will greatly relate to this template, and they can even use it as it is on their feeds!
Also, this template can be customized the way you want, be it by adding more points to the listicle or changing the theme of the listicle; anything can be done. 
Halloween Video Idea #10: Halloween Wishes Template
This template is perfect for slideshow-themed Halloween wishes. Sending photo cards wishing loved ones during the holiday season is a popular custom. And the Halloween season is no different, either! 
So, if you are someone who dresses up and poses with your family to send such wishes, then this template is the right bet for you!
You can replace the photos you capture and customize the text in this template. Send out cool video wishes to all your loved ones now!
Halloween Video Idea #11: Spooky Halloween wishes
Wishing someone Happy Halloween through text has become too mainstream. It has become meh!
Check out this template that lets you wish your loved ones a happy Halloween through a spooky video. This template has customizable text areas, colors, and more. It's suitable for those who want to keep it simple and straightforward. 
Halloween Video Idea #12: Eerie Halloween Invite
With this Spooky Halloween Invite, you can take a boring Happy Halloween party invite text message to something better and interesting. The best part about this template is that it is simple, straightforward, and easy to edit. In no time, you can create a spooky Halloween video by just customizing the content and adding your own images and music, and getting the party started. 
Halloween Video Idea #13: Animated Halloween wishes
As we saw some super simple options above, this template is also one of the super simple ones in terms of customization and aesthetics. If you are someone who doesn't want to complicate it much by putting in too much effort in creating a video, this template is the right bet for you! Simply download this video and share it with your friends and family. 
Wasn't that easier than you thought? 
It's time to start creating your own spooky Halloween video and scare your friends and family!
I hope this article helped you find the best Halloween video ideas. If you have any questions or doubts, drop them in the comments below, and we will be more than happy to help you.