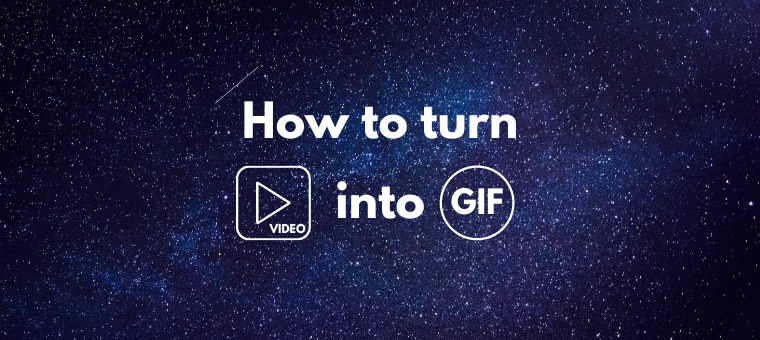 How to turn Video into GIF [The Quick Solution]

4

min read
Who would have thought that a format, which was originally invented just as an attempt to exchange images between computers, would be a rage now?
Wondering what I am talking about? GIFs, of course!
Yes… GIFs were invented to provide a color image format at a time when the format supported only black and white. With more changes in its algorithm, GIFs have grown to what they are now.
Nowadays, you notice GIFs being used everywhere. Right from social media sites to chat communities. They serve their purpose well by helping the audience have a good time!
Like Jason Eppink, curator of digital media at the Museum of Moving Images had rightly said, "Before, GIFs were dressing up the content. But now, the GIF itself has become the destination." From being used as mere comments/replies on social media or conversations, they have grown to be a stand-alone social media post. And the best part is, people love it, thanks to its quirkiness! 
Sometimes, they are also used as a part of blog posts. This can be a feast for the eyes cuz,
It will serve as a break from those long paragraphs.

Explaining a particular emotion can be quite a task with text. But with GIFs, this has never been easier.
Summing things up, GIFs are fantastic, and there are GIFs for every mood.
Did we blow your mind with those facts? Here's a GIF for you.
Did we get you Excited about GIFs? Here's another.
Did we Disappoint you? Here's another.
You get the point!
Now, before we get distracted and start checking out the GIFs for different moods, let's dive into the actual process and learn how to turn video into GIF.
Let's say you have a cool video that you feel will make a good GIF. Why let this interesting idea go to the gutter?
To turn your video into the perfect gif, we'll use Animaker, the user-friendly DIY platform that can help create both GIFs and videos in a matter of minutes.
Are you ready? Let's dive in.
If you prefer learning by watching, click on the following video and learn how to convert your videos into GIFs. But if you are a reader like me, then keep scrolling for a detailed step-by-step tutorial.

,
1. First, start by registering on the website. If you are already a registered user, you can simply log in. Log on to Animaker and select "Create a Video" on the dashboard.
2. This would lead you to the Moments page. Select the template whose dimensions are the same as that of your video. As my video is horizontal, I choose the Horizontal template.
3. Upload your video. For uploading a file, select the Upload option present at the bottom left corner.
4. Please select the file from your local storage, drag and drop it. Otherwise, you can also select the Upload button, navigate to the file, and then upload.
5. After uploading the file, double click on the video file to add them to the scene. You will notice the video being added to the timeline, as shown below.
6. Now, let's crop out the "GIF-worthy" part of the video. Since you would know the exact time the scene appears, you can crop it using the scissors in the Item Box.
7. Clicking the Scissors icon will open a new window that will enable you to crop the video. Use the purple tickers to adjust and cut the portions needed. Once you are done, click on the green tick to get the new video.
8. Once you are done adjusting the duration, your GIF is ready for publishing! You can download it directly, or you can add more effects, text, or elements with the different options available in the library. To add text, select the Text icon from the Library.
You can select any style from the list of Text pre-builts in the Library. These text pre-builts are formatted with unique entry and exit effects to make life easier for you. I have selected a text pre-built and have removed the entry and exit effects for this particular gif.
Apart from these pre-builts, you can also select a heading, subheading, or body text, format it, and provide it with entry/exit effects.
9. Once you are done, click on Publish and select Download GIF.
Let's see how the final GIF looks!
Who would have thought that it was THIS easy to convert video to GIF? Now that you know how to turn video to GIF, it's time to create those hilarious GIFs and make fun of your people!
Got queries/suggestions? Feel free to drop them in our comments section. We are always happy to get in a conversation with you.