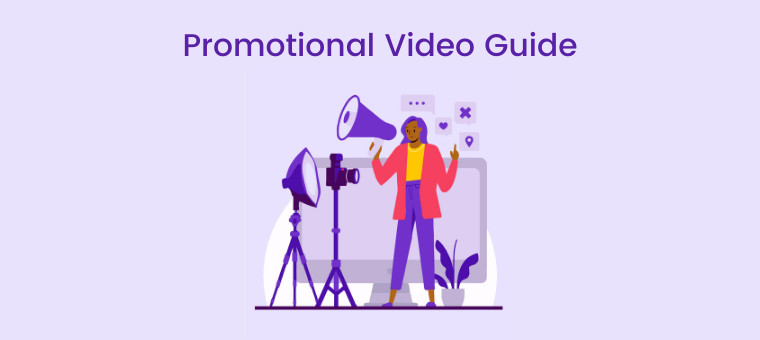 6 Best Promotional Video Examples (& Steps to Creating One)

16

min read
A promotional video is without a doubt one of the most effective ways to market and sell your brand.
83% of marketers say promotional videos give them a positive ROI, and 68% of consumers say they prefer to learn about a product or service by watching a promo video.
But the process of creating a good promotional video can be tiresome and complicated.
That's why I've created this 3k-word article in which I'll show you everything you need to know about promotional videos, from its meaning, examples, and ideas, to the steps needed to create one yourself.
I've left no stone unturned. This is by far the most complete guide on promotional videos ever. Put your seatbelt on, because it's going to be a long ride. Here's everything I'm going to cover, feel free to jump around:
6 Best Promotional Video Ideas and Examples
How to Create a Kick-ass Promotional Video On Your Own
What is a Promotional Video?
A promotional or promo video is a short video that promotes a company's product or service. The best promotional videos weave a story to educate, inspire, or delight prospective (or existing) customers. It's short yet educates people and influences them to take a step forward.
6 Best Promotional Video Examples and Ideas
Now that you know what a promotional video is, let's take a look at 6 of the best promotional video ideas and examples you can take inspiration from to create your own.
Product Demo/Tour Video
"We asked consumers what type of video would best assist them in making a purchase decision: 15% responded with explainer video, 16% chose customer testimonials, and a whopping 69% chose product demos." – Wyzowl
A product demo video shows your product in action. Unlike an explainer video, it doesn't simply talk about how a product works. Rather, it shows how a product works by taking a dive into its features and benefits.
A product demo video shows users how they will go through the process of using your entire product or some of its core features. It gives your potential customers an opportunity to see your product used in everyday life, which ultimately leads to conversion.
I love Google's launch video for Duo that demos the video calling app in a fast, easy-to-watch way.
Explainer Video
"91% of consumers have watched an explainer video to learn about a product or service." – Strategic
An explainer video, as its name suggests, does just that — explain something. An explainer video explains how something — a product, service, or a specific feature — works. And, most importantly, it explains what sets you apart from your competition.
It's especially useful if you offer a product or service that isn't immediately understood. It's typically an animation and used in the hero section of a website's homepage or a landing page.
"What is Ahrefs?" is one example. This video explains what Ahrefs offers and shows the viewers why Ahrefs is the tool they need to outrank their competitors in search engines.
Customer Testimonial Video
"Customer testimonials are one of the top three most effective types of video content." – Marketinghy
A customer testimonial video features a happy customer who tells the story of how your product or service solved their problems and helped them achieve their business goals.
It's highly personable and relatable than any promotional video in that it features a person who isn't connected to your brand talk highly of your product. 
For this reason, new prospects — especially the ones that are convinced about the other aspects of your product such as its features and pricing — feel more confident and secure about making that final purchase decision.
Calm's customer testimonial video shares the wonderful experiences of its real-life users and serves as a motivation for others to follow suit.
Product Review Video
"62% of consumers watch product review videos before making a purchase." – MediaKix
A product review video features a reviewer, typically an influential person in your niche, who shows the product in action and gives his unbiased opinion about it.
Prospects who watch it feel like they're getting an honest take about your product. It's what really proves the superiority of your product in the eyes of your prospects.
Of late, third party product reviews are the most trusted. Even more so than customer testimonials since getting one from your customer base is quite easy.
To illustrate, watch this review of Blue Apron's meal kit delivery service by a popular YouTuber.
Company/Work Culture Video
"Brands that inspire higher emotional intensity receive 3 times as much word of mouth marketing as their less-emotional counterparts." – Sprout Social
A company culture video showcases your company's culture and introduces the people behind your brand. It helps you humanize your brand and gives your customers an opportunity to form a personal connection to your brand.
Also, it gives prospective employees a glimpse of what it's like to work at your company and helps you attract the right people.
The video below for BambooHR, a cloud-based HR management software, is a textbook example. This video shares the stories of its employees and beautifully explains how work/life balance works at BambooHR — it adheres to the 40-hour workweek despite being a startup.
Event Video
"Video of a live event increases brand favorability by 63%." – Twitter
You can create an event promo video to build excitement before an event, and during the event, you can live stream short snippets — typically highlights of the event — as live videos on Twitter and Facebook or as Stories on Instagram.
Promoting an event on social media is a great way to gain fans and followers! An event video brings the fun of the occasion to those who couldn't make it and is reposted by the ones who made it to your event.
To give you an idea, check out this video of Google's Pixel 2 reveal event from Verge.
How to Create a Kick-ass Promotional Video Yourself
I'll walk you through step by step on how to create a kick-ass promotional video on your own. We have a lot to cover so let's jump right into it.
Step One: Write a Script
You need to answer a few questions before you can start writing the script. Answering these questions provides you with some crucial insights you'd need to craft a good script. Answer the following questions:
Why are you creating this promotional video? It could be to drive sales, drive brand awareness, or simply educate your customers.

Who is the video for? The intended target audience for this video.

What action would you like them to take? You could want them to sign up, download an app, or contact you for further information.
With these insights you've gathered, you can start writing your script, but before you do that, you need to be clear about what you want your script to achieve.
A good promotional video script:
Grabs the viewers' attention

Makes the viewers understand what you do and why you're different

Keeps them engaged and at the end, makes them take some desired action
To achieve this, you can follow this general outline for your promotional video script:
Problem (What): Introduce the problem your product or service solves. What is the one core problem or pain point your target audience is experiencing and can deeply relate to?
Solution (How): Introduce your product and explain how it can help solve this problem in an easy-to-understand way.
Unique benefits and values (Why): Why should they choose you over your competitors? What's the one unique value you provide that would motivate them to choose you? Talk about these unique/main benefits and values you offer.
Call-to-action: End the video with an action you want them to take. Make sure you mention everything they'd need to take that action, whether it's a website address, email address, or contact number.
If it seems overwhelming to come up with a script, I understand. When you have to explain what you do, why you're different and tell an engaging story all in a short amount of time, it can seem overwhelming even to a pro who's done it many times over.
Don't worry. There's a solution. You can use a video making tool that provides you with readymade templates. Take Animaker for instance, its in-house scriptwriters and animators have come up with promotional video templates for numerous use cases and industries.
Let's say you want to create an explainer video for your product, all you have to do is pick a template and treat it as a starting place to create your own unique explainer video.
Step Two: Decide on the Length of Your Video
Keep the script short. Restrain from talking about every single benefit or feature your product offers. Remember that you're battling against the attention span of your audience.
Studies have shown that the shorter the promotional video, the higher the chances of it being watched till the end. 
So how long should your promotional video be? Your promotional video should be about 1 minute or less in length. That is, the script should be 130 words or less.
Step Three: Record the Voiceover
Once you have a script, you'll need a voiceover. Here are some options:
Record the voiceover yourself using a high-quality

USB microphone

and audio recording software such as

Audacity

or Apple's

GarageBand

. If you find the interface of the aforementioned software hard to wrap your head around, you can use Animaker's super-simple interface to record your voiceover.

Hire a professional voice actor from sites such as

Voices.com

or

Fiverr

.

Use

text-to-speech software

to generate a human-like voiceover. This is the easiest and effective way for anyone to create an engaging audio narration themselves. With an app like Animaker, you can instantly convert your script into a realistic, human-like voice. It lets you create voiceovers in 50+ voices and 25 different languages.

Step Four: Pick a Visual Style and Create the Visuals
A video is made up of a bunch of scenes. Each scene conveys a message and lasts for a few seconds before switching to the next and so on until the last one. 
Your goal for each scene should be to clearly communicate your message with the right visuals.
Once you've come up with a list of visuals you'd need to effectively communicate your message to your audience, you'd have to create or find these visuals.
What type of style would you choose to create the promotional video?
Well, that depends on the kind of promotional video you wish to create.
Do you want to create an explainer video? If yes, you'd need to create an animation. For this, you'd need visual assets such as icons, shapes, scene backgrounds, etc. Visual assets for animations are typically created by a design pro using a tool like Adobe Illustrator.
Unless you are a designer and have created this kind of visuals before, I wouldn't recommend using these professional tools. The learning curve is steep and you're better off using a tool that provides you with all these assets right out of the box.
Specifically, an app like Animaker provides you with thousands of readymade icons, scene backgrounds, characters, shapes, and other visual assets to convey any message or promote any product or service.
If you were to create your own visuals, you can only use them to create a simple animation that might do a poor job of conveying your message. This is because the created assets might seem unprofessional and you can't use characters in your animation. 
Animating an icon or shape is possible, though, it's not easy for someone that's never used a video editing software before, but animating a character is not (more on this later).
If you want to create a product demo/tour video for your web app, or you want to create a video promoting your mobile app, you'd need screen recordings of the app. 
You'd need a tool to record your desktop or mobile screen. To record a desktop or laptop screen, you can use a tool such as Free Cam. It lets you easily record your screen. It's a free tool that doesn't place a watermark or impose time limits and is ad-free.
There are two downsides to using it though. It saves your screen recordings only in WMV format, which you'd have to then convert to a more popular format such as MP4, and it doesn't let you record your front-facing camera. 
If your app is web-based or you want to record your screen from a chrome extension, you can use Loom. Loom lets you easily record your screen and front-facing camera directly from your browser.
Vmaker is another desktop screen recording tool (for mac and windows) that's intuitive, fast, and free.
To record your mobile screen, you can use a tool that comes pre-installed on your Android OS or iOS; you don't need any third-party app to record your mobile's screen.
A good app promotional video shows the mobile app in action and explains its features & benefits using text and possibly a voiceover.
If you're looking to create a promo video for your mobile app, you can use a tool that offers readymade templates. Here's the thing: it's hard to create a promo video for your mobile app from scratch and also make it seem professional.
And if you're someone who's got absolutely no video making experience, let the template take care of the animation part for you.
With a tool like Animaker, all you have to do is pick an app promo template, upload the screen recordings of your app, and swap the placeholder videos in that template with your own video recordings. And you're done!
Want to create promotional videos using stock videos and photos? There are plenty of sites that offer high-quality stock videos and images for free. 
Pexels and Pixabay offer a huge library of professional stock videos and photos that are free for personal or commercial use without attribution. 
If you're looking for premium, authentic stock videos, and photos in 4k quality, check out Animaker's built-in library. It gives you access to 100M+ beautiful, royalty-free stock videos and photos.
If you need live videos to create your promotional video, here's a guide on the best way to shoot a video by yourself.
Step Five: Edit the Video
In this step, you animate or edit the visuals you'd created in step four.
You can use Camtasia to create a simple animation with your graphics.
Here's a tutorial to help you learn how to create an animated scene using Camtasia.
Using Camtasia, however, isn't the most effective way to create an animation by yourself. There are better tools out there that would let you create an animation without any animated video-making know-how or experience.
An app like Animaker has been specifically created to let anyone create an animation to tell any story and for any occasion or moment.
It offers a simple drag-and-drop interface and a huge library of hundreds of thousands of readymade assets such as characters, HD stock images/videos, scene backgrounds, shapes, icons, special effects, emojis, GIFs, music tracks — you name it, it's got it.

It stands out from most tools in that it gives you the ability to create the web's two most popular types of videos: animations and live-action videos. If you want to create a wide variety of promo videos, choose a tool that lets you create both these types of videos.
With Animaker, you can include animated characters to tell your story. It's the only animation maker that has pre-animated, realistic-looking characters. I don't think you can find a tool that provides you with animated characters more realistic than Animaker.
You can animate a character with the touch of a button. Based on your story, drop a character onto the canvas, and pick an action you want this character to perform or an emotion you want it to express. It's that simple.
Also, you can build a unique character (or a mascot if you will) to represent your brand and reflect your brand's unique personality. People come across countless brand names every day, and while it's easy for a brand name to slip someone's mind, it'll be much easier for them to recall the face of a unique, memorable character.
Moreover, Animaker makes it incredibly easy to create promotional videos that are on-brand. With just a simple click, you can customize the color of all the visuals in a scene to perfectly match the colors in your brand color palette.
If you're using live videos in your promotional video, you can now edit and fine-tune them.
You're going to need video editing tools to:
Cut or trim your video to select the part that's relevant.

Add filters to enhance the video and set the desired mood.

Merge or join video clips together.

Add animated titles to bring your words to life.

Add transitions to make the story flow cohesively.
You can use a standard video editor like Camtasia or Movavi to do this. If you're a Mac user, you can use a preinstalled video editing software called iMovie to edit your promotional video.
I'd recommend you to pick an online video editor, though. Unlike standard video editors that require local installation and high-end hardware to run smoothly, an online video editor works in your browser and is lightweight.
While a professional can find an online video editor useful, it's specifically made for non-designers, marketers, and just about anyone who wants to quickly edit videos for social media and the web.
Step Six: Add Music to Your Video
It's now time to add music to your promotional video. For an explainer video, the emphasis should be on the explanation that it offers.
In this context, the music is merely used to help make the explanation effective. The music simply adds to the explanation and takes a back seat.
When talking about your product, using upbeat, funky music can make the product seem easy to use, and when talking about the problem your product solves, using dramatic, suspenseful music can make the problem resonate with your audience.
You can automatically lower the sound of this background music — only when the narrator speaks — using a technique called sidechain compression (or ducking).
Where do you find music tracks for your promotional video? Premium Beat, Artlist, MusOpen, and YouTube Audio Library are a few sites that offer quality music tracks.
You can find thousands of premium, incredible-quality music tracks in Animaker's audio library. The music tracks have been categorized based on the types of videos you'd use them in, say an explainer video, or a video ad.
Or they've been categorized based on the kind of emotion or state you'd want to express, say fun, love, happiness, gloom, or sadness. This makes it easy for you to use just the right soundtrack for your video.
Once you add a music track to your video on Animaker, a fade-in/fade-out effect is automatically added. This effect gradually increases the volume at the beginning of your video and then gradually decreases the volume at the end of the video.
That's everything you need to know to create a promotional video all by yourself. Now go ahead and create a killer promotional video! If you're looking for an all-in-one video making tool to create one, be sure to check out Animaker.
Do you know any tricks or tools for creating engaging promotional videos? Let me know about them in the comment section.