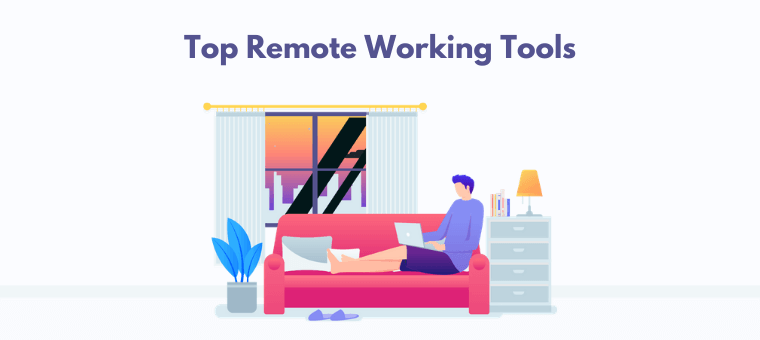 Top 20 Remote Working Tools for Teams to 10x Productivity

7

min read
Are you a company that's recently switched to working remotely? Are you in need of some top remote working tools to improve your remote team's productivity?
While remote work is beneficial in many ways, it also presents its own unique challenges. Building meaningful relationships, managing your projects, and keeping your team accountable can be difficult while working remotely.
In this article, we're sharing 20 best remote working tools your remote team can use to stay productive, connected, and on the same page at all times.
20 Remote Working Tools for Remote Teams to Achieve Peak Productivity
The Best Tool for Team Chat
Slack combines all the basic communication essentials into one simple-to-use platform. It provides real-time messaging, voice and video calling, archiving and search for teams.
Also, it gives you the ability to create different channels or groups and share files with your teammates. Moreover, you can integrate all your remote tools with slack to get notifications regarding them in one place.
The Best Tool for Video Calls and Screen Sharing
Zoom is the most reliable and robust video conferencing tool on the market. It's perfect for both small and large remote teams alike; and offers a simple, stable platform that makes it easier to get your remote team together for a meeting.
The tool comes with HD quality audio and video, and gives you the ability to share and annotate your screen, schedule meetings, and join as a view-only attendee. Ideal for weekly team meetings, one-off calls with teammates, and remote presentations.
The Best Tool for Cloud Storage and File Sharing
Google Drive is an online cloud storage service that provides you with one secure place for all your digital files. It lets you store and share files such as word documents, spreadsheets, and presentations with multiple team members.
Also, it provides you with an intuitive interface that makes organizing and searching files incredibly easy and convenient.
The Best Tools for Project Management
If you're looking for a simple project management tool or if you're a small remote team, Trello is for you. With Trello, you just create boards, cards, and lists to manage your entire project.
With just a quick glance, you'd be able to see what tasks you and your team members are working on, and when the tasks are due.
Asana is a popular project management tool used by numerous remote teams. It lets you view projects in multiple ways. Apart from the "Boards" view, Asana offers two more views that remote teams would find useful – a "Lists" view which basically lists out a project's tasks, and a "Calendar" view that lays out the tasks on a calendar.
Also, Asana provides you with premade project templates for managing all kinds of projects, from marketing, product to design, HR and more.
The Best Tool for Time Management
Toggl is a time tracking tool that allows you to track the real time you spend working on your projects. By tracking how long it takes you to complete your tasks, you'd be able to better optimize your time to get more done in less time.
Also, it syncs timers across your browser and all your desktop apps.
The Best Tool for Password Management
LastPass lets you manage your team passwords the safe and easy way. With LastPass, you can create super-strong passwords and give your team members access to these passwords.
With just a single click, your remote team would be able to log into all the apps they've been provided passwords for. How? Well, LastPass automatically loads the password for the app they want to log into.
This way, your team members don't have to go through the pain of having to remember and enter a password every time they want to log into an app.
The Best E-signature Tool
DocuSign lets you easily collect and store e-signatures – digital marks that indicate agreement to documents or contracts. It saves your remote team the hassle of having to download, print, sign and then scan the document.
Not only is it a huge time-saver, but it's also eco-friendly as it involves a paperless process.
The Best Time Converter
Setting up meetings or communicating effectively with your teammates gets tricky if your team is spread across different timezones and geographies. WorldTimeBuddy lets you enter multiple timezones and find times that work best for y'all.
The Best Tools for Communicating Visually and Quickly
Skitch lets you easily grab and annotate screenshots. Skitch provides you with some advanced options such as the ability to take timed screenshots and blur certain parts of the screenshot.
It's ideal for giving feedback on images and getting your point across with fewer words.
Loom is a free screen and video recording tool that makes creating, annotating, and sharing screencasts a cinch. It lets you easily record your front-facing camera and screen (with audio) directly from your browser and instantly share it with your team.
The Best Tool for Remote Desktop Access
If you want to gain access to your teammate's computer remotely, or you need access to your home computer while you're on the road, AnyDesk is the tool you need.
AnyDesk is a remote access tool that lets you remotely control one computer from another over the internet.
The Best Ambient Sound Generators
A 2012 study found that a moderate level of ambient sound enhanced creativity. Also, ambient sound helps you stay focused by keeping your mind from wandering and blocking out distracting sounds.
Brain.fm offers functional music (backed by scientific research) to help listeners improve their focus and boost their productivity.
Noisli is based on a similar idea, but it offers ambient sounds such as nature sounds, coffeeshop sound, etc. The tool gives you the ability to mix a variety of different sounds.
The Best Tools for Writing and Editing
Evernote is a cross-platform note-taking app that's great for managing your notes and clipping articles from the web. With Evernote, your notes get synced across all your devices.
Grammarly is hands-down the most popular grammar, plagiarism and spell checking tool. It's invaluable in that it helps you avoid grammatical or spelling mistakes before you hit that publish or send button.
The Best Noise-cancelling Tool
Krisp is a noise-cancelling tool that removes all background noises while you're on a call or a remote meeting with your team. With Krisp, your team can have professional, noiseless calls from anywhere.
Also, Krisp integrates with popular apps such as Slack, Zoom, Hangouts, etc.
The Best Mind Mapping Tool
Mind mapping helps you visualize your thinking process. Your team can use mind maps for brainstorming or recording a process step-by-step.
Coggle is a mind-mapping tool that gives you everything you need to map out your ideas and thoughts into something coherent and useful.
The Best Accountability and Reporting Tool
IDoneThis is a daily check-in tool that employees use to submit a daily status update, either via their browser or email. Each team member highlights the tasks accomplished for the day and the obstacles to the tasks' completion.
The next day, IDoneThis sends out a recap of what everyone on the team did the previous day and gives your team the ability to like and comment on the previous day's tasks.
The Best Video Making Tool
Animaker is an online drag-and-drop video maker that lets anyone create animations and live-action videos using premade templates and assets. Absolutely no prior video-making experience required; meaning you can quickly whip up a video even if you've never created one before.
Most of the tools on this list are free or offer a free trial so you can test them and see what works best for your team. What kind of remote working tools does your team find the most useful? We'd love to hear your thoughts in the comments section below.