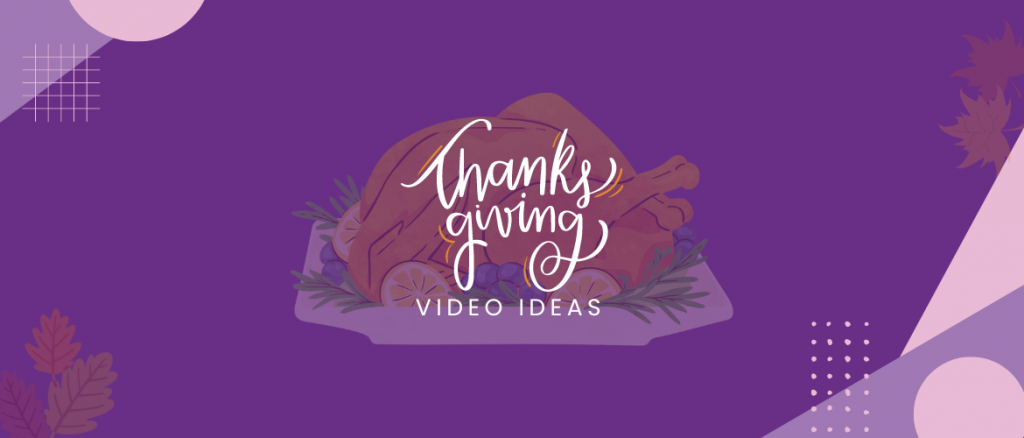 16 Cute Thanksgiving Video Ideas To Create Memorable Moments

10

min read
There is always something to be thankful for.
And Thanksgiving is celebrated every year to highlight the importance of that fact!
Sometimes, getting the best video ideas for Thanksgiving might be hard, so we have curated some cool ideas for you in this article.
Best Thanksgiving video ideas:
But before we see them all, let's understand the history of Thanksgiving, how it is celebrated, and more.
History of Thanksgiving:
Thanksgiving day is considered a national holiday in the United States, Canada, Saint Lucia, Liberia, and Grenada. It is celebrated on the fourth Thursday of November. 
It was originally observed to express gratitude for the harvest and other blessings of the preceding year. As years passed, it became a day to express gratitude for every good thing. 
Did you know? The First ever thanksgiving was celebrated in 1621 over a three-day harvest festival that included 50 Pilgrims, 90 Wampanoag Indians, and five women.
What happens on Thanksgiving day?
The traditional way of celebrating Thanksgiving was by gathering family members and neighbors with a table filled with tasty dishes.
But now, since we are all confined to our homes, it goes about by gathering our friends and watching the classic Macy's Thanksgiving day parade or a football game, or even by running a Thanksgiving Marathon.  
While Turkey is well known as the traditional dinner for most people who celebrate thanksgiving, it was initially not even on the menu. Instead, it all started with Venison, duck, goose, oysters, lobster, fish, and eels served alongside pumpkins and cranberries. 
Thanksgiving is considered a very important traditional family celebration. During this season, exchanging gifts with friends and family could represent a unique way of thanking someone. 
Sales can be crazy for any business, as everyone will be scouting for gifts. Businesses can use this opportunity to promote their products and boost their sales. 
Many prefer traditional gifts like greeting cards, flowers, and gift cards. But why choose the mainstream, conservative ways of gifting? 
Isn't it high time our gifts had a personal touch?
"What's a gift with a personal touch" you may ask.
Well, any memorable gift showing you care is a good example. Finding such a heartfelt gift is quite tough in today's world. 
And instead of taking the usual "greeting card" or "souvenir" way, an excellent-looking Thanksgiving video might do the charm!
Are you wondering, "I don't know how to edit or create a video; how can I create one for Thanksgiving?" 
Well, Don't worry! For this article about the best Thanksgiving video ideas, we will use a tool called Animaker, a simple DIY video-making platform requiring zero experience. 
Without further ado, let's check out the list of ideas.
Thanksgiving Video Idea #1: Happy Thanksgiving
Sometimes Thanksgiving is not just about the tasty food on the table but a night filled with memories, gratitude, and love. This template exactly talks about those points and would be a different way to wish your loved ones a happy thanksgiving.
Thanksgiving Video Idea #2: Thanksgiving Sale Promo
Every season allows business owners to promote their products and services. Similarly, if you are planning a sale, this template is the right one for you. With the seasonal offers & sale, this season can be a good opportunity for brands to promote their products. This template comes with beautiful visuals, text, and music that can be replaced & customized according to your needs. 
Thanksgiving Video Idea #3: Happy Thanksgiving Day
What's Thanksgiving if not for silly puns and quirky quotes? This template is just that! It is yet another Thanksgiving wishes template that is outside the normal; it brings in the humor and combines it with the wishes. This template is perfect for those unwilling to put in much time & effort to customize. So simply download and forward it to your loved ones.
Thanksgiving Video Idea #4: Thanksgiving Wishes to a Friend
Thanksgiving is all about love and gratitude. There's always someone who means a lot to you, your best friend who grew up with you or who studied with you; this template is made precisely for that. So show your love and surprise your friend now! Or do you wanna add lines that have a special meaning or some inside jokes? Go ahead and add them to this template! You can also replace the photos/videos in this template with your own!
Thanksgiving Video Idea #5: Thanksgiving Meme
Suppose you are too bored with the traditional way of wishing for someone. In that case, this Thanksgiving meme wishes video takes a different approach to turn wishes into something funny and interactive. Or do you have your own Thanksgiving pun? Add it to this video and create your own Thanksgiving meme!
Thanksgiving Video Idea #6: Happy Thanksgiving Greetings
The perfect template that perfectly depicts what thanksgiving is all about! Remind everyone about the beauty of Thanksgiving through this greeting video. This template comes with a classy theme and eye-appealing colors. Forward it as it is or customize it now and make it yours!
Thanksgiving Video Idea #7: Funny Thanksgiving Dinner Invite
Sometimes, there needs to be a little fun in everything. Similarly, this template adds a fun element to the template, with a funny introduction followed by a beautiful invite for Thanksgiving dinner.
Thanksgiving Video Idea #8: Thanksgiving Dinner Menu

Restaurants are known for launching special items on their menu during the festive season. And Thanksgiving is no different, either. Promote your restaurant business with attractive offers and special tasty menu items on Thanksgiving night with a beautiful video. Showcase your cooking clips and mouthwatering dishes to attract customers to your restaurant.
Thanksgiving Video Idea #9: Thanksgiving Wishes Template [Dinner RSVP]
Showcase the love for the Thanksgiving season with a beautiful Thanksgiving wishes template. This template is mixed with a heartful of wishes and a little humor, making it perfect for sharing with your loved ones. This template is so simple to edit that all you need to do is change the date & time to make it the perfect RSVP dinner invitation. 
Thanksgiving Video Idea #10: Thanksgiving Wishes

If you're looking for something to share on WhatsApp status or Instagram Stories this festive season, then this thanksgiving wishes template might be the perfect fit. This template has good visuals, music, and a beautiful message to wish for Thanksgiving. 
Thanksgiving Video Idea #11: Thanksgiving
If you are looking for a Thanksgiving template in Square format, then this template is the right one for you. This template comes with aesthetically pleasing colors and soothing background music. The message in this template is pretty simple and straightforward, but as always, you can customize it and make it yours.
Thanksgiving Video Idea #12: Thanksgiving Dinner Party Invite
Inviting your loved ones for a special Thanksgiving dinner requires additional effort to show some extra love & respect. With this customizable Thanksgiving Dinner Invite template, you can customize easily by replacing the day & venue and sharing your cute little dinner invite with everyone in no time.
Thanksgiving Video Idea #13: Thanksgiving Sale

Suppose you are a business owner trying to promote your business. In that case, promoting your products or service through sales or discounts on social media is the best way. It has the power to reach a greater audience if promoted the right way. This Thanksgiving Sale template would be handy as it's super simple to edit & customize quickly during this festive season.
Thanksgiving Video Idea #14: Happy Thanksgiving
Did you know that Thanksgiving day is also called "Turkey day"? If you're looking for a different way to wish someone for Thanksgiving, this Happy thanksgiving template takes it a step further with cute animations. The best part is, it's super simple to customize it. The current version of this template wishes says "Happy Turkey Day," which can be customized to anything you want.
Thanksgiving Video Idea #15:Thanksgiving Dinner Invite
Are you bored of inviting people for a Thanksgiving dinner over a text message? Do you want to announce the tasty Thanksgiving dinner menu to your friends? Then, this Thanksgiving Dinner Invite template would be perfect for a simple but creative way to invite someone for a feast. Entice your friends by including your slurp-worthy thanksgiving feast menu in this attractive Thanksgiving Dinner invite, and lure them into attending your cool dinner party.
Thanksgiving Video Idea #16: Thanksgiving day
Thanksgiving day video template is an attractive way to showcase & celebrate the glorious day. This template has eye-appealing colors and straightforward customization options. This makes it easier to use it on Social Media as short loop posts. It can also be used as a scene in the other templates shared above. Wait, we are not done yet! This template can also be used as a countdown for Thanksgiving day to create hype around your friends and family. 
***
Well, well, well, weren't these Thanksgiving video ideas cool? 
What are you waiting for? Start customizing these templates and create your own Thanksgiving video. 
To learn more about customizing templates, you can simply watch this tutorial video for more information – 
I hope this article helped you and if you have any questions, feel free to drop them in the comments below.