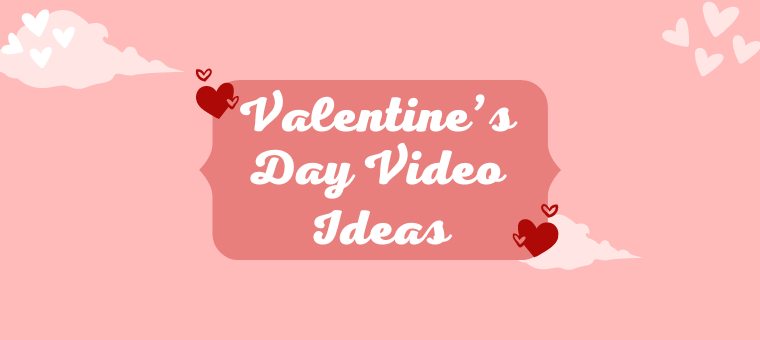 12 Dreamy Valentine's Day video ideas for the Month of Love

8

min read
Love is in the Air and It's that time of the year when everyone goes…
So, it is the perfect time for you to show your loved one how much you care about them and how much they mean to you. 
For that, there's no better way than making a memorable valentines day video for your loved one.

This video can include anything like pictures and videos of your special moments together. It can also include heartfelt messages, favorite songs, and lots more. With today's technology, you can easily share it with your loved one on any platform easily. 
In this blog, we will explore different Valentine's day Video Ideas that can be created using the Valentines Day video maker. You can use this video to surprise your loved one and make the special day even better & unforgettable. 
Irrespective of your expertise in video-making, these ideas will help you create an everlasting memory for your significant other.
12 Heartwarming Valentine's day video Ideas 
Here are 12 wonderful valentine's day video ideas that will help you create a lasting memory and bring a big smile to your better half. 
Aren't these ideas simply amazing? This would definitely be a memorable gift! 
But wait! Do you need more than just "ideas"? Are you looking for ways to convert these ideas into full-fledged videos?
Then you should check out these cool & editable Valentine's day video templates.
For this, we will be using a tool called Animaker. It is an online Animation & Video editing platform that allows users to create professional-quality videos without the need for any technical skills. It has a user-friendly interface and a wide range of Valentine's day templates that make it easy for you to create engaging valentines day videos. 
And the best part is that you can create and share a beautiful valentines day video in a few minutes. Want to know how? Then follow the below steps –
Signup for an account with Animaker or login to your account

In the search bar, search for "Valentine's day" 

Select a template and customize it 
We've made it easier for you by listing the best Valentine's day video templates right here –
A movie-style Valentine's video featuring your animated doppelgangers
Put a smile on your loved one's face this Valentine's with this beautiful editable template. Celebrate the beautiful love that changed your life forever and swept you off your feet with a unique animated video. 
Express your gratitude with this beautifully animated valentines wishes video and show off the true meaning of love by recreating your animated versions. Try this template now!
A cute montage or a mini-video with pictures & videos of your first-ever date
Celebrate the magic of love with a simple yet meaningful Valentine's Day Wishes card template. With this editable template, you can share the essence of your true love by customizing this simple template with your own photo or video memories. 
Choose your best couple photos and collate them as a pretty collage. Try this template now!
A surprise video to ask if they will be your valentine
Make a memorable and special proposal for your loved one with this cute & customizable Valentine's day editable video template. 
Transform your photos & other beautiful memories into a heartwarming and intimate expression of love using this "Will you be my Valentine" video template. Try it out now!
A flash sale for Valentine's couples with exclusive deals
Valentine's Day is all about sales and discounts. All pricey gifts are sold with offers to help all couples out there. So, if you are a business running such deals, get ready to make the most out of this Valentine's day season with this exclusive Valentine's day sale template. 
Show your customers how much you love them by offering irresistible deals & discounts with this beautiful Valentine's day sale template. 

Valentine's sale for everyone to grab
Make your customers excited this valentines day with this exceptional Valentine's day sale template. 
Showcase your offers & enticing deals with this fully customizable valentines day template and make your audience go wow! Try it out now!

An animated video reenacting your first-ever date
Celebrate the magic of love with this beautiful and special valentines day video template. Bring your love story to life with these cute animations and heartfelt wishes. 
Express your gratitude and recreate your memorable moments in the form of animation with this editable template. Edit it now!
A Funny pear-themed Valentine's wishes
If you are looking for something sweet and playful for your valentine's day, then this editable video template is the perfect one for you. Celebrate the love between you and show your partner how "Pear-fect" they are and how much they mean to you.

This template is for the ones who want a "punny" approach to wish their loved ones. With this template, you can easily customize the text, add more scenes and make it the way you want.
Special Valentine's wishes for pizza lovers
If you are a pizza lover, then expressing your love in the form of a pizza is the right and unique way that no one would've thought. 
Express your love with a slice of love and this editable, funny Valentine's day video. Celebrate the love with this unique, one-of-a-kind, pizza-themed valentine's day wishes template.

So, get customizing and surprise your loved one!
A Dino-themed Valentine's video for dinophiles
This is a special template for all the dinophiles out there!
Unleash true love this valentines day with this editable video template featuring a cute dino theme. Make the better half know how much they mean to you with this adorable and playful valentine's wishes video. 
Try it out now!
A Video montage of your love journey
Say "I love you" in a unique and personalized way with our editable Valentine Wishes video template. You can add photos and custom text and create a heartfelt message to surprise your loved one. 

With this template, you can create a short vlog by adding the clips of you together and compile into a beautiful wishes video.

A Memorable video of the day it began
Dedicate this video to the person who brings you joy, shares your victories, and keeps your heart warm with their everlasting love. Celebrate the love of your life with this editable Valentine's day video template.

With this template, you can remake a montage of your journey with your photos, videos, and a favorite song to make a perfect compilation.
A Cute Valentine's wishes for coffee lovers
Take a trip down memory lane with this cute coffee-themed valentine's day video template. Celebrate the times when you first met the love of your life at a coffee shop to the years when your love for each other and your love for coffee got stronger. 
Customize this template now and express how much you love them. This funky & creative valentines day wishes template takes a different approach and lets you wish your partner in a unique way with a bit of humor.
Phew! That's a lot of options, right?

This Valentine's, surprise your loved one by creating a beautiful video from our Valentine's Day video maker.
Are you wondering how to edit and customize them? Worry not; we got you covered. 
You can refer to this video to customize the templates – 

If you have any other questions, drop them in the comments below, and we will be happy to answer your questions.