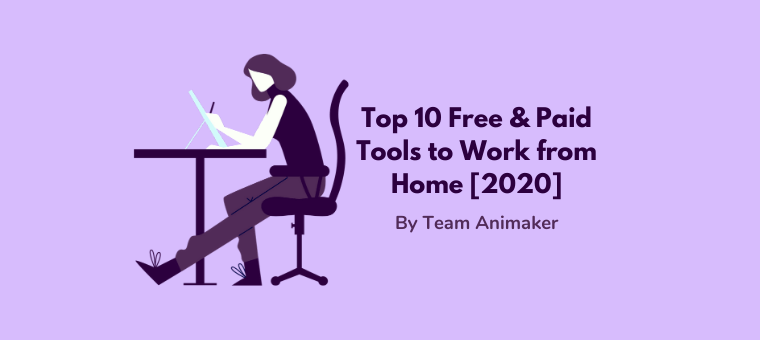 Top 10 Free & Paid Tools to Work from Home [2021]

6

min read
Be it any part of the world, right now everyone is isolated in their homes, protecting themselves from a deadly virus. The increasing cases of COVID 19 all over the world have made the authorities of different countries announce a lockdown to reduce the spread. The lockdown forces us to stay indoors and do our day to day office work from home.The work-from-home culture might seem difficult to adapt to at the beginning. But with dedication, focus and the right tools, the work done from home can be as effective as work done from an office. These tools not only help us to get the job done but also help collaborate with your team-members online. 
CoronaVirus or not, communication is the key here. 
Effective collaboration leads to better flow of work, so here are some basic categories of the tools that we recommend for collaboration and communication:
Collaboration – Apps for tracking the projects at the company level, team level and user level.
Communication – Apps used to communicate with your fellow colleagues at ease.
Remote connection – Apps to connect to a computer & transfer files, connect remotely.
Mass communication – Apps for conveying the message to the mass in a single click.
An effective work collaboration starts with effective communication. With proper communication and the right information passed, anything can be achieved. There are tons of free communication and collaboration tools that can be used by anyone. Here are few that we felt will add value and help you achieve your goals: 
Collaboration
Slack – The super famous Slack is the go-to tool for any team collaboration. Right from project management to individual messaging, everything is possible here. The freemium tool also lets you integrate with different apps to improvise the workflow.

____
Discord – Discord was originally made as a communication base for gamer communities. The app is also packed with almost all the necessary features for a workplace to collaborate and a bit more as well. Separate channels for specific teams, text-only channels, voice-only channels, etc can be made with discord.

Pro tip: Slack and discord put together have their own pros & cons. Slack being the ultimate collaboration tool with tons of integrations and discord with the powerful VOIP technology for Voice & video calls. 
Communication
Teamspeak – Teamspeak is a famous VOIP app that lets you communicate with your team at ease. Discord & TeamSpeak is very similar but just the UI being too old here and discord being modern.
___
Google Hangouts – Google hangouts is a powerful communication tool that allows users to create their own channels, groups, etc to facilitate the group channel communication among different teams. 
Pro tip: While Google Hangout is packed with a bunch of useful features such as HD Voice call, Group call, Inbuilt screen sharing, etc Teamspeak is integrated with Military-grade security level for enhanced security.

Project management


Trello – The ever famous Trello is the best project management tool to track and maintain projects. This will help you keep a track of all the projects in progress as well as the upcoming projects in a single dashboard.
___
Asana – Timeline view of the projects lets you view all the projects in a single screen and automation makes project management much easier by avoiding manual tasks. 
Pro tip: Accelerate your tasks & projects by managing them with Project management apps and tracking them to completion. The timeline feature available in Asana gives you an overview of all the projects, tasks currently handled by the respective team members which make it easier to know who's doing what during the current scenario.

Remote connection
AnyDesk – Anydesk is an app that allows you to connect to computers remotely. This will come in handy if you want to connect to your colleague's computer & explain or demonstrate something which cannot be done through a call.
___

TeamViewer – Teamviewer is yet another remote connection application that allows you to connect to your colleague's computer or to your customer's computer. 
Pro tip: Always turn on auto-connect in TeamViewer or AnyDesk (Unattended access) in case you want to access your machine remotely through internet & transfer files. This will come in handy when your files aren't available in the cloud but the computer. 
Mass communication


Picmaker – The easiest tool for all your Picture making needs. Right from Instagram post to a YouTube Thumbnail, Picmaker got you covered.
___

Animaker –  Communicate to the masses by making an eye-appealing video online easily & for free. The template library in Animaker makes it way easier for those who don't know how to edit a video. 
Pro tip: Use the free templates to make eye-catching animations & pictures easily and quickly. You don't have to be a designer to make eye catching media posts.
Now that you know all the right tools you need to get started with work from home, it's time to think about how you can work from home effectively.


Time your work – Work between a set time and ensure you have complete focus towards your work. Be it 9 to 5 where you work for client timing or clocking your hours for a day, plan it a day ahead so you can schedule your day.
Plan your day & aim for execution – Before starting the day, write down the list of tasks that have to be completed by you and follow them. Keep a track of your projects with the above-mentioned project management apps to easily track and complete the projects & tasks.
Take breaks – Give yourself time to relax. Take adequate breaks for lunch and a 15 min walk or a 30 min power nap when you feel tired. This boosts your work efficiency.
Dress properly – Even though you work from home no one is going to look at you. So, dress something that keeps you comfy while you work. Plus if anyone decides to skype you, you won't be running around searching for your work clothes.
Create a distraction-free environment – Ensure your work environment is filled up with the right items & tools that you need for work and nothing else. Dedicating a desk for your work would keep you focused and distraction-free.
With the right set of tools & best practices, Working from home will be the same as any other day at the office. Let it be any tools or any best practice, the best practice for work from home begins from the personal commitment to work. 
So stay motivated, stay focused. And never stop hustling! 
How do you work from home? Do you have any tips for us?
Share your views in the comment section down below.
#StayHome