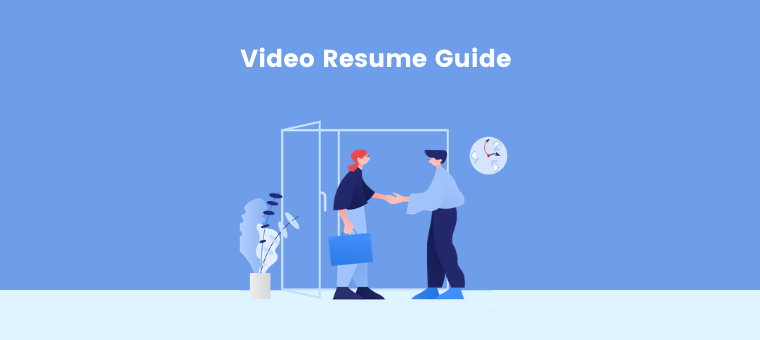 Video Resume in 2021: The Definitive Guide

9

min read
Are you looking to create a video resume?
Or are you deciding whether you need one?
Nowadays, the competition is tough. You're usually competing with hundreds of other applicants.
And while it's become easy to find job openings online, it's also become difficult to get those jobs.
Most job seekers are finding it hard to make themselves stand out and get a shot at that coveted interview. 
If you've been looking to gain an edge over your competition and land more interviews, a video resume can help.
In this article, we'll look at:
Why you should (or shouldn't) create a video resume?
How to create a video resume yourself?
7 top tips for creating an effective video resume
How to use your video resume to get interviews?
What is a Video Resume?
It's a short video created by job seekers to give potential employers a strong reason as to why they should hire them for the role.
It's used to supplement a traditional resume and is typically submitted in addition to it.
Video Resume — Do You Need One?
Are video resumes a good idea?
Well, video resumes are not for everyone. Most job seekers don't need one. 
Yup, video resumes aren't required for a majority of roles out there.
Whether you need one depends on the industry, role, and the company you're applying for.
You'd want to create a video resume if:
You're in a

visual field or creative role

like design, photography, motion graphics, video editing, directing, acting, teaching, and cooking.

You're in a role that requires you to

show off your personality and communication skills

. For instance, a client-facing role that involves charming prospective customers.

You've been

asked to create one

by your recruiter.

You're

applying for a job at a small company

that doesn't use

ATS

and hasn't automated the hiring process.

You

have extensive experience

and would like to highlight only what's relevant to the role you're applying for.
5 Best Video Resume Examples
To give you some ideas on how you could go about creating your own video resume, we're going to take a look at the 5 best video resume examples below.
Mark Leruste
In this video resume, Mark uses humor to showcase his skills, experience, and education in a fresh and engaging way.
Mark did end up getting his dream job with this video resume!
Kelly
Kelly manages to creatively tell an engaging story about herself and her journey mostly using b-roll footage, photos, and voiceover.
Mary Patterson
Mary's video resume is a simple animation that introduces the problem her future employer is facing and explains why she's the best person to solve it.
Lauren Goodman
Lauren's video resume is simple and makes use of icons and typography to portray her creative skills and personality.
Maria Rodriguez
This beautifully-made animated video resume talks about Maria's creative background and presents her to potential employers in a dynamic way. 
How to Create a Video Resume: 7 Simple Steps to Creating a Video Resume
Creating a video resume doesn't have to be daunting; you just need some decent video gear and know-how to get started. Here are the steps to preparing a video resume:
Write a Script
Don't let the word "script" scare you. 
Simply write down what you want to say to the recruiter. 
Write like you talk. Make sure it has a conversational tone to it.  
Keep your sentences short. Use action verbs and power words.
And while filming, avoid directly reading from the script to avoid sounding unnatural.
Rather, memorize the script to sound more conversational and polished.
Or better yet, create an outline of the main points and expand on them later while shooting.
That way, you'd sound less rehearsed and more conversational but perhaps a little less polished.
Choose the Right Background and Lighting
Looking to include footage of you talking directly to the camera?
Pick a space with the right background and lighting.
Choose a background that's distraction-free and tidy.
As for the lighting, you can use a softbox to light your face.
Don't have one? Simply sit facing a brightly-lit window on a sunny day.
Does your video resume have animated scenes in it?
Or do you want to tell a story using an animation?
You can find background illustrations on sites like Freepik, Vecteezy, etc.
Or you can use Animaker to get free access to high-quality background illustrations.
Set Up a Video and Audio Recording Device
Get a camera or smartphone that can record videos in HD quality.
Use a microphone that captures high-quality audio.
Make sure your voice is clear—whether you're speaking directly to the camera or recording a voiceover using your microphone.
Also, use a tripod or gimbal to record footage that's clear and stable.
Add a Call-to-action
Let's say by the end of the video a recruiter is impressed by your skills and experience.
He or she is interested in learning more about you.
What then?
What's the next step you'd want them to take?
End the video with an action you want them to take.
Perhaps you can ask them to visit your personal site or LinkedIn profile.
Say something that would motivate the viewers to take that action.
Collect Additional Visuals
Before you start editing, collect all the visuals you'd need to get your message across clearly.
The right visuals will help clearly illustrate what you're saying in the script.
In addition to the footage, you'd need photos, infographics, clippings, etc.
Or if it's an animation, you'd need props, shapes, and other animation assets.
You can use Animaker to gain access to tons of readymade visuals and animations for various use cases and industries.
Edit the Video
Now that you have all the footage and visuals, time to put it all together.
First, review the footage you've captured so far. 
And pick the ones that you think are the best takes.
Then, you'd need a video editing tool to edit and fine-tune the footage.
A simple tool that lets you trim and merge video clips into a video that flows smoothly.
You can use Animaker's online video editor to quickly do that on your own.
No need to hire a freelance video editor or learn a complex video editing software.
No video editing experience or know-how is necessary to use our tool.
Animaker's video editor lets you:
Precisely cut or trim your videos to your desired length.

Add beautiful, readymade transitions between scenes.

Quickly merge several video clips.

Animate text with the touch of a button.

Add beautiful filters to enhance the video.
Get Feedback
Once you're done editing your video resume, review it a few times.
Make sure everything is clear and organized.
After you've reviewed it for flaws, ask a friend or colleague to critique it.
They can provide you valuable feedback on how you can improve it.
7 Top Tips for Creating an Effective Video Resume
Here are the top tips for making video resumes that'll help you land more interviews:
Personalize Your Video Resume
Personalize your video resume for each job you apply.
A personalized video resume lets the employer know how much the role means to you.
What experience or skills do you think they're looking for in their ideal candidate?
Talk about specific skills, experiences, qualifications, and key achievements that make you a great fit for the position.
Also, answer why you want to join the company.
Keep It Short
Avoid talking about every skill and experience you've gathered so far. 
No point in creating a video resume if that's the case.
Talk only about what's relevant to the job role you're applying for.
Besides, recruiters are busy people and typically scan resumes to save time.
The average recruiter spends about 6 seconds scanning a resume.
They'd rather scan 50 or 100 more resumes than watch your lengthy video.
To ensure it gets watched till the end, keep it between 30 and 90 seconds.
But make sure it's no longer than 2 minutes.
Be Patient and Record Multiple Shots
Record each segment of your video several times.
Keep shooting; you rarely get it right the first or second time.
The more footage you have, the higher your chances of finding something worth keeping.
While talking, you can look at the lens of the camera to make eye-contact with the viewer.
Finding it hard to capture a fluently flowing sequence? 
Make pauses between sentences and cut them out later when editing.
Be Professional
You must look professional, so dress as you would for an interview.
Maintain a professional demeanor throughout the video.
And it ain't enough to just dress or behave like a professional.
The quality of your video resume needs to be professional too. 
This means the quality of the video, audio, lighting, editing, etc., should be professional.
Be Yourself
You must look and sound professional but be yourself. 
Let your natural self come through.
Don't try to be someone you're not. 
Remember that after you land the interview, your recruiter will get to see your true nature.
Tell a Story
We all love a good story. 
You can answer why you're a great fit for the role in the form of a story.
A story is much more engaging than a pitch.
So rather than making a pitch, tell a compelling and engaging story.
Add What's Not in Your Resume
Have you missed adding a specific skill or experience to your application?
Something that you think would help move the needle in bagging the role?
You can talk about it in your video resume.
Again, make sure it's relevant to the job role.
How to Use Your Video Resume to Get Interviews
Before you can get it in front of the recruiter, you'll need to publish it.
You can publish it on Youtube or Vimeo or Wistia.
Vimeo is your best bet.
It lets you upload your video for free and lets you customize the video's appearance.
Also, you can consider adding your video resume to your Linkedin profile.
That's it! If you've been looking for a simple video making tool to create your video resume, give Animaker's video resume maker a shot. 
It lets you create engaging live-action and animated video resumes from scratch. No video making skills required to use our software.
Also, check out the free video resume templates that the tool offers.
And if you have any questions on creating a video resume, feel free to ask them in the comment section below.