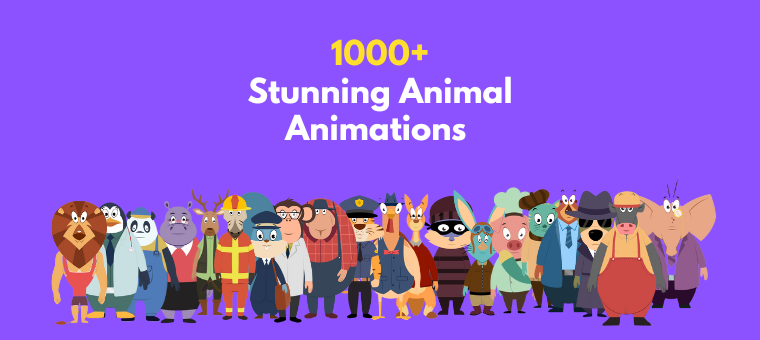 New: 20+ Animal characters with 1000+ Stunning Animal Animation

9

min read
What do you get reminded of when you think of the word "animation"?
The mighty heroes and the characters from your favorite cartoons, right?
In general, we think about the human characters from these cartoons. 
But, what about animals? They are equally entertaining as any human character!
Even in cartoons, animal characters hold an important role, equal to human characters.
So, to applaud and give praise to these glorious animals, we have added 20+ new animal characters to the library in our latest update.
This new update lets you create stunning animations starring all kinds of animals, right from household pets to wild creatures. These characters have their own unique personality and set of actions. Apart from the character-specific actions, there are over 1000 unique animal animations that can make your scene realistic and entertaining.
So, if you are planning to create a cute little zoo animation for your school or a movie with animal animations, then this would be the perfect choice for you. With a super simple interface and wide range of animal characters, you can create animations that can put a smile on everyone's face. 
Without further ado, let us introduce you to the 20 New Animal characters.
If you are an OG Animaker user, you should have known about The Mad Scientist Comic Series and how these comic animal characters were created. 
To brief it out, these animals are not regular animals. They are super intelligent, and for comparison, they are super smart than any other species on the planet, including humans. 
And the best part is they are groomed, and they look professional. At the same time, you might get the complete freedom to customize everything. 
So, let's check out each of the characters and their personalities –
Roger the Rabbit
Bio: Roger is a professional pilot who can fly any aircraft type. He is the go-to person for a combat pilot in case of an emergency. While not in combat, he flies for charity airlines to transport materials for the needful.
Skills: Tactical pilot who can fly any type of aircraft

Profession: Professional Pilot 
Tapper the Penguin
Bio:  Tapper the Penguin was born in the remote parts of Antarctica. He overcame tons of hurdles to become the best doctor in that region and is also one of the top combat medics to be ever known.
Skills: Tactical medic and general doctor

Profession: Doctor 
Pablo the Panda
Bio: Pablo was born in the Colombian jungle amidst the war. Having faced everything you can imagine, Pablo is the best in navigation. He knew all the spots to hide and protect from enemies. 
Skills: Knows every nook and corner.
Profession: Navigator
Tony the Tiger
Bio: Tony the tiger is a professional spy working as a cop. He was bullied when he was younger, so he became a cop to save those bullied. When it comes to having the "right contacts," Tony is the person. He has the best informers who provide trustworthy information on crimes around the city!
Skills: Sharp listening skills
Profession: Cop
Ozzy the Kangaroo
Bio: At first look, Ozzy might look like a retired kangaroo. But the reality is that he's a professional sniper. While others in the team like to move around and do physical combat, Ozzy likes to stay far away from the scene with the sniper to assist and give the team crucial information about the enemies.
Skills: Professional Sniper
Profession: Retired Teacher
Boris the Bear
Bio: Boris was born in the United States and is a Business Executive. In addition to being friendly, he also loves to play and work. He is always energetic and loves to have fun. When it comes to fighting enemies, his energy beam saves his team. It's so powerful that it can melt a 12-inch metal wall and has a maximum range of 50 feet.  
Skills: Numbers, charts, and disintegrating enemies with his energy beam are one of his unique superpowers. 
Profession: Business Executive 
Bobby the Cow
Bio: Bobby was born in the pastures of the beautiful foothills of Mount Rigi, Switzerland. Bobby is well known for punctuality and is the go-to person to get things delivered on time. 
Alternatively, Focused X-Ray vision is her superpower. She's one of the important members of her team as she helps to escape the enemies with her X-Ray vision.
Skills: Focused X-Ray vision

Profession: Delivery Executive
Henry the Elephant
Bio: Henry was born in the deep rainforest of West Africa. He's very intelligent and is a teacher for charity forest schools.  Henry has a unique perspective and an eye for identifying potential. Being an elephant, he's good at lifting heavy objects.

Skills: Identifying potential in individuals

Profession: Psychology professor and Venture Capitalist
Robb the Rooster
Bio: Robb was born in the farmlands of Japan. His father was a fighting rooster who was violent, while Robb was the complete opposite. He likes music and also plays Violin. His unique way of playing the violin hypnotizes the enemies with telekinesis.
Skills: Hypnotizing enemies with music

Profession: Violinist
Benjamin the cat
Bio: Benjamin was born in the beautiful city of Madrid, Spain. He's a passionate artist and began inspiring everyone with his beautiful art at a very young age. He moved to Paris in the later part of his life to pursue his passion for art. His sharp eyes help to tag the enemies at any hour of the day and help the team to ambush them. 
Skills: Super sharp eyes and Night vision abilities

Profession: Artist

T-Bone the dog
Bio: T-Bone was born in glorious New York. He was one of the largest in his foxhound litter.  He has a very good knowledge of Chemistry and Autonomy and a heightened sense of smell. His curiosity and ability to look into details landed him in a private investigator agency as Detective/Investigator.

Skills: Super Sharp brain with great attention to detail

Profession: Private Investigator 
Sheldon the Squirrel
Bio: Sheldon was born in the United Kingdom. He's a mailman by day and a skilled lockpicker by night. He has strong teeth that can bite through steel. He's the go-to person in their team for opening locks and heavy metal doors.
Skills: Opening multi-layered locks with teeth

Profession: Mailman
Randolph the Wolf
Bio: Randolph was born to an Alaskan Mother in the famous San Diego Zoo. While he may look innocent, he's the most cunning group member. He's also known as the Robin Hood of the cities as he is well known for stealing from the rich and giving it to the poor & needy.

Skills: Silent as a grave and turns into an unidentifiable shadow in the darkness.

Profession: Thief 

Simon the Sheep
Bio: Simon is born among the thousands of other sheep in livestock in New Zealand. The simple and calm-looking sheep is the most feared in his flock. As he grew up, he couldn't control his anger. This led him to breathe fire that often burnt the whole farm. So he had to quit farming and become a designated fighter to eliminate the enemies.

Skills: Breathing fire 
Profession: Ex Farmer 
Sal the Pig
Bio: Sal was born in the pig farms of Lod, Israel. His ability to organize and coordinate things made him stand out from the group. He is the head chef at one of Israel's top restaurants, and his culinary skills are worth dying for!

Skills: Cooking, organizing, and coordinating from the control tower 
Profession: Chef
Alan the Lion
Bio: Alan was born in the deep forests of South Africa. Born & Brought up in a ferocious family surrounded by hunting parents, Alan aimed at securing their village by teaching them martial arts to protect their town and themselves. 
Skills: Karate, MMA, and leader of the security team
Profession: Martial arts trainer 
Appu the Monkey
Bio: Starting as a magician at a younger age, Appu learned the sleight of hands to woo his audience back during his "magician days." This skill helped him acquire the ability to create a cure for any disease easily. He keeps his team healthy and heals them from any wounds. 
Skills: Create a cure for any disease
Profession: Doctor
Aron the Hippo
Bio: Aron might look like a normal teacher, but he is a professional long-breath freediver who can hold his breath for hours. He ensures no one is trapped in the deep oceans during a flash flood or tsunami. 
Skills: Hold breath underwater for hours
Profession: Freediver, Teacher 
Barney the Deer
Bio: Barney the Deer is a professional dancer, singer, and hypnosis artist. He is very friendly to the allies. But when it comes to the enemies, Barney tricks them into listening to his song and putting them to sleep with hypotonic powers. 
Skills: Singing, Dancing, Hypnosis art 
Profession: Entertainer 
Maurice the Zebra
Bio: Maurice is a professional racer and assistant at a top car manufacturing company. He was awarded the "Best Bolt of the Jungle." He is so swift that he doesn't give a chance to predators to even think of hunting him.
Skills: Fast legs, Professional racer 
Profession: Engineering Assistant 
Phew, wasn't that like a movie to know about all the characters, their backstory, and their skills?
You can use these animated animal characters in your own video by customizing their outfit, changing the colors, and lots more. 
In total, there are 20 animal characters with over 1000+ Actions and 20+ expressions, thereby making it perfect for your video. 
Why are you waiting? Hope on to Animaker, create your new project with stunning animal animations. It just takes five simple steps to create your very own animation – 
Create a new project 

Add background music track 

Add animal characters and custom properties to your scene 

Add custom animations to your characters and properties 

Download and share it with your friends
As simple as that, you have your very own animal animation video.
To create your own characters, just sign up to Animaker's Avatar Maker! You can create 1 Billion+ unique human-like characters. It's fun & it's free!
Additionally, you can also check this in-depth article about animated videos and how to create one –  "How to make animated videos."
We hope this article helped you create your own animal animation movie effortlessly. If you have any questions, feel free to drop them down below in the comments.