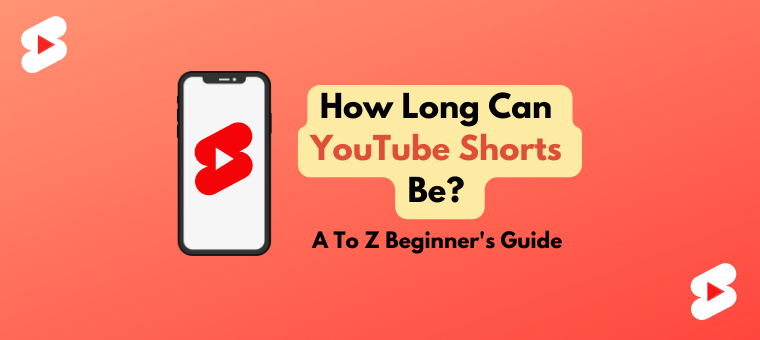 How Long Can YouTube Shorts Be? A To Z Beginner's Guide

9

min read
YouTube shorts is an incredible way to reach millions of cyber surfers across the globe.

With this article, we want to add a lot of value to your journey with YouTube Shorts. So let's look at the first thing you are here to understand.
How long can YouTube Shorts be? 
The

maximum duration

of a Youtube Shorts video is

60 seconds

.

The

ideal duration

is

between 15 and 60 seconds.
It looks simple, doesn't it? But there are some restrictions based on the type of music you choose.
If you are using Stock music or your own Audio

, your video can be

between 15 and 60 seconds

.




But,

if you are choosing a music track from the YouTube catalog

, then your video duration will be

limited to up to 15 seconds

.
Now that we have everything we need to know about the allowed length, let's talk about a few more things like:
The Reason for the rise of Short Videos
Ever since the inception of YouTube, the demand for videos has always been on the rise. Over the next decade, we saw multiple social media platforms rise, trying to serve the different needs of the online audience.
Facebook became the defacto place for users to socialize with friends, Instagram became the place to showcase your photography skills, and YouTube became the place for videos.
But a lot has changed since then. There is an overwhelming amount of content to be consumed online. People no longer have the patience to sit and consume the different types of content served on these platforms. Instead, people prefer bite-sized content – bite-sized videos, to be precise. This proves why Vine was a big hit back during its launch in 2013.

Even though Vine didn't live long, it highlighted the demand for short videos in the world. This was proven again with the rise of TikTok, which has recently taken over the world by storm.
With the rise of TikTok, the bite-size video officially took over the traditional lengthy videos. From watching long, 15-minute videos, people have moved on to consuming short videos. Since they can scroll and watch multiple videos in a short span, these short videos have made people get glued to their phones.
The Birth of Youtube Shorts:
Since YouTube's inception in 2005, it has become the primary platform for video-sharing with highly active user bases worldwide. However, the popularity of a short-form video-sharing app like TikTok has caught the eye of millions of people in recent times. After Tiktok's ban in several countries, Shorts – the latest feature on Youtube, was introduced to attract global content creators. This feature makes the YouTube content super enticing, like the TikTok app. But, of course, there are many similar apps like Snapchat, Instagram Reels, and many more.

The difference between these platforms is the age group it caters to. Tiktok is largely used by a user base below 24 years of age. But YouTube, one of the most used social media platforms and the second largest search engine, caters to a slightly older audience with more disposable income. This increases the chances of your short-form videos getting instant attention and reaching a mature audience. Also, short videos have a high retention rate, so it's a win-win situation for the users AND the creators!
YouTube Shorts' Viewership Stats:
Youtube Shorts Beta was initially rolled out back in September 2020 in India, after the ban of Tiktok in the subcontinent. By Feb 2021, Shorts had gained around 3.5 billion views daily from Indian users.
After this enormous success, it was out of Beta and officially offered to US users by March 2021. This release gathered a whopping 6.5 billion daily views.
By June 2021, Youtube Shorts was released in over 100 countries. By then, there were 2.1 billion global YouTube users. Out of that, YouTube Shorts received 15 billion views daily.
The best part about Shorts is that, in one year from its release (between Sept 2020 and Sep 2021), the average number of daily first-time creators was twice the number during release.
Not just that, many users had gained thousands of subscribers and millions of views after joining the Youtube Shorts bandwagon. Not convinced? Look at the numbers of The Klem Family as of September 2021.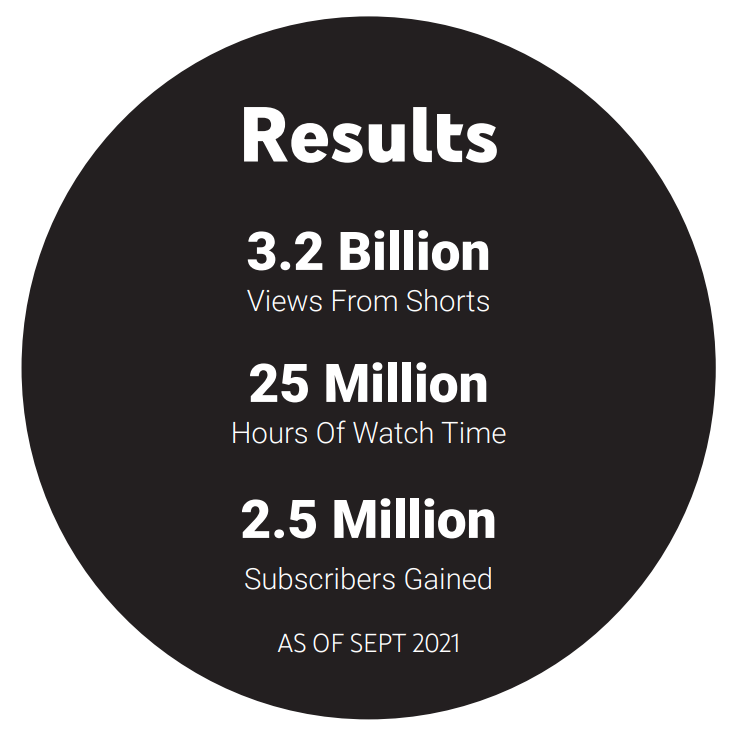 This channel has over 2.97M subscribers. Initially, they'd uploaded only on TikTok. But after they joined Shorts, the growth of their channel started skyrocketing. This is the number of just one channel. Imagine the collective numbers of all Youtube Shorts users!
How to create YouTube Shorts from your iPhone?
There are several ways to create vertical videos for YouTube shorts. But none are optimized to give an excellent experience for shorts creators as none were made by keeping YouTube Shorts in mind.
However, Animaker Inc's recently launched Animaker for iOS app is fully optimized for YouTube Shorts. As a result, you can comfortably create Shorts videos on the go.
Animaker app for iOS comes with various pre-designed templates and many valuable features, making it the best video maker for YouTube. Get acquainted with the best way of making an eye-catching video in just minutes.
Here's how you can create Youtube shorts from your iPhone:
Install the iOS App

– Suppose you've installed the

Animaker app for iOS

; good for you! You'd have discovered the magic in it. If not, well, what are you waiting for? Click on the Install button!

Sign up/Login to Animaker

– If you are already a registered user, sign in using your credentials. If not, you can sign up using your mail address or social media credentials.

Select a Template/Blank project of your choice

– Surf through the 1000s of templates and choose a template that suits your needs. But be careful; you shouldn't take a lot of time marveling at the beauty of the templates! You can also create a video from scratch using a blank project, apart from choosing a template.

Add the necessary assets

– Now, you are the Picasso of your video! First, load it with elegant backgrounds, cool icons and properties, and melodic music tracks. Then, add extra oomph by animating the videos with special effects, scene transitions, and entry/exit effects for your assets.

Preview and Download

– Now that your video is ready, preview it and download it.
As we promised, creating an awesome video using Animaker wouldn't take you more than five steps.
How to create YouTube Shorts from your PC?
Though Youtube Shorts was launched primarily for Smartphone users, you can also create Shorts videos on PC. With what app, do you ask?
With Animaker, the future of video making, of course!
Packed with highlighting features such as customizable animated characters, auto lip-sync, and many more, Making a studio-quality animated video is just a few clicks away on Animaker web. That is why 20,000,000+ videos have been exported so far, and the number keeps increasing each second.  
Can we skip to the best part? You can create as many videos as you want on Animaker, and your account is FREE forever!
Now, what about the steps to create a Youtube shorts video using a PC? Well, it's the same as the steps for Mobile. First, take a sneak peek at the steps for "How to create YouTube Shorts from your iPhone?". Then, you are all set to post an incredible YouTube Shorts video!
Things to remember while posting Youtube Shorts:
Keep in mind that YouTube Shorts has gained much popularity within a short span. Therefore, uploading appealing, short videos can gain loyal subscribers. When posting your Shorts video, these are some essential points to keep in mind:
Choose the right keywords and relevant hashtags. Keywords play an essential role in impacting your video outreach. Insert the right keyword in your video title and description while posting it. This can make your video appear on top of the search results. For instance, adding the hashtag "Shorts" can help get your short video recommended.

An attractive Thumbnail tends to be the main reason for drawing the viewers' attention. So you can use all the top-notch features of

Picmaker

to make the best attention-grabbing YouTube shorts thumbnail. Here are some pointers on the

Best Practices for creating YouTube thumbnails

. So take a quick look at it!

Consistency is the key! Retain your existing subscribers by uploading valuable content regularly. This will help you stand out from other creators on YouTube and gain you a massive fanbase within a short period.

Hope on with the trends! It goes without saying that trending topics help gain more views and engagement. In addition, challenges and trends like the Ice Bucket Challenge gained popularity via long-form YouTube videos. So, is the Shorts feature going to be any different? Check out this Shorts video of ours where we'd hopped on the trend.
Why now is the right time to climb on the Youtube Shorts wave?
Looking at the current trend, it is evident that short videos significantly impact cybersurfers. From big brands to visionary creators, everyone is taking advantage of this latest feature of YouTube.
Youtube has also introduced the Shorts Fund, a $100 million fund to reward and encourage more creators to make Youtube Shorts videos. There is an eligibility criterion to qualify for the bonus from this fund. Youtube reviews the channels' performances every month and reaches out to thousands of creators to inform them that they qualify for this bonus. So, along with more subscribers and popularity, you can also make some money through Youtube Shorts!
Any valuable content is appreciated and recognized within a short span. Now is the time to quickly create an eye-catching short video or edit videos on iPhone using the most user-friendly Animaker App. Install the app from the AppStore right away and showcase your creative side to the world.
There's a chance you could be the next big influencer! If you have any doubt about Shorts, check out these guidelines before getting started!
Got questions? Drop them in the comment below!