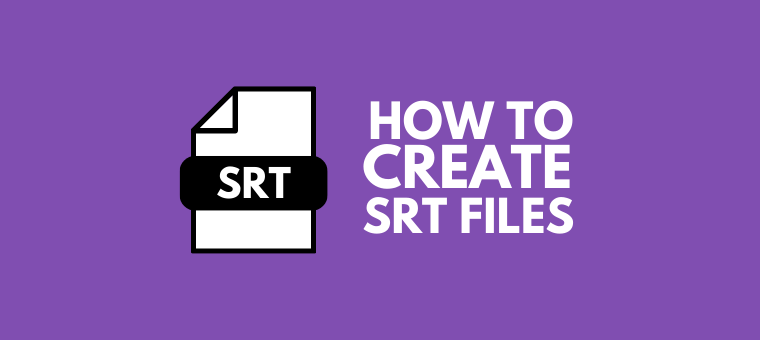 How to create an SRT file? [The easy way]

7

min read
The SRT file format is one of the most popular subtitle formats, and they support a wide range of video players. The main reason why everyone prefers SRT subtitle formats over other formats is that this format is developed as a DIY solution for captioning video content. When it comes to creating an SRT file, it might sound daunting, but in reality, it's not rocket science.
What is an SRT File, and why should you use it?
An SRT file or a SubRip File is a plain text file that contains the timecodes and the text for subtitles in a video. The SRT File is made up of a series of lines containing the following information –
The start time of the subtitle line
The ending time of the subtitle line
The text of the subtitle line
The start and the end times of the subtitle are in the following format:
HH:MM:SS,MS
Here the "HH" denotes hours, "MM" denotes the minutes, "SS" denotes the seconds, and "MS" denotes the milliseconds.
Here's an example of an SRT file –
1
00:00:00,000 –> 00:00:05,000
This is the first subtitle.
2
00:00:05,000 –> 00:00:10,000
This is the second subtitle.
SRT files can be easily accessible and opened in most video players. It's so simple that all you have to do is save the SRT subtitle file in the same folder as the video, ensure that the subtitle file name and video file name are the same, and then open the video in a player that supports SRT files. The video player will automatically detect & load the subtitles and display them on the screen.
How to create an SRT File?
As mentioned above, creating an SRT subtitle file is very easy and straightforward. There are two ways to create an SRT file –
Offline – Using a text editor
Creating an SRT file is pretty simple. To create an SRT file, all you need is a text editor.
Here's how you can create SRT files.
If you are using a Windows machine, open Notepad. If you are using a Macintosh, then open text edit, and follow the below instructions.
1. Type 1 in the first line, this number denotes the first line of the subtitle. Press enter and go to the next line.
2. In this line, write the start and the end timecode in the specific format "HH:MM:SS,MS" (Hours:Minutes:Seconds,Milliseconds).
For example, this is how your subtitle would look now –
1
00:00:00,000 –> 00:00:05,000
This is the first subtitle.
3. Once you are done typing the first subtitle, go to the next line and type 2 to start the second subtitle. Follow the above steps for each subtitle you want to create.
4. Once done, save the notepad file as <filename>.srt and click on save.
Now that you know how to create an SRT file yourself, you would have realized how tedious it is! What if I say there's a way to create SRT files automatically?
Mindblown right?
Read on!
Online – Using a subtitle generator
You don't have to go through the struggle of entering the precise duration and the subtitle line without any mistakes to create the perfect SRT file. You can let a tool do the job for you.
Yes, there are a number of ways you can automatically create SRT files online, and the easiest way is to use an Online SRT generator tool. For this purpose, there are a number of online tools, but I promise to give you the best tool in town – read "Animaker".
Yes, did you know that you can automatically create subtitles for your videos using Animaker?
Animaker's AI-powered subtitle generator can transcribe your video into text and add subtitles to your video automatically. With this, you can make your videos more accessible to people who are deaf or hard of hearing or to people who are watching your videos in a language they don't understand.
There are a couple of ways you can create an SRT file using Animaker Subtitles –
Automatic Subtitles
(1) To use Animaker Subtitles, simply head over to Animaker Subtitle Generator and signup for a free account.
(2) Once you are in the subtitle dashboard, simply upload your video to Animaker. Alternatively, if you have already exported in Animaker before, you can select the video from the My Exports tab. Else, if you have already uploaded a video to Animaker, you can choose it from the My Library tab.
(3) Once the video is uploaded, click on the "Auto Subtitle" button. Now, Animaker will transcribe your video and add subtitles to your video automatically.
(4) Once the subtitles have been generated, you can make necessary adjustments and changes if needed.
(5) Finally, download the subtitles by clicking on the download button. Click on Download subtitle and then on Download to save the SRT subtitle file to your computer.
Moreover, Animaker Subtitles also allows you to download subtitles in different formats like .VTT, .ASS and .SBV.
Simple, right? Now, let's check how to create an SRT file by adding subtitles manually to your video.
Manual Subtitles
(1) Follow the first 2 steps from above and click on the "Manual subtitles" button.
(2) This will open up a tab where you can enter the subtitles text and the timestamp for each subtitle. By default, the duration of each subtitle is set to 2 seconds, but it can be adjusted according to your convenience.
(2) Follow the same steps for the rest of the video.
(3) Once you are done, click on download to download the SRT subtitle file to your computer.
If you want to know more about adding subtitles, here's an article that explains step by step: How to make subtitles – the ultimate guide.
Now that you know how to create subtitles manually and automatically, let's see the benefits of creating an SRT file.
What are the benefits of creating an SRT File?
When it comes to using an SRT file, there are lots of benefits and advantages. Here are a few of the most important reasons –
Easy to create and use – The SRT Subtitle files are plain text files. This means you can create them using any text editor or online tools like Animaker Subtitles to create subtitles.
Widely accessible – SRT Files are supported by most video players like VLC, Windows Media Player, etc. This means you can use SRT files to add subtitles to your videos on any device.
Multi-language support – SRT can support multiple languages. This means that you can use each line to tag a language code and show them simultaneously. This can be very helpful in targeting the global audience.
Now that we know the benefits, here are a few tips that will make your subtitles stand out from the rest. 
Tips for creating an SRT Subtitle file:
Font Size – When it comes to SRT files, the font size should be large enough to be easily readable to the audience. This also means that the size should not be so large that it takes up space on the screen. Ideally, a good font size for an SRT file is around 18-23 Pixels.
Easy to read – Subtitles are meant to be readable, so ensure the text used is easy to read with a clear font and a good contrast between the text and the background. While choosing a font, avoid using one with too many colors or a font that is hard to read. If you want some suggestions, check out this article on – Best fonts for subtitles.
Avoid Abbreviation – Abbreviations and acronyms can be difficult to understand, especially for people who are not familiar with them. It is always best to avoid abbreviations and acronyms in SRT files.
Proofread before publishing – Before you publish your SRT file, ensure that there are no mistakes or errors. This will help to ensure that your subtitles are accurate and easy to understand.
Hope this article helped you understand how to create SRT files easily and effortlessly.
If you have any questions, please feel free to drop them in the comments down below.