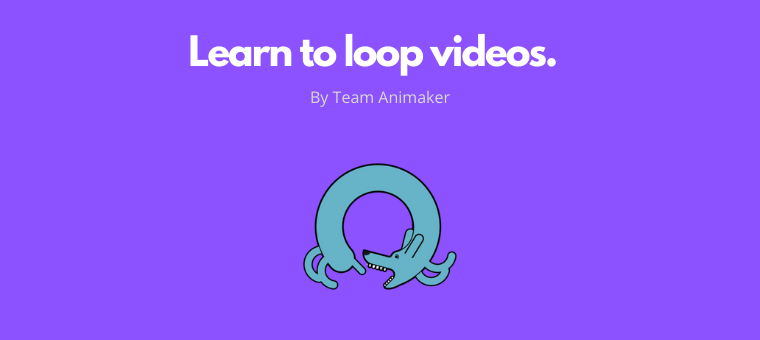 How to loop a video

6

min read
A loop video is a great way to convey information about your product or organization without forcing the user to consume it.
It's a very useful content format that is highly used during trade shows, events, corporate waiting rooms, and even during presentations. Recently loop videos have even become a fun content format on social media.
In this article, we'll show you
          1. How to loop a video online? 
          2. How to loop a video using video players?
          3. How to loop YouTube videos?
          4. How to loop videos in PowerPoint presentations?
As a bonus point, I will also show how to loop videos for Facebook, Twitter, and Instagram. 
Here is a video that explains how to create loop videos for different social media channels. If you prefer learning by watching videos over reading then this is for you. If not then continue with the article.
1. How to loop a video online?
Loop videos are continuously repeating videos with endless or multiple replays. There are several ways to create a loop video but only a few of them are simple and efficient at the same time. 
Animaker is one such video creation tool that provides you with simple yet powerful options to edit your videos online. This three-step process will show you how to use Animaker's video looper to loop videos online in no time. 
Step1: Upload the video
Create an account in Animaker. Once you enter the dashboard, click 
Create>> Create Video>>Blank page.
Now, select the upload option, which is on the bottom left corner of the interface. Upload the video that you want to loop by clicking on the upload button. Or you can simply drag and drop the video file into the application.
Step2: Duplicate:
After uploading the video, select it to load it into the workspace.
On the right-hand side, you have an option called Duplicate, present within each scene. Now click on the "duplicate scene" button as many times you want the video to be looped. Let's say you want the loop to happen 10 times, then click on the duplicate icon for 10 times.
Step3: Download
Once done, click Publish>>Download Video.
Once the video is rendered, you will be redirected to the following page.
Here, you will have options to download, edit your video again, and even share the video or the project file with others for more editing.
In addition, you will also receive a download link of the processed video in the registered mail id. Thus making sure that downloading remains an easy task for you.
2. How to loop video using video players:
Different purposes require different solutions. Don't they?! 
Say you are planning to play your video in some fair or tradeshow, and you want the video to be continuously repeating in the background. In this situation, a software solution that will help you loop the video a certain number of times might not be the best solution. What you need is an easy fix that will help you keep playing the video an infinite number of times without your intervention.
In this case, looping with the help of video players is the best option. Below I have shown how to loop a video in some widely used video players.
Windows media player:
In the Windows media player, the second icon in the bottom menu, from the left-hand side allows you to play a video on repeat mode.
VLC player:
To play a video in a loop in the VLC player, click the View button on the top menu, and select advanced controls. 
Once you open the advanced controls, use the loop button to select the section of the video ( point A to Point B) that you want to play in a loop.
If you press the play icon now, the video will play in a loop between the points A and B.
Quicktime player:
Looping a video in a Quicktime player is similar to doing in the VLC player, but much simpler. 
Click the View button and select the loop option and you are ready to go!
3. How to loop YouTube videos:
YouTube is our easy go-to solution for all our video needs. But still many of us don't know how to utilize it to its fullest potential. YouTube gives us a very easy solution to play a video on repeat mode.
To make a video play on a loop, do a right-click on the video and select 'loop' from the options.
4. How to loop videos in your Powerpoint presentation:
Looping a video inside your PowerPoint presentation is a good way to keep hold of your viewer's attention. To begin with, insert the video into the presentation by,
clicking  Insert tab >> Video >> and select the option Video on my PC to upload the video that you want to add to your presentation.
Once you embed the video, now go to the Playback tab and select the box near the option 'loop until stopped'.
That's it. Your video in your presentation is on loop and the loop will continue until you stop it.
Bonus: How to loop videos for Facebook, Twitter, and Instagram ( Infinite loop):
An infinite loop video can fool the viewer by blurring the difference between the start and the end of a video. It's a great trick to create attention-grabbing social media videos.
This simple two-step process will show you how to make infinite loop videos.
Step1: Upload your video 
Create >> Create GIF >> Blank page.
We are creating this as a GIF file to ensure that the video runs continuously as an infinite loop. For this requirement as well, we'll use Animaker.
Once you login to the application, upload the file that you want to loop using the upload section present on the left side of the application interface. Or you can also drag the video from the folder into the application.
If necessary, you also have an option to trim the clip that you are uploading to make your video loop accurate. And you can do that by dragging the edges of the clip in the video timeline.
Step2: Download
Now Click Publish >> Download Gif.
This is a good way to create an infinite loop video for Twitter and Facebook. 
As Instagram does not accept GIFs, you have to download your output in mp4 format. To do that, download through the Download video option. 
There you have your infinite loop animation!
Check out our loop video tool to create your own infinite loop video now.
We hope this article helps you with the right solutions for video looping. But if you are highly creative and want to do more than just looping a video, then we have the right tool for you.
Animaker is free and easy to use DIY video creation software that offers options to trim, crop, rotate, change color, add music to a video, create character animation, create a video with photos, create text animation, and a lot more.
Single most powerful video creation app for every video need. Click here to power yourself!