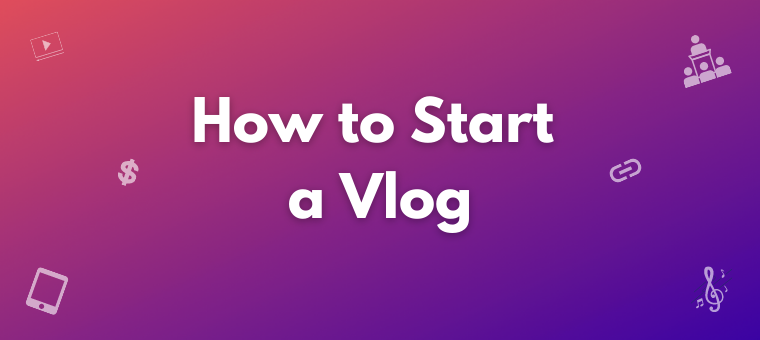 How to Start a Vlog? [Beginner's Guide to Become an Influencer]

13

min read
Are you pumped up and ready to start a vlog, but are worried about getting lost amongst gazillion other vloggers?
Well, if I say that there is no competition, it would be evident that I am bluffing. YouTube is indeed a sought after platform, and there are many users out there who are like…
So quality and consistency can come to your rescue here. Come up with the perfect plan for your vlog, follow it religiously, improve it to match the current times, and see yourself grow.
Luckily for you, we have put together some useful tips on how to start a successful vlog, the do's and don'ts on maintaining your vlog, and just everything you need to know about vlogs.
So, what are you waiting for? Scroll down!
1. KYN – Know Your Niche
Now that you have decided to start a vlog, you must have a good idea of what your vlog will be based on and what it will look like. This should be the first and foremost thing to be done, as having a good and right start is very important.
Since this will be a long-term plan, choosing a channel theme you are familiar with and comfortable with is of utmost importance. In other words, know your niche and choose that as your channel idea.
You can take Yuya, a Mexican vlogger, for inspiration. Yuya started her beauty vlog in 2009 at the tender age of 16 under the name lady16makeup, after winning a makeup contest. Currently, her channel has 24.6 million subscribers and more than 2 billion views. Her growth has been exponential, so much so that she has a star at the Las Vegas Walk of Fame. She released a perfume in 2015, wrote two books on Makeup by 2017, and launched a makeup collection in 2017. Now, THIS is someone who knows what they want to be doing.
For starters, here are some niches and the vloggers who are soaring in the corresponding niches:
Similarly, there is more to the list, like Business, Humor, Makeup, etc. Figure out your niche and watch yourself soar!
2. KYA – Know Your Audience
Posting content that suits your audience is essential. Your video content should be in line with your target audience. If your vlog is dedicated to a particular age group, you can very well use the slang and terms that your audience can relate to.
If you target an audience across different age groups, well, you must be very careful of the terms you use. If the viewer misinterprets even one word, you will end up losing a follower. Or who knows, the story might spread, and you might lose a chunk of your followers.
Other than this, the need to connect with the audience is vital. Posting boring stuff will make the viewers go meh.
Here's an example from the channel, Best Ever Food Review Show. This channel has 5.63 million subscribers and more than 955 million views. Check out how Sunny Side, the host of Best Ever Food Review Show, connects with the audience and keeps it engaging.
So, assess and know your troops, carve your script accordingly, and impress them with your expertise.
3. KYP – Know Your Platform
YouTube has become your second home. So, you must be aware of every nook and corner of it. You should be mindful of the way its algorithm works. Just like you know your home, you should know the interface of YouTube well.
Most newbies' common mistake is that they fail to understand the platform that they are going to work on.
There are certain metrics that help YouTube recommend your videos to others:
Watch Time

– It is the amount of time a viewer has watched one of your videos. The longer they watch, the better. And the more videos they watch, the more likely will your channel and videos be recommended for others.

Engagement

– This metric will show the percentage of how long viewers had watched the video and when they stopped. The engagement graph can help you in determining the quality of your videos and cut down parts that are not useful for the viewers.

CTR (Click-through Rate)

– This metric represents the percentage of viewers that click on the CTA provided. For a viewer to click the CTA, they should have noticed it. For them to notice it, the CTA must have been placed in a suitable place. This is where

Engagement

comes to help, as it enables you to understand how long a viewer watches your video.

Conversion rate

– This metric refers to the number of conversions gained from your video, in terms of subscribers. This metric is critical because the purpose of your vlog is to gain more followers. Only if you have an eye on this metric will you improve your videos' quality.
Considering these metrics can be of extreme importance and help while structuring your video. Once you begin to understand YouTube and the way it works, you will start planning accordingly and adopt techniques that will be in line with YouTube's algorithm. That's why understanding the platform is of utmost importance.
In addition to these metrics, there is another crucial factor. Consistency. Like you have heard a thousand times, Consistency is the key. As much as starting a vlog is essential; you must also be consistent in posting videos. Designate a particular day as your video-posting day, plan a schedule, and stick to it!
And if you miss a day, apologize and avoid repeating it!
Many other factors help in improving your video. Wondering where to acquire all this knowledge from? Well, when in doubt, choose the experts. Here are the YouTube Creators. This channel gives you everything you need to know about YouTube, right from simple tips to the latest updates.
So feed on YouTube knowledge as much as you can before starting that vlog of yours!
4. KYI – Know Your Inspiration
Once you have decided on the channel idea and your vlog idea, you would notice many vloggers pursuing the same. They might be king/queen pins and incredibly successful at it. 
Find such pioneers, mentally adopt them as your F.P.G.s (Friend, Philosopher, and Guide), and start following them. Research their journey and figure out how they have grown to become an inspiration for newbies like you!
A great personality to be inspired by for vlogging is Casey Neistat. He started posting daily vlogs from 2015. He is most famous for increasing his subscriber count from 1 million to 4 million in 12 months. That is indeed an impressive feat! He is considered a pioneer in vlogging because of his daily vlogs that lasted for 800 days straight. His vlogs concentrated more on getting the story delivered right, so the audience was naturally attracted to his videos. He has been featured in all the "big names" like The Guardian, BBC, etc. Currently, his channel has 12.2M subscribers! Here's an exciting video that shows how his vlogs were converted into a commercial for Nike!
Be smart in figuring out as to…
But don't end up copying them. The purpose is to get ideas from the experienced ones in the same field and check if there is more than can be offered otherwise.
It doesn't mean that the idea must be brand new and not be portrayed by anybody before. Just that it shouldn't look like your channel is a rip off of another. That would be a shame, right?
5. KYG – Know Your Gadgets
Now that you have decided to start a vlog investing in a good camera can help significantly. Though many mobiles have top-notch cameras, you cannot post videos made using your mobile forever. As and when you grow and upgrade yourself and your channel, the equipment you use should also be upgraded.
You don't have to own expensive equipment like those Nat Geo Photographers. Do some research on cameras used by fellow vloggers and the technology that should not be missed. Also, the channel idea/theme also matters for choosing the right gadget. A camera that is perfect for vlogs shot indoors might not be suitable for travel vlogs. So, as always, do the research. 
It doesn't stop with a camera. Here are some of the needed equipment:
A

mike

and

right sounding equipment

to record your voice. If the audience cannot hear your golden words, then the vlog will be of no use, right? 

A

tripod

for your camera to be in a fixed position.

Good

lighting equipment

. Your lighting setup needs to be on point. Else, when you are shooting indoors, there are high chances that the audience might miss your face or the video's subject.

A

teleprompter

. This can do wonders in reducing the number of takes while recording. 
If your budget does not allow you to invest in high-end equipment, start with your mobile cameras, accompanied by a low-budget mike. As you grow, you can invest in useful gadgets, depending on your budget.
Here's a video where the types of essential gadgets are compared.
Just one piece of advice. Don't end up getting a camera like this…
6. KYE – Know Your Edit
Out of excitement, some might think of posting their masterpiece as soon as they finish shooting it. Well, chill out, bro/sis!
Your task is not done yet!
As much as your confidence is to be appreciated, you should consider some essential things. 
Your video is going to be posted online under your name. Your image and credibility will be involved, and you would not want them to get affected by a video posted carelessly.

There is a possibility for many to watch it and judge you for it.

Even worse, they might catch and hang on to stuff that you had not intended to say or had wanted to remove.
Or, lemme make it more understandable… When we are so focused on editing our photos before uploading 'em online, don't you think our videos deserve the same respect and care?
So, to avoid getting embarrassed, you can follow a simple and most important step, i.e., editing your video.
Go through the video you have shot and try to make it as concise and clean as possible. It must be crisp and engaging. You can ensure this by introducing effects and transitions to make the video look professional. The viewer should feel that they have just seen a well-made video.
7. KYL – Know Your Links 
When you watch the videos of popular YouTubers, you would have noticed them giving links to similar/associated videos in the description or at the end of the video. Out of curiosity, the viewers would automatically click on these redirecting links when they appear at the end of the video.
This is an excellent technique to make the viewer stay on your page/playlist for a while. If you post your first video, you can redirect to your playlist or a registered link. Check out this link to know how to add links to your YouTube end screen.
Here's a tip for you. IF you are thinking of collaborating, you can use the YouTube description section to attach affiliate links. But hey, this won't happen immediately. It takes time, patience, and consistent uploading of quality videos to be recognized. But once you start growing and gain an audience in the thousands, you will notice big brands approach you. Groom your channel and see those brands flying towards you!
8. KYS – Know Your Subtitles
The purpose of starting a vlog was to express yourself and convey your ideas to the outside world through videos. But what if parts of your video are undecipherable and make your viewers go…
Awkward, right? To avoid this, the simple trick of adding subtitles would do. Since you would have the script handy, adding it wouldn't be a monumental task.
While editing the video using Animaker, you can easily add your subs and make life easy for your viewers.
9. KYT – Know Your Thumbnail
We have all heard of the statement; the first impression is the best. Though all do not approve it, sadly, that is how most work. And that is the case for YouTube videos too!
Even if we consider ourselves, our eyes get distracted by the pretty and professional looking thumbnails, compared to the other mediocre ones.
In fact, Statistics say that…
Source: https://neilpatel.com/blog/4-quick-wins-to-increase-your-youtube-engagement/ 
Here's more proof that YouTube thumbnails play a massive role in improving video views.
So, your thumbnail should be treated with as much importance as your video. Just like you had edited your video using Animaker, you can use the YouTube Thumbnail Maker to create a new thumbnail in minutes.
10. KYB – Know Your Banner
The rules for this are similar to the thumbnails. Banners are for your channel as thumbnails are for your videos. Pay attention to your YouTube channel's banner as much as you pay attention to your FB cover picture. Got it? 😉 
Check out the banner of David Dobrik.
Not only is his banner too cool, but it also keeps his audience informed of how often he uploads videos, indirectly showcasing his consistency.
Like you had guessed already, Animaker also offers one of the best DIY YouTube Banner Maker to create those cool banners. To reach a wider audience, you can always link your social media handles in your banner using these steps.
11. KYM – Know Your Money
Like Joker rightly said,
So, once your videos start making a mark and gain popularity, all you have to do is…
One can earn money through their YouTube videos by including ADs. And for that, the best practice is to make videos that exceed 10 minutes. YouTube's algorithm allows you to have only one AD in videos for less than 10 minutes. So, the more the ADs, the more the earnings!
To be eligible for including an AD in your video, the prerequisites for your channel are:
A minimum of 1000 subscribers 

4000 valid public watch hours over the last 12 months

Compliance with all YouTube's policies and guidelines

An AdSense account set up
Click here to know more ways to make money using your YouTube channel. Here are the eligibility requirements for turning on the monetization features.
So, chop-chop, start that vlog of yours, and start building your followers list!
Bonus Tips:
Music – If you are demonstrating or reviewing something, feel free to add background music to your video, provided you have given proper credit to the music track as per all norms. Ensure that the music doesn't overpower/overlap your voice! Here's a

list

of royalty-free music websites!

Username –

Just like your banner, your username will steal viewers' attention. Quirky, funny names are usually easy to remember and refer to. Coming up with terms that are in line with your vlog theme will be a plus!

Social Media Accounts

– You should never underestimate the power of social media. It helps to spread and to establish your presence across other platforms. Through your social media pages, you can share your videos and cross-promote to increase its visibility.
I hope you have acquired everything that you were looking out for on starting a vlog. Follow these pointers religiously and I am sure you will become an influencer in no time. 
Should you have any questions/doubts, shoot 'em in the comments section. We will be happy to help you out!