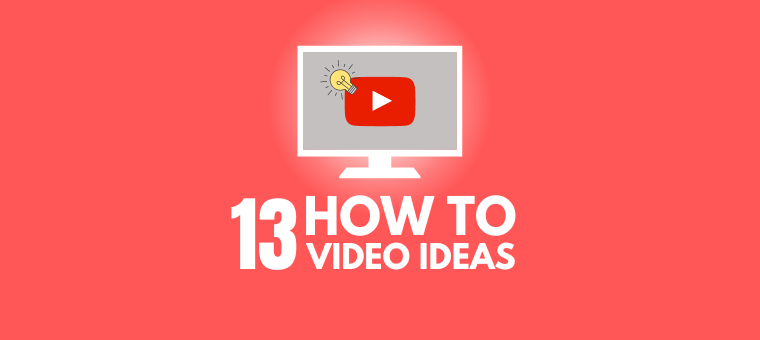 13 How to video ideas to grow your YouTube Channel

11

min read
In our current technological world, video marketing is undoubtedly one of the most powerful methods of marketing. It can be used to educate, entertain, and persuade viewers with its audio-visual medium by grabbing the attention of viewers and holding their interest.
Here are a few reasons why video marketing is the most effective –
It can be more engaging than text, images, or written pieces of content.
It can be used to tell stories and connect with viewers.
It can be used to build trust. When people see you, they have a better connection.
But before you get into creating a video, you need to find a niche first. With so many topics to choose from, it can be hard to know where & how to start.
Similarly, when you plan on making YouTube videos, it also has to be something you are passionate about. Not just that, you must also ensure that there's some audience for the topic.
If you are struggling to find a niche to make videos about, then you should consider exploring the "How-to" niche.
A "How-to" niche is a topic that focuses on teaching people how to do something. This can be anything from a cooking tutorial to fixing a leaky faucet.
How-to niches are a great way to get started because there's always a demand for information on how to do things. People are always looking for ways to learn new skills and improve their lives, and how-to videos can provide exactly the information they need.
Now that you have an idea of what the "How to" niche means, and how to find the right niche for your videos, I've made things easier for you.
I have curated the top How to video ideas with examples. Read on!
Please note: The data below is as of May 2023.
1. DIY and crafts
"DIY and crafts" is one of the best "How to" video idea because they offer the audience a new way of learning a skill, thus helping them save money and express their creativity. Whether you want to fix a broken door or create your own bookshelf, there's someone searching for their query. Overall, If you're looking for a fun, rewarding, and affordable way to learn new skills and express your creativity, then DIY and crafts are the perfect "How to" video category for you.
Here's an example of a DIY and Crafts video, which explains the step-by-step process of building your own birdhouse. With over 652K views, this video is for DIY lovers and covers a very specific audience who want to build their own Birdhouse at a very minimal cost.
2. Home Improvement
Home-Improvement as a category is all about how you can save money, improve your home's value, and how to troubleshoot things yourself. There are thousands of people searching for different queries related to home improvement. So whether you are a seasoned DIYer or trying to be a handyman, this can be a perfect "How to" video category.
Here's an example of a Home Improvement video. It is a simple tutorial about fixing a leaky faucet, something pretty common in our households. This video is about 3 minutes long and has over a million views within just 5 months of publishing the video.
3. Beauty
Cooking and baking are one of the most popular hobbies around the world. People of all ages enjoy watching cooking and baking videos. Cooking videos are very pleasing to watch and enjoy, even if you don't actually want to cook the dish. Since these videos are often very visually appealing, people are engrossed to such videos. This reason makes it a great category to attract a wide audience.
Here's an example of a Cooking and baking video. This video is an aesthetically pleasing baking video with over 9.8 million views, takes you through the process of making a classic vanilla cake. You can take these kinds of videos a step further by adding your own creativity and explaining in an interesting way.
4. Beauty
Beauty is one of the most popular topics on the internet. There are always people who are looking for ways to look and feel their best, and YouTube is one of the biggest platforms that provide them with that information. If you are looking for a great niche to start your YouTube channel and have an interest in this niche, then beauty is a great option.
Here's an example of a Beauty video. When it comes to makeup, there is a cluster of topics you can cover. This video is like the fundamentals of makeup, where it shows the correct order of makeup application. This targets the newbie or amateur audience who are willing to learn the basics of makeup. Also, the video has also fetched over 1.8 million views.
5. Pet care
Pets are a part of the family for many people. They are not only the best companion but also are part of your life by providing love and support. This is why pet owners are constantly looking for ways to improve the lives of their pets. They want to ensure their pets are happy, healthy, and well-cared for. So, this niche has a huge demand on YouTube. Millions of people watch videos related to pet care every day. And this is yet another reason why you should start a pet care niche channel.
Here's an example of a Pet care video. If you have a pet cat, you'd know how difficult it is to bathe it. This video takes you through a step-by-step process on how to bathe your cat, how to prepare your cat for a bath, and lots more. If you search for how to bathe a cat, this video comes in the top results and has clocked over 3.1 Million views.
6. Technology
In this current world, technology is constantly changing. There are new devices, softwares, and applications that are released every day. People are always on the lookout to learn new things about new technologies. They want to know how to use it, troubleshoot it, and get the most out of it. If you are looking for a way to build a large following on YouTube by sharing your savvy thoughts, then technology is a great option.
Here's an example of a Technology video. A business needs a website, and this video takes you through the step-by-step process of how to make a website. With over 16 million views, this video clearly proves the potential of technology niche videos on YouTube.
7. Business tips and ideas
Business skills are some of the essential skills that everyone should learn. Especially if you want to start your own business, having a good understanding of Business is essential. Other than that, there are many reasons why one should understand the nuances of Business. It helps the audience understand the backbone of the economy and plays a vital role in our lives.
Here's an example of a Business tips video. While starting a business can sound like an impossible task, with proper guidance, you can also get through. This video has clocked over 195K views and takes you across a unique method called the "Castle method" to build your business and guides you in 5 steps.
8. Education
Education is one of the most important things in life. It is essential for everything right from personal growth to career development. This niche has a large and ever-growing audience of all ages and backgrounds. So, if you are thinking of starting a YouTube Channel, the education niche is a great place to start.
Here's an example of an Education video. This video has 12K views and talks about how to create animated presentations. We all know traditional presentations are boring, but this video takes a step ahead and teaches the audience a fun way to create presentations.
9. Parenting
Parenting is a lifelong journey that's full of challenges and rewards. Parents are always looking for ways to improve their parenting skills and make sure they are raising their children in the best possible way. If you are an experienced parent who'd like to share their thoughts with the world, then this niche can be a good way to start, mainly because of the huge demand for parenting content on YouTube.
Here's an example of a Parenting video. Becoming a parent is a lifetime commitment and needs a lot of learning. If you are going to become a parent, learning the basics of parenting is very important. This video, with 514K views, is one such video that talks about potty training for babies.
10. Travel
Travel is a broad niche where you can cover a wide range of topics like travel tips, advice, personal stories, experiences, and lots more. This is a great niche for people who love to travel and explore new places. ravel can be a great way to relax and de-stress. It helps people to escape the everyday grind and get away from it all. So apart from just creating a channel to share content, it can also be used to highlight the benefits of travel.
Here's an example of a Travel video. Planning a trip requires a lot of planning. But sometimes, even with extreme planning, there can be things that miss out. This video has over 246K views and talks about the experiences of a traveler who guides the audience on how to plan like a pro by sharing various travel tips and hacks.
11. Lifestyle
Lifestyle videos are one of the popular niches on YouTube, as people are constantly looking for ways to improve their lives and lifestyle. Moreover, when it comes to lifestyle as a niche, it is broad, and you can cover a wide range of topics. This also means that there is a large potential audience for your videos.
Here's an example of a lifestyle video. This video covers a generic topic, "How to organize your home," and with over 1.6 million views, this video takes you through a journey of different tips you can use to make your things organized.
12. Finance and investing
Finance and Investing is one of the important topics that everyone should know about. This not only helps you with better financial decisions but also helps you to manage, plan, and reach your financial goals. The sky's the limit when it comes to creating videos around this niche because you get to share about different financial concepts, strategies, products, and your own experiences.
Here's an example of a Finance and investing video that talks about Managing expenses and how important it is to build your wealth. This video explains a unique concept of the 50-30-20 rule that will help you to create a budget and where your money goes. This video has helped over 3.1 million people understand the concept.
13. Fashion
Fashion is a universal language that everyone can understand. It's a way to express ourselves, our personality, and our style. And it's a niche for people of all ages. This means that there's a large audience for fashion videos, and they are constantly looking for new trends, inspirations, and tips on how to dress better. If you are someone who loves fashion, then the fashion niche can be a great way to connect with your audience, and share your knowledge.
Here's an example of a fashion video. Fashion can be hard sometimes. Deciding what to wear, how to wear it, and where to wear it is important when it comes to fashion. This video is a detailed dress code guide that helps you eliminate style confusion and has helped over 108K people to dress better.
Starting a how-to niche can be a great way to share your knowledge and help others. With a little effort, you can build an audience and establish yourself as an expert in your field.
Here are a few tips to make the whole process easier –
Before starting to make a video, ensure that you choose a niche you are passionate about and knowledgeable in. This will make it easier for you to create engaging content and informative content.
Do prior research and ensure you have a good understanding of the topic. This will help you to provide valuable and relevant information to your audience.
Create high-quality content and invest in a good camera, microphone, and other relevant things that will elevate the quality of your content.
Promote your videos by sharing them on social media, friends, and other video submission sites.
Lastly, be patient. It takes time to build an audience and establish yourself as an expert. Don't give up if you don't see the results immediately.
Similarly, if you want to get an idea of what kind of Youtube channel to start, here's an article on different youtube channel ideas!
In the whole process of making a video, editing is the most important & difficult part. To make this easier, Animaker's YouTube Video Maker makes the whole process easier than ever for even beginners to make a video. It has a simple drag & drop interface with tons of features that will take your video production to the next level with minimal effort.
So what are you waiting for?
Start creating your how-to videos today!