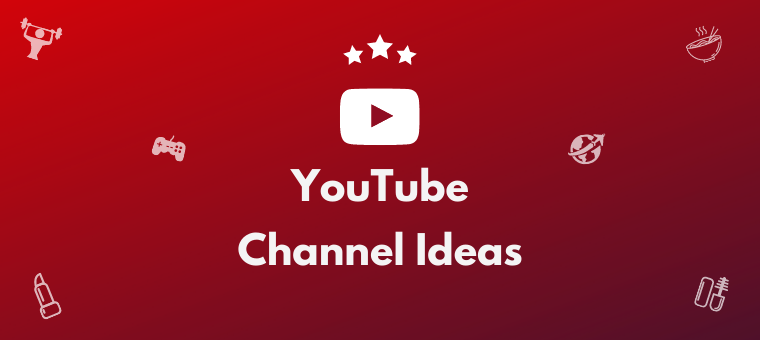 Top 11 YouTube Channel Ideas [Based on most Subscribers & Views]

18

min read
YouTube is a gigantic platform that houses billions of videos of different kinds. It is mammoth-like and gives solutions to any problem in the world. 
While there are platforms that might fail to provide a proper answer, it is tough NOT to find a video on a particular topic on YouTube. Well, it didn't become the world's second-largest search engine for nothing, did it?
If you are one among those willing to educate fellow humans (or any species for that say… no discrimination, you see!) using YouTube as the medium, well…
Now that you have decided to create a channel, you might be feeling wary of choosing the right idea/theme for it. And it is okay to feel that way because not all channels are successful. On the one hand, choosing the wrong idea in the very first place can backfire big time. On the other hand, the right notion poorly presented can affect the whole point.
So, to help you choose the right youtube channel idea and make you go…
Here we present our top 11 YouTube channel ideas, in no particular order.
To make life easier for you, I have included an example video and the corresponding channel link for each category.
Psst psst… towards the end, I have also mentioned a unique method. In addition to all these youtube channel ideas, this method can boost your channel and its audience.
It's time to start taking notes to create the perfect channel!
1. Photography and Videography Channels
Not everybody is gifted with an aesthetic sense. Only some have the talent to view and capture things in an artistic manner like this…
Or make a radio station look like an alternate universe.
If you are amidst those with such an artistic sense, you can start either a Photography or a Videography channel, depending on your field of expertise and comfort. In your channel, you can talk about anything that involves these two niches, starting from the basics to techniques that can be followed while filming. You can even review gadgets and properties that can help while shooting, give your viewers editing ideas, tips, and more.
Check out these two experts.
Photography – Peter McKinnon
Peter McKinnon is a photographer whose channel has 5.04 million subscribers and 383 million views. He is best known for his photography and cinematography tutorials, where he talks about different types of photography like Texture Photography, Underwater Photography, etc. He also reviews various types of cameras, their lens, and other gadgets that help him.
Besides, he suggests tricks that can help viewers better their photography skills. And wait, he doesn't stop there. He also teaches how to edit photos and gives tips on using Photoshop and Lightroom. 
In short, this guy is a one-stop shop for photography. You can choose him as an inspiration and learn how your channel can be started and grown. Here's a video from him.
Parker Walbeck is a Videographer who runs an online film school named Full Time FilmMaker [need I say more? 😉 ]. His channel has 1.18 million subscribers and 59 million views.
Like Peter McKinnon, Parker covers everything about videography in his channel, right from A to Z. While Peter talks about both photography and videography, Parker sticks to videography and educates all on the essentials of video making. Check out this video of his.
Both Peter and Parker make photos and videos that are a sight for our sore eyes. They focus on helping out fellow filmmakers and work towards forming a friendly neighborhood like…
2. Educational Channels:
Like I had mentioned earlier, people come to YouTube mainly to find answers to their questions. 
So it makes perfect sense to create videos that would help the audience find those answers and educate themselves.
Starting from students to adults, anybody who wants to learn online opt for YouTube videos. That's because educational videos are free and readily available on YouTube. So, if you are one of those that want to educate fellow citizens, an educational channel is the way to go.
While there are numerous channels that do this, a great example of this is Khan Academy. Khan academy is a cool channel with 5.91M subscribers and more than 1.7 billion views. It focuses on helping out both teachers and students improve their skills to make education and learning more fun.
Here's a video from Khan Academy.
3. Gaming Channels
Would you believe that the channel with the second-highest number of subscribers started as a gaming channel? 
Well, whether you believe it or not, that's the fact!
PewDiePie is the proud owner of this channel with a massive 107 million subscribers and more than 26 billion views. He started by posting Let's Play videos, which featured recordings of himself playing horror and action games. His gaming skills and eccentric humor helped him gain followers fast, and the rest, as we say, is history! Check out this video from him with over 9.6 million views.
So, if you are a hardcore gamer, start a channel and showcase your gaming skills to become the next PewDiePie or the first <insert your channel name here>.
Here's a list of gaming YouTube channels for you to draw inspiration from.
4. Vlogging Channels
Vlogging channels have been gaining popularity since forever! And the best part about it is that you can choose any topic of your interest and vlog about it. As long as your content is catchy and you present it interestingly with passion and enthusiasm, you've set the bar right!
Check out this list to get inspired and hone your Vlogging skills!
For starters, here are some biggies from the different types of vlogs from whom you can draw inspiration:
Lifestyle vlogging is the practice where a vlogger records their daily activities. They showcase their day-to-day life, their opinions, hobbies, and everything on their vlogs. And the pioneer of this style of vlogging is Casey Neistat.
Casey Neistat's channel has 12.2 million subscribers and more than 2.8 billion views.

He is a legendary vlogger who had increased his subscriber count from 1 million to 4 million in 12 months. He is admired by many, thanks to his daily vlogs that lasted for 800 days straight.
His videos are too cool that Nike had approached him to make a commercial on the topic Make it Count. This guy, instead of making a proper commercial, used the money provided by Nike to travel the world. As usual, he made vlogs on his journey and compiled those vlogs into a commercial. Here is that commercial. Interesting, much?!
Here's an awesome video of his.
I am sure that the travel bug might have bitten every person in this world at some point in their lives. Especially after a long week at work, all of us would have felt the urge to drop everything then and there and go on a looooong vacation. As much as the idea of going on a holiday sounds good, not everybody is confident enough to go on a trip without prior research.
To get a good idea of the place they want to visit, all "travelers" lookout for sources that will provide authentic views and reviews. Starting such a travel vlog would turn out to be a huge favor for both ends: for the viewer, as they get to see raw footage of their next destination, for you, as your videos will automatically gain views.
These videos can cost you a lot in the beginning; there's no doubt about that. But once you start posting awesome videos and start gaining popularity, you might even get sponsors coming your way (provided your videos are top-notch!). If you feel that you cannot shell out money, you can make life hack/advice videos for travelers to prepare themselves before and for the trip. 
Drew Binsky is one such traveler who posts videos daily from his travel adventures. His channel has 1.91 million subscribers and 372 million views. He aims to visit all the countries globally and is currently in the 191st country out of the world's 197 countries. Check out this video of his.
Here's a list of other travel channels for you to check out.
You might have caught yourself ogling at several cooking videos often. Even if you were not cooking or were not in a mood to cook, you might be into such videos. That's because food has the best relationship with humans. It speaks to the heart, mind, AND stomach at the same time. Aren't all these enough reasons to start a channel on food?
Suppose you are among those with "Gordon Ramsey" and "Maggie Bear" hidden inside, good for you! You can give a demo of your own/inspired recipes on your channel.
Or, if you are from the group that sticks to tasting food rather than cooking it, then voila! You can dedicate your channel to "Food review" like the Food Ranger.
The Food Ranger has over 4.49 million subscribers and 600 million views. He is known for traveling around the world and trying out local delicacies during his expeditions. Some of the dishes are quirky and not for the faint-hearted. But his videos sure do make our mouths water. Here's a video from him.
Check out this list to know more about food channels.
The list doesn't end here. There are Personal Vlogs, Business Vlogs, Comedy Vlogs, and many more. Find your niche, and keep soaring!
5. Tech Channels:
In this digital world, everything is dealt with and governed by technology. Right from kids to adults, we are all on our phones or tablets or laptops always. Saying that our mobiles are like our third hand wouldn't be an exaggeration. And it proves that,
So to all the tech-savvy citizens… here's the stage for you to showcase your knowledge and spread the word. You will also notice yourself learning a lot on the move, cuz technology is a big, wide world and offers a lot to the ones with their ears open.
This channel type will prove extremely helpful for all kinds of people: the noobs, the tech-savvy humans, and the "somewhere-between-a-noob-and-a-pro" person. Even if you are a pro, you might not remember all facts and specs regarding technology, smartphones, the internet, and gadgets. So, your channel can be a huge savior for those in doubt.
A great example of such a tech channel is Marques Brownlee. Marques has 12.2 million subscribers and more than 2 billion views. Starting from smartphones to speakers, headsets to cameras, laptops to robot dogs, he reviews and talks about anything technical. He has also interviewed big shots like Elon Musk, Bill Gates, and Satya Nadella in his playlist named "MKBHD Interviews." Here's a cool video of his.
6. Fitness Channels:
At some point in time, people become conscious of their bodies and weight. They start taking special care of themselves, go on a diet, make a new year's resolution to shed those extra pounds, and register in the gym, only to find their lazy selves not able to move their asses.
So, they come to the internet looking for ways to shed their weight from home. And this is where your channel can be a boon for them!
You can start working out like Chloe Ting. Chloe Ting has 14.8 million subscribers and 1.2 billion views. She is known for her famous "Two-week" video series that helps the audience tone their body. She also posts videos that show the before/after transformation of those who followed her workouts. Check out this video of hers.
Note: My kind suggestion is to ensure that the tips would suit your body type before trying them. Also, workout like this,
And not like,
7. Political Satire/News Channels:
Hear, hear! It is time to voice out your opinions, mi amigos! Gone are the days where you were afraid to ask for extra ketchup at McDonald's. Gone are the days where you had your mouth shut during shameful acts of others.
So, if you
Have your theories of having a better economy

Feel that certain norms and practices are not suitable for our society

Want to address certain disturbances and unjust doings 

Want to react to certain situations, speeches, or advertisements
YouTube can be an excellent platform for you. Who knows? There might be many like-minded people who look up to your channel for inspiration, with respect. It is always better to be the change you want to see, right?
The Young Turks is one such channel. This channel uploads videos that comment on news of different genres. This channel was initially started as a radio talk show and later evolved into a YouTube channel. It has about 4.95 million subscribers and more than 5 billion views. Yeah! That's what News can get you! Here's an exciting video of them.
But don't lose yourself on the quest for posting sensuous news! Remember that you are a good citizen and post the right thing. 
8. Comedy Channels:
Comedy can attract a vast audience. Though it is tough to create, making the right kind of humor can hit you the right way like this…
Also, humorous videos can create extraordinary results for your YouTube channel.
If you are wondering as to what kind of videos can be done, the list is endless. Right from prank videos as in The Ellen show to enacting like Superwoman, you can do anything.
Your Will is your way. So, start making those laughter riots!
Smosh is an extremely famous comedy channel with 25.1M subscribers and over 9 billion views. It is known for being the most subscribed channel thrice in history. They post videos once a week and are quite popular for their expressions on famous brands and phenomena. Check out this video from them.
Here are some channels for your reference.
9. Makeup Channels:
Everyone likes to look good and be presentable. But not everyone knows the steps to put on makeup perfectly…
If you can transform yourself into a Diva in no time, you can very well start a channel where you can demonstrate your skills.
Here's NikkieTutorials. Nikkie is an influencer who focuses on reviewing Makeup products. She takes up many challenges and tries different methods to showcase the power of makeup and to prove how cosmetics can significantly enhance people's features. Her channel has 13.6 million subscribers and more than 1 billion views. Check out this video of hers.
To know more about how such videos can be made, you can learn from this list.
10. Experiment Channels:
You would have seen such videos everywhere. And God knows why we get attracted to such videos! I have to admit this. Last week, I caught myself watching a 20-minute video of two men strapping a watermelon with elastic bands till it exploded!
Though videos like these sound silly, though we know that it is not of use to us, and though we know that we will not try it anytime in our lives, we end up watching them. And boy, aren't they interesting?
Since YouTube is known for making us addicted to it for hours like this,
We must offer the audience some good content to watch. And if you post useful, fascinating content, the viewers are bound to come back to your channel looking for more such cool videos.
And experiment videos are a great way to catch their attention. Like reading a book or watching a movie, the audience is more interested in finding out how the video ends.
So, to make your viewers go,
Start such a channel. But please, please, please be cautious, even extra careful! It would be a shame to hurt yourself in the process of doing random experiments. Take precautionary measures and wear safety gear before doing such videos.
Haerte Test is such a channel where the creator conducts quirky experiments. Here are some for you:
They run their car over objects such as Jello, light bulbs, iPhones (yes, you read it right!), of many other things.

They fill their toilet with stuff like Orbeez balls, Firecrackers, Nutella (Sniff, Sniff!), etc., to see if they flush properly.

They conduct weird one-on-one battles like iPhone Vs. Firecrackers, Samsung Galaxy Vs. Gun, Car Vs. Jelly, etc.
This would have given a gist of this channel. The exciting part is, the channel has 19.2 million subscribers and more than 2 billion views. Check out this video of the Haerte Test.
A kind suggestion from my end. Refrain from wasting food items for such channels. 🙂
11. Toys Review Channels:
Getting to know a toy before buying it is of utmost importance because it involves not only happiness but also the safety of your kid. Also, instead of tempting their kids to get a truckload of toys, they can expose them to a select set and make them choose one or two, thanks to your reviews!
Here's an exciting channel named FunToys Collector Disney Toys Review. This channel has a whopping 11.4 million subscribers and 14 billion views. It is handled by an adult who buys the latest toys and reviews them. If you plan on starting such a channel, it can be a dream come true for the child in you. Check out this video of FunToys Collector Disney Toys Review.
For these toy review videos, you can even make your kids do a cameo! Or even better, you can make the kid review their toys. Seeing a kid explain things in detail can make viewers go awestruck.
If you think that this idea does not sound convincing, well… Meet Mr.Ryan, a cute nine-year-old who runs a YouTube channel named Ryan's world with his family's help. He has been doing this since 2015 and has 26.5 million subscribers with 41 billion views. They post a video every day, which has helped them accumulate a massive audience. 
This channel started out as Ryan's ToysReview, but later went on to make videos spread across different categories, ranging from challenges to animation to pretend play! He also stars in educational videos from time to time, so viewers have fun and educate themselves while watching his videos.
Check out this interesting video of him testing Marvel Avengers Thanos Infinity Gauntlet!
More YouTube Channel Ideas:
In addition to these 11 categories, you can use one from the following too:
Haul Videos (to show off your new purchases)

Business Videos (to show off your mastermind)

Collection videos (to show off your treasures)

Prank Videos (to show off your loved ones getting whacked)
Pro Tip:
Posting content in your regional language can be of huge help to those who don't speak English. Not only will it help you share your knowledge and establish your credibility, but it will also help the regional audience connect with you more. Ensure that the quality of your video and the content is intact; you will notice your subscriber count skyrocket. Adding captions to your videos can help a wider audience, helping you to increase the subscriber count. Here are some great examples of those who post regional content:
1. Yuya – 24.6M subscribers
Yuya is a Mexican vlogger with 24.6 million subscribers and more than 2 billion views. Yuya started her beauty vlog in 2009 at the tender age of 16 under the name lady16makeup, after winning a makeup contest. Her growth has been exponential, so much so that she has a star at the Las Vegas Walk of Fame. She posts videos in Spanish and they are trendy in the world of makeup.
2. Technical Guruji – 19.3M subscribers
This channel was launched in 2015 and has amassed a whopping 19.3 million subscriber count and more than 2 billion views. Gaurav, the channel owner, posts tech videos in Hindi and educates Hindi speakers on various technical and technological aspects. In 2018, Gaurav was ranked as the first Tech YouTuber to accumulate more than 10 million subscribers.
3. Raffy Tulfo in Action – 15.3M subscribers
Raffy (Rafael Teshiba Tulfo), the owner of Raffy Tulfo in Action, is a Filipino broadcast journalist. His channel has about 15.3 million subscribers and more than 7 billion views. He is extremely popular for his participation in a number of TV and radio shows. His channel features videos that address the injustice and issues performed by those in power.
Now that you've got all the youtube ideas, I am sure you will be like…
With no further delay, do all the prep work to get your channel started. Our hearty wishes for your channel to become a success!
If you have more youtube channel ideas, do add 'em in the comments.
P.S: If you would like to create a video from scratch/edit your video, feel free to use Animaker. It comes armed with a plethora of features like Custom character builder, 100M strong stock asset library, Human-like TTS Engine, 4K video exports, Giphy integration, and more. You can check the entire feature list of Animaker here.
Check out this guide to know how to make a perfect YouTube channel.