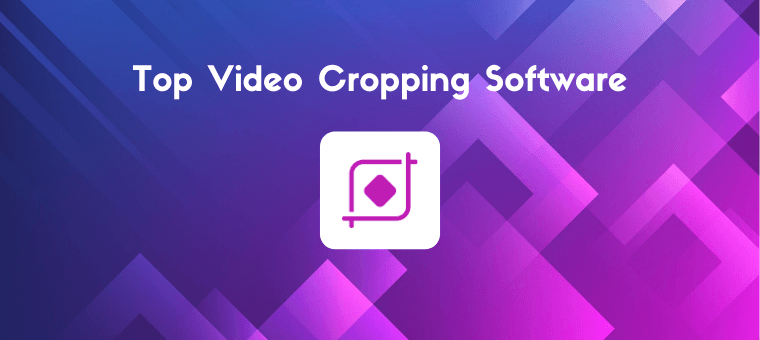 Top 20+ Video Cropping Software to Crop Videos in 2021

9

min read
Looking for quality video cropping software to crop or resize your videos?
In this article, we've compiled a list of all the top free video cropping software for cropping videos online and on desktop.
If you're in search of a free video cropper for iPhone, check out this article that shows you how to crop a video on iPhone using a free video cropper.
23 Best Video Croppers for Cropping Videos On Desktop and Online in 2021
Easy Video Maker [Free Desktop Video Cropping Software]
Easy Video Maker is a free desktop video cropping software for Windows. It's a freeware exclusive to Windows and is available on Windows XP, 7, 8, and 10.
Although it lets you crop your videos for free, it's certainly not the easiest way to crop your videos. It can be a little hassle to use as you'll have to input values in pixels to select the area you want to crop.
Animaker [Free Online Video Cropping Software]
Animaker's crop video tool lets you easily crop a video for various social media platforms and the web. With Animaker's drag-n-crop functionality and 1-click aspect ratio selection, you can quickly crop a video to perfection in seconds.
Jump to the section ↓ where we show you how to crop a video in 3 simple steps using Animaker.
Windows Movie Maker [Built-in Video Cropping Software for Windows]
If you're using Windows 7, you can use Windows Movie Maker to crop your videos. Although it has a ton of features, it's still quite simple-to-use. You can find some basic tools to edit your videos in Windows Movie Maker.
Using Windows Movie Maker, you can: crop a video, rotate a video by 90, 180, or 270 degrees, flip or mirror your videos vertically or horizontally, etc.
VLC [Free Video Cropping Software for Windows and Mac]
VLC is an open-source media player but comes equipped with a cropping functionality, available on both mac and windows. It's a little daunting to crop a video using VLC as it takes several steps to crop a video using it.
If you have it already installed and would want to crop a video using it, we've written an article on how to crop a video in VLC on both Mac and Windows. 
iMovie [Built-in Video Cropping Software for Mac]
If you're on Mac, you can use iMovie, a freeware that comes pre-installed on Mac OS, to crop your videos. It's a little complicated to crop videos using iMovie, especially if you've never used iMovie before, so be sure to check out our article on how to crop a video using iMovie on Mac. 
Filmora
Filmora is an advanced desktop software you can use to crop a video on Windows and Mac. Simply choose from a list of popular aspect ratios and start cropping or resizing your video footage. If you've never used an advanced video editing tool, you'll find Filmora's interface a little hard to navigate.
Kapwing
Kapwing offers a suite of simple online video editing tools. You can use its crop functionality to crop your videos for various social platforms.
Animotica
Animotica is a desktop video cropping tool for Windows 10. Unlike most tools, it preserves the aspect ratio of the cropped video by setting a blurred background. For instance, if you chose to crop the video in the 16:9 aspect ratio, your video will remain in the same aspect ratio even after you crop a part of the video. And the remaining space will be filled with a blurred background. 
It's especially useful if you're looking to share your videos on social media channels. You can simply use the sliders to crop each side of the video. It has a simple interface and the free version of the software applies a watermark on output files. Be sure if this is what you want your cropped videos to look like before using it. 
Movavi
Movavi is a video editor much similar to Filmora in terms of learning curve and functionalities. It's available on both Windows and Mac. With Movavi, you can crop your videos and perform other basic and advanced video editing tasks.
Moviemator
Moviemator is another full-featured video editor you can use to crop videos on Windows and Mac. It's typically used for making photo slideshows and lets you easily merge videos, add text to videos, etc. One major downside to using Moviemator is that the length of your cropped video cannot be more than 5 minutes in length.
VideoProc
VideoProc is a desktop software that lets you record, edit, and convert videos on both Windows and Mac. The tool provides you with presets (16:9, 1:1, etc.) to crop your video. Also, it supports hardware acceleration so you shouldn't experience any lags while editing a movie or long video. One disadvantage is that it doesn't have a fast conversion speed.
Avidemux
If you're a Windows, Mac, Linux, or BSD user, you can use Avidemux to crop your videos. Once you select the area you want to crop, it automatically enlarges the cropped part to fit the entire area. It's a heavy tool and less beginner-friendly.
Olive
Olive video editor is an open-source video editor that's a free alternative to other professional, timeline-based desktop video editing software. To crop a video, enter the number of pixels you'd want to crop from each side. It's a little complicated to use and has a hard-to-navigate interface.
Lightworks
Lightworks is a desktop video editing software typically used by the pros for editing movies and long videos. You can use it to crop your videos on Windows and Mac. Lightworks has everything you need to edit movies and videos.
Kdenlive
Kdenlive is an open-source, desktop video editing software that can be used to crop videos on Windows, Mac, and Linux operating systems. It's a professional video editor and like most pro tools, has a steep learning curve involved.
VSDC
VSDC is a free desktop suite for editing videos on windows. Cropping a video using VSDC is quite simple—a cropping box will be applied and you'll have to resize it to select the area you want to keep. 
Also, it maintains the same resolution or aspect ratio after you've cropped the area and enlarges the cropped area to fit the dimensions properly. Besides that, you can also select the area you want to remove by entering the values in pixels.
Cyberlink Powerdirector
You can use Cyberlink Powerdirector, a video editing software mostly used by the pros, to crop your videos on your Windows or Mac desktop. Simply adjust the handles of the cropping box to select the area you want to use.
While it lets you crop videos and adds some cool panning effects, it's not beginner-friendly and could be quite complex to use especially if you're someone new to video editing. 
Online Video Cutter
Online Video Cutter is mainly used for cutting or trimming videos online, but it could also be used for cropping videos as well. It doesn't slap any watermark and has some useful presets to crop your videos.
Clideo
Clideo offers a simple tool to crop your videos online. It gives you the ability to upload videos from various sources and supports various video formats. Upgrade to a paid plan to remove the watermark from your cropped video.
Veed
Mostly used for creating social videos, Veed lets you crop videos online. You'd need to upgrade to a paid plan to download watermark-free videos. It's got some simple but useful video editing tools like the pen tool, a tool to add progress bars, etc.
Ezgif
Ezgif is an online video editing tool that lets you crop videos for free. It doesn't apply any watermark on your cropped videos but the downside is it's a little hard to crop the unnecessary parts as you'd have to enter values in pixels. Another downside to using Ezgif is that the video quality is decreased even if your video is of higher quality.
WeVideo
WeVideo is a professional, timeline-based video editing software that lets you crop videos online. Simply double-click on the video from the timeline and find the crop icon to start cropping your video using WeVideo.
Clipchamp
Clipchamp is another online video editing tool that lets you crop your videos. It provides you with two options to crop a video: Auto-Fill and Crop to Fill. The interface looks the same as that of a professional video editing tool in that it has the same old timeline that most professional video editing software does, but ain't as complex as Filmora or other full-blown video editing tools.
InVideo
InVideo is an online video editing tool that can be used to crop a video. It's mostly used for social media video content creation and has all the basic video editing tools you'd need to edit and fine-tune your video footage. If you're on the free plan, your videos will be slapped with a watermark.
How to Crop a Video Online Using Animaker's Video Cropping Software
Animaker's Crop Video Tool allows you to crop your videos in 3 easy steps directly from your browser. Here are the steps: 
Step 1: Login or create a free account. Once you're in the dashboard, pick the dimensions or choose a platform you want to crop your video for. Pick the Horizontal (16:9), Square (1:1), or Vertical (9:16) preset from the Create a video section. Or you can use the Custom Size button to crop your video to custom dimensions of your choice.
Step 2: Now upload the video you want to crop. Go to the Upload tab in the main menu bar and click on the Upload button at the bottom of the tab window. 
Once the video's uploaded, click on it to set it onto the canvas.
Then, adjust or resize the video to select the part you want to keep. Click on the crop button to start cropping your video. Now hold and drag one of the handles from the corners to scale or shrink it; then reposition it so it fits the dimensions perfectly. Once you're done, click on the Apply button to save the changes.
Step 3: To download the cropped video to your local computer, click on the Publish button, then select Download Video from the resulting dropdown. Or you can share it directly to various social media platforms from inside the app.
Animaker's all-in-one online video editing suite lets you do so much more than just crop a video. It gives you the ability to:
The list goes on…
With Animaker's online video editor, you get all the tools you need to edit your videos for your social media channels and the web.
Got any questions on cropping your videos online or on your desktop? Any interesting video cropping software that we seem to have left out? Please let us know about them in the comment section below.