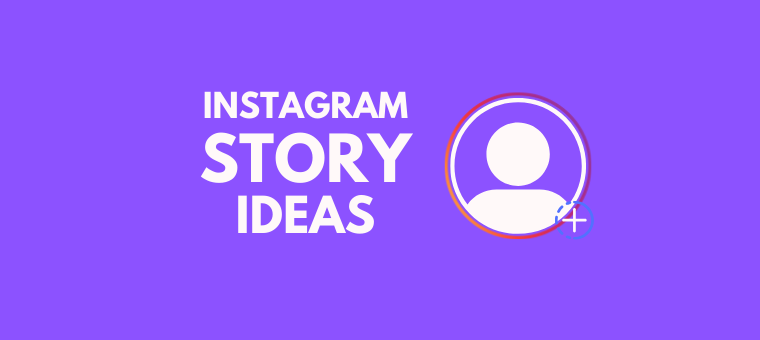 19 Instagram Story Ideas to Boost Engagement

14

min read
Let's be honest. Instagram has become our favorite pass-time app, from the moment we wake up in the morning to late-night scrolling in bed.
It is a world where memes reign, and influencers rule!
At the forefront of this dynamic platform is the Instagram Story feature, offering a unique and short-lived way to share moments, thoughts, and creativity with your followers.
For anyone who wants to create a strong online impression on the app, it is essential to master the art of Instagram stories. This is particularly important given the short lifespan of the stories.
With 500 million active Instagram users daily, standing out from the crowd can be challenging. 
But worry not, as we delve into 19 Instagram story ideas in this article for you to captivate your followers and boost engagement. 
From interactive polls to behind-the-scenes glimpses, these suggestions will help you elevate your Instagram presence, foster engagement, and build a strong community around your content.
Read on!
1. Counting Down to Something Big
A big day coming up? Or a discount for a limited time? Then, you must create hype by adding a countdown sticker to your story. This will create a buzz among your followers and also keep them excited for the big day!
Moreover, this sticker lets the viewers be reminded of the event when the countdown ends. As the countdown creator, you will be notified whenever an account has set a reminder for your countdown.
This example shows Sephora, the multinational retailer, sharing a countdown for an Instagram live with the Makeup Guru Mario. This countdown ensures that the followers are informed of the upcoming live so they don't miss it. Additionally, those who have opted for a reminder will receive a notification once the countdown ends. 
2. Join the Poll Party!
A Poll is an interactive sticker where you ask your followers a question and provide two to four options. Your followers can then participate by tapping on one of these options.  
This sticker is perfect for engaging with your audience. Not only are they quick and fun, but they are beneficial for gathering opinions and making decisions.
For example, if you have a small business on the platform, you can use the poll stickers to gather insights into customer preferences. 
Besides, you can also use this sticker for just fun and entertainment, like creating polls about pop culture to entertain your audience.
Taken from their highlights, 9gag, a very popular meme account, shares a poll with their audience asking their best horror movie from recent releases. This type of poll is fun and shows the varied preferences of the audience.
3. Announce your New Post/Reel in style!
New Post/Reel GIFs are animated elements that enhance the visual appeal of your content while informing your followers of your latest uploaded content.
To keep your followers up-to-date, share your latest content on your story with a new post/reel GIF that covers it. This will encourage them to visit your profile and check it out and also ensure that it does not get lost in their feed.
Taken from our archives, this example shows Animakerhq, an infotainment account, sharing the announcement of a new reel to their followers. With the new reel sticker covering up the content, the audience will click on the story to view the newly uploaded content.
4. Spill the beans with Ask Me Anything
The "Ask Me Anything" sticker on Instagram is a tool that ensures interactivity and deep insights into your followers' minds. It helps to bridge the gap between the creator and their online followers. 
While a poll lets your followers choose one of the limited options you provided, this sticker lets your followers give their unique take on different questions and topics, providing you with insights into their preferences.
Using this kind of story is a great way to boost engagement and can also serve as an inspiration for future content ideas. You can use the Questions sticker to ask a question and then share the responses on your next story. This will make your followers keep up with all the stories waiting for your take on their responses.
Taken from their highlights, secret_nyc – a hugely popular account about everything good in NYC, has asked a question about their followers' favorite spot for a solo date. They then proceeded to share their followers' responses and replied to it. 
5. Find the smartest with Quiz-o-Mania
Wanna be a quiz master? You can be one by creating your own fun little quiz on your stories using the quiz sticker. 
With this sticker, ask a question and give four options, with one being the correct answer. As a quiz creator, you can see how many participated and the number of times each option was selected. 
You can use these quizzes to make your audience interact with your account (provided you have chosen an interesting topic for your quiz), conduct a contest and announce winners, and even give them a prize!
In this example, 9gag has quizzed about the popular anime series, One Piece. Similarly, you can ask questions relating to your niche and keep your audience entertained. 
6. Gauge Reactions with Emoji Slider Sticker
An emoji slider is an interactive sticker that you can use to get engaging responses from your followers. 
You can use this sticker on a picture or a question on your story with an appropriate emoji and see their responses. This is a cool way to interact with your followers and feel connected.
Here, SpotifyPodcasts has shared about the newly released podcast by Alix Earle on their story with an emoji slider sticker. This will get responses from the social media star's fans and followers who have been waiting for its release. 
7. Tap for Details!
Sharing your blog/article with your followers on Instagram is easy with the link sticker feature in your story.
Simply add a captivating image and an intriguing question to your story, and include the link sticker. This type of story can generate clicks and drive traffic to your blog.
Moreover, if you're using a business account, you can track the performance of your links. This lets you see how many people clicked on the link and gain insights into your audience's interests. 
Taken from our account's highlights, Animakerhq, an infotainment account, shares a blog link with the audience on how to make an avatar. (If you're interested to learn how, then check out this blog.)
8. The Grand Reveal! 
Announcing a product launch on Instagram story is like unveiling a hidden treasure to an eagerly waiting audience. Instagram stories have become the perfect canvas to captivate, excite, and connect with potential customers.
A perfect product launch reveal is to use HD images of the product with appropriate stickers like a countdown and an emoji slider. 
An even better approach is to add follow-up stories of early reviews and user testimonials. This creates credibility and even more buzz. 
This example shows Kylie Jenner sharing early reviews of her new line of concealers, which were launched recently. Sharing reviews of the product on her story will serve as a testament to the quality of the product. 
9. Give a glimpse of what's cooking!
A Sneak Peek story on Instagram is a short preview of something exciting and upcoming. They work because they tap into the basic human desire for curiosity about something new. 
Let's say you're working on something big and cannot contain your excitement. You can give your followers a sneak peek (a raw cut video, image, or teaser video) without giving too much away. It will create a buzz and keep them eagerly waiting for your project.
The above example is Taylor Lautner's Instagram story, where he gave a sneak peek of the upcoming episode of his podcast, The Squeeze.
10. Supporting a Campaign to make a change
Being a brand or an influencer gives us the extra responsibility of keeping our followers informed about current affairs, spreading awareness of a campaign or a cause you believe in, etc. You can even urge your followers to take action when necessary, 
For example, you can raise awareness to donate to a good cause. This will not only help the campaign immensely by the donations, but you are also making a difference by spreading awareness.
Read this to learn how fundraisers work on Instagram.
Here, the famous Canadian Youtuber and television host, Lilly Singh, shares her non-profit fundraiser to support girls' rights and education. This creates awareness of the cause and also brings in donations.
11. Hop on a Trend/Challenge
Trends/Challenges are a popular and engaging way to participate in the latest social media trends. Participating in these boosts engagement, increases visibility, and showcases creativity.
However, it is essential to choose challenges that align with your brand or personal style and to ensure that your participation is genuine and authentic.
If you are from the dance community, you can participate in a trending dance challenge and have fun. Add your mix to it and share it on your story. Remember to add the right hashtags to boost visibility and grow your follower count. 
This example shows a famous K-pop boy group, NCT, collaborating with K-pop girl group, Aespa, on a dance challenge for their newly released song, "Baggy Jeans." 
12. Glimpse of Behind the Lens
Behind-the-scenes stories is a powerful way to connect with your audience personally, offering them an exclusive look into your world.
Whether it is a brand photoshoot or a viral challenge, behind-the-scenes content will amaze your followers with the hard work done. It also brings out a sense of authenticity and talent that is very much required to stay on top of the Instagram game. 
You can also take them through your process step by step with multiple pictures and add supportive text wherever necessary. This ensures you build up curiosity and get engagement through clicks. 
This Instagram story of andrewmurphyfilms shows behind the scenes of a shoot and the process that happens after it. It gives insightful information to video production enthusiasts and other curious minds. 
13. Meme-ing the Day Away!
Memes are highly engaging and relatable pieces of content that can enhance your online presence and connect with your audience. 
Besides boosting engagement and having an entertainment value, memes can be used to convey messages or opinions in a lighthearted and easily digested manner. This is especially useful for addressing current topics or issues.
Moreover, memes have a high sharing potential. When funny, your followers will share it with their friends, introducing you to new audiences. 
While meme content on Instagram is plenty, ensure they are relevant to your audience and alter the meme to align with your brand's tone whenever necessary.
The above Instagram story by memezar shows a meme that every introvert can relate to. It promotes a sense of relatability with their followers. 
14. Sharing an experience/exchange with a follower
Sharing an experience or a conversation with a follower on your story will show your gratitude towards your followers and also make it cute and wholesome. 
When posted on your story, these types of interactions increase engagement, help build trust and a stronger connection, and foster a sense of community among your followers. 
Additionally, if you own an online business on the platform, such exchanges make your product legit to your followers and prompt them to purchase it.
In this example, Cocodive, an internationally well-known K-pop merchandise online store, shares a customer's feedback on their products. This interaction builds trust and encourages other followers to purchase their products.
15. Styled to Shine: OOTD
Sharing your OOTD (Outfit Of The Day) picture (or, as the folks these days call it, fit check) on your Instagram story is a cool way to flaunt your style and express your personality. When sharing, make sure to include the OOTD sticker. 
If you are a fashion influencer or a model, this type of story is a goldmine content. Your followers are looking for fashion inspiration, and your story might give them just that.
You can also go one step further by adding shopping links to the outfit, making it easier for your followers to purchase a similar fit.
In this example, popular digital creator wendyskin flaunts her outfit and has even tagged all the brands she is donning. This is very helpful for her followers to follow suit with her styling. 
16. Progress in pictures: Before and After
"Before and After" stories on Instagram visually highlight your progress. It allows you to tell a story concisely and convey authenticity.
Suppose you're a beauty influencer or are just sharing your incredible weight loss transformation story with your followers. Sharing the "before and after" photos is a sure way to gain motivation and be proud of yourself. It also helps motivate others who are on a similar journey as you.
Or, if you're a brand, the "before and after" stories can help boost product sales and promote brand growth.
This Instagram story by frank_bod shows the before and after photos following the use of their hair mask. This type of story drives sales and boosts engagement. 
17. Food Chronicles: A Saga
Sharing food pictures and recipes on Instagram stories has become a delightful trend for food enthusiasts and budding cooks alike. These types of stories encourage followers to be creative in the kitchen and experiment with new dishes.
It also showcases one's culture and heritage by sharing authentic recipes where individuals worldwide can appreciate different cuisines and techniques. 
A creative way to share a recipe is by sharing each step of the recipe on your story, with images and text added. This will generate interest and keep your followers engaged until the very end. 
If you are a food blogger, it is important to remember to tag the restaurant in your story along with mouth-watering snapshots of food, so that your followers can indulge in the cuisine as well. 
The above example is a picture of a delicious-looking fried chicken shared by newyorkcity.explore. With the restaurant tagged, it is very easy for local followers to grab a quick bite.
18. Wisdom through other accounts
There are all types of accounts on Instagram. Besides influencer accounts, there are inspirational pages with deep and moving quotes.
Such posts from these accounts are motivational and philosophical, and they connect with the audience on a much deeper level.
When you come across a quote or an inspirational post, don't just hit like and save it. Share it with your followers, and who knows, sometimes someone might really need those words of encouragement that day.
Additionally, there are educational accounts on the platform with industry experience and expertise. Sharing their posts on your story is informative for those in the same industry.
Here, we see Willow Smith share an inspirational quote from another account. This type of content encourages her followers to be inspired and stay determined. 
19. The Magic of Ordinary Days 
In between the busy days of being an influencer/content creator, you can post about your daily life experiences. That is, you can post lifestyle content when you are not posting stories to promote your brand or boost your engagement.
For example, you can click a cute picture of your pet or a beautiful sunset. You can also post pictures of a restaurant that screams "AESTHETIC." Remember to tag the place so your followers can visit and enjoy it.
This everyday lifestyle content can make your followers feel more connected with you.
Anna, an influencer, explores New York restaurants and shares her experiences with her followers. One such story shows her enjoying a glass of drink while enjoying the aesthetics. 
***
That was 19 different awesome Instagram story ideas that can be used on your 'gram. Did you get your next inspiration from this list? 
Instagram stories are a great way to boost engagement. They give a sense of real-time connection as they disappear within 24 hours. This brief life of stories triggers FOMO in followers, encouraging them to engage regularly so they don't miss out on updates.
Moreover, the interactive features on Instagram stories make it easy and fun for your followers while also providing insights into their preferences. 
When sharing stories on Instagram, there are three main things to add – trending music track, right hashtags, and stickers. 
By Incorporating Instagram stories into your social media strategy, you can improve brand visibility, create meaningful content, and establish a strong online presence. 
Create your next big Instagram story using Animaker's Instagram Story Maker. 
To know more about the ideal Instagram story video length and how to post Instagram stories, check out the links provided.